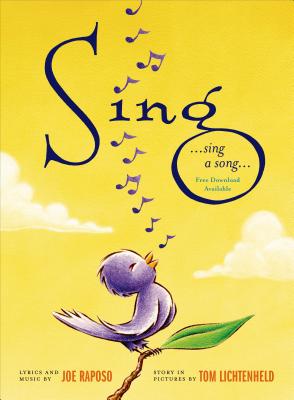 Sing [With Free Download] (Hardcover)
Henry Holt & Company, 9780805090710, 40pp.
Publication Date: May 28, 2013
Description
"Sing Sing a song. Sing out loud, sing out strong."
So begins a song first made popular on "Sesame Street," then interpreted by singers of every style, from Gloria Estefan to the Dixie Chicks to R.E.M., as well as famous personalities such as Conan O'Brien, Katie Couric, Nathan Lane, and Liam Neeson.
Now, bestselling children's book illustrator Tom Lichtenheld has put a visual story to this timeless and universal song that celebrates perseverance, self-expression, and the power of music to help each of us find our voice.
Digital downloads of three songs are included with book purchase: "Sing " "Somebody Come and Play," and "One of These Things." Music by Joe Raposo. Songs performed by Becca Kauffman with The Midnight Sun Ensemble.
About the Author
Joe Raposo was a celebrated composer, songwriter, pianist, television writer, and lyricist best known for his work on Sesame Street. He served as musical director for Sesame Street from its inception through the late 1970s. He also wrote songs for Frank Sinatra and many television shows, such as Three's Company.Tom Lichtenheld is the New York Times-bestselling illustrator of Goodnight, Goodnight, Construction Site. He lives in Illinois.
Praise For Sing [With Free Download]…
*"For young and old, the text recalls a theme of courage and self-acceptance with easy-to-follow imagery. Everyone will want to sing along." - - School Library Journal, starred review
"A picture-book celebration of a Sesame Street favorite." -- Booklist
"A loving tribute." -- Kirkus Reviews
"As the boy plays and sings, musical notes rise up and literally buoy the bird (and its nest), lifting them aloft until the bird is able to fly and sing for itself, and rejoin its companions. It's an effective visual metaphor for the way that music can be a form of support."-- Publishers Weekly
Praise for Cloudette:
"The creator of Bridget's Beret offers here another appealing story featuring a plucky heroine. Applying a full-color palette to his watercolor, ink, and colored-pencil cartoons, Lichtenheld makes use of varying page space and panel techniques to add subtle details to his narrative." —Booklist
Praise for Bridget's Beret:
* "Hilarious. . . . A witty, well-shaped story . . . and a clever homage to many of the Great Artists and their works, from Leonardo to Warhol. —Kirkus Reviews, starred review
Praise for New York Times–bestselling Goodnight, Goodnight, Construction Site:
"Lichtenheld's detailed and textured illustrations, rendered in wax oil pastels on vellum paper, perfectly complement the fun, rhyming text, cleverly personifying each truck with expressive eyes and amusing details." —School Library Journal
* "A standout picture book." —Booklist, starred review
Praise for New York Times–bestselling Duck! Rabbit!:
"Text and illustrations are intimately wedded in this fun, interactive read-aloud. The bold lines and bright colors in Lichtenheld's illustrations are a visually pleasing match for the bantering text." — School Library Journal
Advertisement