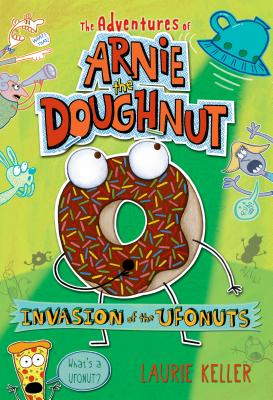 Invasion of the Ufonuts (Adventures of Arnie the Doughnut #2) (Hardcover)
Henry Holt & Company, 9780805090758, 126pp.
Publication Date: February 25, 2014
* Individual store prices may vary.
Description
Arnie finds himself in trouble when his neighbor, Loretta Schmoretta, begins telling news reporters that she was the victim of an alien abduction. And not just any aliens--alien doughnuts from outer spastry, who will continue the abductions until people stop eating doughnuts Although Arnie thinks this is a ridiculous story, he notices that everyone is treating him differently, as if he is an alien doughnut rather than just a doughnut-dog. And then Arnie gets abducted Arnie must think fast in order to rescue his fellow doughnuts and the townspeople from the alien invaders. The slapstick shenanigans continue in this hilarious second book in Laurie Keller's Adventures of Arnie the Doughnut series. This title has Common Core connections.

A Christy Ottaviano Book
About the Author
Laurie Keller is the acclaimed author-illustrator of Do Unto Otters; Arnie, the Doughnut; The Scrambled States of America; Open Wide: Tooth School Inside; and Bowling Alley Bandit, Book One in The Adventures of Arnie the Doughnut. The musical Arnie, the Doughnut was performed off-Broadway as part of the New York Musical Theater Festival in 2012. Keller lives on the shore of Lake Michigan.
Praise For Invasion of the Ufonuts (Adventures of Arnie the Doughnut #2)…
Bowling Alley Bandit:
A Junior Library Guild Selection
"A bowling tournament gives the rolling raconteur introduced in the 2003 picture book Arnie the Doughnut fresh scope for wisecracks and wild misadventures. . . . Like triumphant Mr. Bing, Keller walks off with a 'Stiffy Stu McShiny' award for this yummy chapter-book series opener."—Kirkus Reviews, starred review
"Keller shrewdly targets hesitant readers with an abundance of goofy comedy."—Publishers Weekly, starred review
Arnie, the Doughnut:
A Chicago Tribune precinct pick for the holidays
A New York Times Book Review Notable Book
A Publishers Weekly Editor's Pick
A Publishers Weekly Best Children Books 2003
A Publishers Weekly Tastiest-and Most Well-Rounded-Title Character Award
"Arnie takes destiny into his own hands with vastly entertaining results."—Publishers Weekly, starred review
"Laurie Keller is a goofball. She's a genius. She's a goofball and a genius."—The New York Times Book Review
"Keller gives 'pet food' a new meaning in this savory outing. . . . So deliciously silly is this confection that few readers will pass up second helpings."—Kirkus Reviews
"Good for a belly laugh."—Newsday
"Arnie is one of the cleverest and funniest books I've seen in a long time."—BookPage
"Packed with fun and sprinkled with so many illustrative and humorous asides."—Star Tribune, Minneapolis, MN
"In picture books, usually only dogs are as funny as this. Keller doesn't miss a trick."—San Diego Union Tribune
"Keller's riotous collages . . . which are filled with gleeful puns, winning characters, and over-the-top silliness, are as manic and fun as a sugar high."—Booklist
"Off-the-wall humor and zany artwork."—Seattle Post Intelligencer