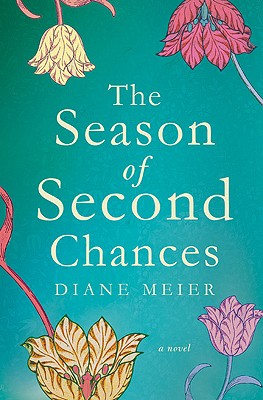 The Season of Second Chances
Hardcover

* Individual store prices may vary.
Other Editions of This Title:
Paperback (3/29/2011)
Description
A world of possibilities opens up for Joy Harkness when she sets out on a journey that's going to show her the importance of friendship, love, and what makes a house a home
Coming-of-age can happen at any age. Joy Harkness had built a university career and a safe life in New York, protected and insulated from the intrusions and involvements of other people. When offered a position at Amherst College, she impulsively leaves the city, and along with generations of material belongings, she packs her equally heavy emotional baggage. A tumbledown Victorian house proves an unlikely choice for a woman whose family heirlooms have been boxed away for years. Nevertheless, this white elephant becomes the home that changes Joy forever. As the restoration begins to take shape, so does her outlook on life, and the choices she makes over paint chips, wallpaper samples, and floorboards are reflected in her connection to the co-workers who become friends and friendships that deepen. A brilliant, quirky, town fixture of a handyman guides the renovation of the house and sparks Joy's interest to encourage his personal and professional growth. Amid the half-wanted attention of the campus's single, middle-aged men, known as "the Coyotes,"and the legitimate dramas of her close-knit community, Joy learns that the key to the affection of family and friends is being worthy of it, and most important, that second chances are waiting to be discovered within us all.
Praise For The Season of Second Chances…
"The strong characters, believable situations, fine writing, and great storytelling make for a remarkably compelling book."—Booklist
"Sure to be much-loved and often-shared, this graceful, funny novel nudges its characters and readers toward self renewal, change, and a chance for greater happiness. … Diane Meier's liberating novel values both the arcane scholarship of college professors and the practical, artistic insights of handymen and real estate agents. Like The Secret Life Of Bees, this brave, warm novel suggests that for a person who has the courage to seize a second chance,  there's also the opportunity for a rewarding third chance, or fourth, of fifth…"—Sena Jeter Naslund, author of Ahab's Wife and Abundance: A Novel of Marie Antoinette
"Diane Meier's novel has it all: a narrator with a voice as knowing, acerbic, and funny as the best of Ephron; a plot that keeps you avidly turning the pages, and a character about as tender, touching, and exasperating as any I can recall encountering outside of real life. I loved it."—John Colapinto, author of About the Author
"Sophisticated, original, erudite, and with observations that are simultaneously profound, precise, and surprisingly funny."—Sara Pritchard, author of Crackpots
 "As in an old house, you will encounter all manner of surprises on Joy's journey and I promise, they will keep you reading far too late in the evening to be sensible."—Katherine Lanpher, author of Leap Days: Chronicles of a Midlife Move
Henry Holt and Co., 9780805090819, 304pp.
Publication Date: March 30, 2010
About the Author
Diane Meier is the author of "The New American Wedding" and president of Meier, a New York City-based marketing firm. Her career spans from writing and design to public speaking. This is her first novel. Meier lives in New York City and Litchfield, Connecticut.
or
Not Currently Available for Direct Purchase