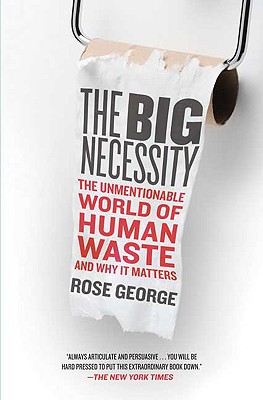 The Big Necessity (Paperback)
The Unmentionable World of Human Waste and Why It Matters
Holt McDougal, 9780805090833, 288pp.
Publication Date: July 7, 2009
Other Editions of This Title:
Paperback (9/9/2014)
Hardcover (10/14/2008)
MP3 CD (4/23/2019)
Compact Disc (4/23/2019)
* Individual store prices may vary.
Description
"One smart book . . . delving deep into the history and implications of a daily act that dare not speak its name." "Newsweek"
Acclaimed as "extraordinary" ("The New York Times") and "a classic" ("Los Angeles Times"), "The Big Necessity" is on its way to removing the taboo on bodily waste something common to all and as natural as breathing. We prefer not to talk about it, but we should even those of us who take care of our business in pristine, sanitary conditions. Disease spread by waste kills more people worldwide every year than any other single cause of death. Even in America, nearly two million people have no access to an indoor toilet. Yet the subject remains unmentionable.
Moving from the underground sewers of Paris, London, and New York (an infrastructure disaster waiting to happen) to an Indian slum where ten toilets are shared by 60,000 people, "The Big Necessity" breaks the silence, revealing everything that matters about how people do and don't deal with their own waste. With razor-sharp wit and crusading urgency, mixing levity with gravity, Rose George has turned the subject we like to avoid into a cause with the most serious of consequences.
About the Author
Rose George is a freelance writer and journalist who has written for "The New York Times," "Slate," and "The Guardian." She lives in London.
Praise For The Big Necessity: The Unmentionable World of Human Waste and Why It Matters…
"Rose George writes smart books about subjects we mostly prefer not to think about.… The Big Necessity is among the best nonfiction books of the new millennium."
—Dwight Garner, The New York Times

"Always articulate and persuasive… You will be hard-pressed to put this extraordinary book down."
— Abigail Zuger, The New York Times
"Superb… The Big Necessity belongs in a rare handful of studies that take a subject that seems fixed and familiar and taboo and make us understand that it is historically contingent and dazzlingly intriguing. Jessica Mitford did it with her classic study The American Way of Death; Michel Foucault did it with Madness and Civilization. Rose George has produced their equal: a gleaming toilet manifesto for humankind."
—Slate
"The Big Necessity, Rose George's perfectly disquieting new book, is very good… With wit, narrative skill, and compassion, it allows us to examine a major international public health nuisance… That's not to say that the book is all gloom and doom or a ponderous drag. In fact, it's a breeze. Ms. George is a lucid, supple writer, and approaching the subject as a journalist, she's able to tell her story on several different registers. And, quite honestly, the topic is fascinating."
—New York Observer
"[Written] with wit and style… Valuable and often entertaining… Should become a classic in the annals of coprology."
—Los Angeles Times
"Fascinating and eloquent."
—The Economist
"A persuasive volume."
—Entertainment Weekly
"Delves into the taboo subject with tact, sensitivity—and the right amount of style… George introduces the reader to a fascinating and enlightening universe."
—Time
"One smart book… delving deep into the history and implications of a daily act that dare not speak its name."
—Newsweek
"The weight of information that Rose George brings to The Big Necessity is astonishing… There are so many interesting stories in the book that I wanted to tell everyone about what I learned."
—Cleveland Plain Dealer
"Full of fascinating facts… An intrepid, erudite and entertaining journey through the public consequences of this most private behavior."
—Publishers Weekly (starred review)
"George leavens her serious, if unpalatable, topic with an elegant and witty prose style. An important book… strongly recommended."
—Library Journal (starred review)
"An utterly disarming and engrossing tour… George writes unflinchingly and with great style."
—Kirkus Reviews
"A unique, alarming, and strangely fascinating book… Witty, anecdotal, and sharply informative, George's far-reaching exposé ultimately recalibrates nothing less than our understanding of civilization."
—Booklist
"A very important book.…  Rose George has done us a great service by taking something that we don't talk about nearly often enough and putting it right in our faces. Anyone heading overseas on a mission trip should read this book first. And anyone who wants to understand what it means to be poor."
—Bill McKibben, author of Deep Economy
"Rose George's subject—the global politics of defecation—is both superbly indelicate and morally imperative. With the basic health and dignity of several billion poor people at stake, we need to take shit seriously in the most literal sense. Human solidarity, as she so passionately demonstrates, begins with the squatting multitudes."
—Mike Davis, author of Planet of Slums

"Which is worse? Living in a toilet or living without one? George bravely—and sometimes literally—submerges herself in the tragedy and occasional comedy of global sanitation. Sludge, biogas, New York City sewage: I ate it up and wanted more! The most unforgettable book to pass through the publishing pipeline in years."
—Mary Roach, author of Stiff
"This engaging, highly readable book puts sanitation in its proper place—as a central challenge in human development. Rose George has tackled this critical topic with insight, wit, and a storyteller's flair."
—Louis Boorstin, The Bill and Melinda Gates Foundation
"Excellent… Definitely recommended."
—Tyler Cowen, author of Discover Your Inner Economist
"Rose George has trolled the gutters of the world for the predictable low-matter and come up with something weirdly spiritual. Worship the porcelain god, revere its ubiquity and protest its absence: George reveals that the act of private and sanitary defecation is the key to health, the wealth of nations, and even civilization itself."
—Lisa Margonelli, author of Oil on the Brain
"Highly recommended… One of the best nonfiction books I've read in years."
—Henry Gee, senior editor of Nature
"This fascinating, wise, and scrupulously drawn portrait of the world and its waste will last long as a seriously important book. Like a literary treatment farm, it manages to turn the completely unpalatable into something utterly irresistible. Rose George, a brave, compassionate, and ceaselessly impeccable reporter—and, when needed, a very funny one too—has performed for us all who care a very great service. A big necessity, indeed."
—Simon Winchester, author of The Man Who Loved China
"Throughout her exploration of the dark and pungent world of human waste and its disposal, George remains curious, sceptical, open-minded and remarkably good-humoured… She has written a tactful, outspoken, amusing, shocking, highly informative and useful book. It may even—if you read it carefully—change your life."
—Sunday Telegraph (UK)
"Will entertain and edify… A revealing global study that's thoroughly researched and written with both wit and moral seriousness."
—Daily Telegraph (UK)

"As far as I can tell, this is the first popular study to be written on the subject. And popular it deserves to be. Rose George has just the right kind of breezy-serious approach needed to grapple with the universal taboos."
—Daily Mail (UK)
"An invaluable contribution."
—The Guardian (UK)
"Bravely and ably meets the challenge… For daring to fling back the privy door, George deserves a medal."
—The Sunday Times (UK)
or
Not Currently Available for Direct Purchase