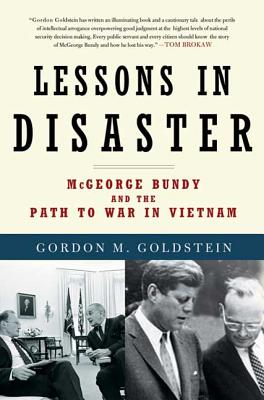 Lessons in Disaster: McGeorge Bundy and the Path to War in Vietnam (Paperback)
McGeorge Bundy and the Path to War in Vietnam
Holt McDougal, 9780805090871, 300pp.
Publication Date: September 1, 2009
Description
"A compelling portrait of a man once serenely confident, searching decades later for self-understanding." Richard Holbrooke, "The New York Times Book Review"
I had a part in a great failure. I made mistakes of perception, recommendation and execution. If I have learned anything I should share it."
These are not words that Americans ever expected to hear from McGeorge Bundy, the national security adviser to presidents John F. Kennedy and Lyndon B. Johnson. But in the last years of his life, Bundy the only principal architect of Vietnam strategy to have maintained his public silence decided to revisit the decisions that had led to war and to look anew at the role he played.
In this original and provocative work of presidential history, Gordon M. Goldstein distills the essential lessons of America's involvement in Vietnam, drawing on his prodigious research as well as interviews and analysis he conducted with Bundy before his death in 1996. "Lessons in Disaster" is a historical tour de force on the uses and misuses of American power, and offers instructive guidance that we must heed if we are not to repeat the mistakes of the past.
About the Author
Gordon M. Goldstein is a scholar of international affairs who has served as an international security adviser to the United Nations secretary-general and as a Wayland Fellow at the Watson Institute for International Studies at Brown University. His articles have appeared in The New York Times, Newsweek, and The Washington Post. He is a member of the Council on Foreign Relations and lives in Brooklyn, New York.
Praise For Lessons in Disaster: McGeorge Bundy and the Path to War in Vietnam…
"The must-read book for Obama's war team. . . . Many on the national security team at the White House are now reading Lessons in Disaster by Gordon Goldstein. . . . A great, great book. Well worth the read as the Afghanistan debate heats up."—George Stephanopoulos, ABCNews.com
"Full of fresh information on how the best and the brightest led America into the fiasco. . . . The book's intimate account of White House decision-making is almost literally being replayed in Washington as the new president sets a course for the war in Afghanistan. The time for all Americans to catch up with this extraordinary cautionary tale is now."—Frank Rich, The New York Times
"A Vietnam book that haunts the U.S. in Afghanistan."—Stephen Schlesinger, Huffington Post
"Practically required reading in the West Wing."—Jonathan Alter, Newsweek
"The Vietnam analogy remains haunting. On Mr. Obama's nightstand is Gordon Goldstein's acclaimed biography of McGeorge Bundy, Lessons in Disaster, which describes the flawed decision-making of President Lyndon B. Johnson in the Vietnam quagmire."—Al Hunt, International Herald Tribune
"No American who has lived through the Iraq experience will doubt how important it is for us to understand why and how American presidents take our country to war. Key to understanding how John Kennedy and Lyndon Johnson took the nation into Vietnam is the story of McGeorge Bundy's service to both men as national security adviser. Thanks to his many long and penetrating talks with Bundy, his assiduous study of the written record, and his mastery of the interplay among personality, politics, and national security strategy, Gordon Goldstein has brought us a dispassionate, powerful, and brilliant assessment of McGeorge Bundy's performance during the years he was given his cardinal moment in history. Goldstein's book helps us comprehend how Americans were led, step by step, into the abyss of Vietnam. It also provides crucial lessons for future presidents, members of Congress, and citizens as we grapple with the problems of where, when, and how to apply American power around the world."—Michael Beschloss
"A compelling and personally sympathetic appraisal of Bundy as a brilliant statesman but also as a fallible human being. Despite his remarkable intellect, Bundy ultimately failed to grasp the fundamental novelty of the historical challenge posed by a communism fanatically driven by nationalistic anticolonialist passions. In that context, presidential decision-making became increasingly focused on the imperatives of a local war and less on its damaging impact on America's world role."—Zbigniew Brzezinski"
Thanks to Gordon Goldstein's superb book, we have fresh evidence for judging between a facile mind and a wise one, and we can now assess more accurately the role of McGeorge Bundy in the Vietnam tragedy."—A. J. Langguth
"This meticulously researched book gives us remarkable insight into one of the most critical foreign policy decisions in U.S. history. Anyone aspiring to a leadership position in American politics or public policy should carefully examine this perceptive work and its many valuable lessons."—Warren B. Rudman, former U.S. senator (R–N.H.) and former chairman of the President's Foreign Intelligence Advisory Board
Advertisement