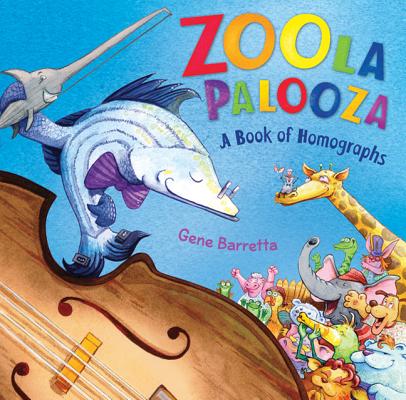 Zoola Palooza: The Book of Homographs (Hardcover)
The Book of Homographs
Henry Holt & Company, 9780805091076, 40pp.
Publication Date: June 21, 2011
Description
The all-animal touring concert group Zoola Palooza has come to town. With a motley crew of animals playing a variety of instruments, homographs abound (homographs are words that are spelled the same but sound different and have different meanings). Billy the striped  BASS  opens the show wearing a big BOW tie. He gives a gracious  BOW  from the top of his  BASS  fiddle.
This terrific companion to  Dear Deer: A Book of Homophones  brings homographs to the spotlight for a show-stopping good time.
About the Author
Gene Barretta is the author and illustrator of Now & Ben: The Modern Inventions of Benjamin Franklin and Neo Leo: The Ageless Ideas of Leonardo da Vinci. He is also author and illustrator of Dear Deer, which was a Notable Children's Book in the Language Arts and listed on the Parenting Magazine Mom-Tested Books of the Year List. He holds a B.F.A. in Film Studies from New York University, and has worked for many years in film and television production. He lives in Wynnewood, Pennsylvania, with his wife and son.
Praise For Zoola Palooza: The Book of Homographs…
"… [kids will] enjoy Barretta's wit and the atmosphere of controlled chaos in the high-energy watercolor illustrations." --Booklist Online "Young readers should appreciate Barretta's ability to construct miniature story lines using the homographs, and while phrases sometimes hit clunky notes ("Fortunately, she wound up landing on the back of a jellyfish, wound-free"), they are well-served by his starry-eyed, crowd-surfing menagerie." --Publishers Weekly "While teachers are sure to reach for this entertaining resource again and again, the humor, illustrations, wordplay and story are strong enough that casual readers will pick this up, chuckle and even (gasp!) learn." --Kirkus Reviews
Advertisement