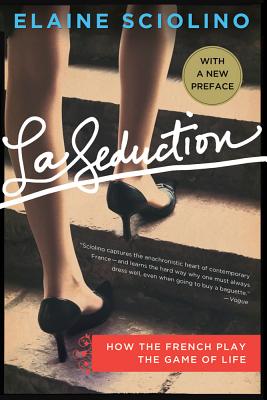 La Seduction
How the French Play the Game of Life
Hardcover

* Individual store prices may vary.
Other Editions of This Title:
Paperback (7/17/2012)
Paperback (7/1/2011)
Description
The hidden truth about the French way of life: it's all about seduction—its rules, its pleasures, its secrets
France is a seductive country, seductive in its elegance, its beauty, its sensual pleasures, and its joie de vivre. But Elaine Sciolino, the longtime Paris bureau chief of The New York Times, has discovered that seduction is much more than a game to the French: it is the key to understanding France.
Seduction plays a crucial role in how the French relate to one another—not just in romantic relationships but also in how they conduct business, enjoy food and drink, define style, engage in intellectual debate, elect politicians, and project power around the world. While sexual repartee and conquest remain at the heart of seduction, for the French seduction has become a philosophy of life, even an ideology, that can confuse outsiders.
In La Seduction, Sciolino gives us an inside view of how seduction works in all areas, analyzing its limits as well as its power. She demystifies the French way of life in an entertaining and personal narrative that carries us from the neighborhood shops of Paris to the halls of government, from the gardens of Versailles to the agricultural heartland.
La Seduction will charm you and encourage you to lower your defenses about the French. Pull up a chair and let Elaine Sciolino seduce you.
Praise For La Seduction: How the French Play the Game of Life…
The New York Times Book Review
 Editor's Choice
"Crackles with the sharp, rueful wit of an outsider who has achieved some insight into Gallic dos and don'ts largely by running afoul of them herself. . . . Carefully researched and lucidly argued, La Seduction develops a wonderfully suggestive theory of French pleasure."--Caroline Weber, The New York Times Book Review
"An entertaining journalistic journey through France."--Stephen Clarke, The New York Times
"[Sciolino] begins by describing what went through her head the first time a president of France kissed her hand. She also writes about Dominique Strauss-Kahn, whose behavior prompted one French comic to suggest that women better wear burqas in his presence. This is much better to read about than why French women don't get fat."—Janet Maslin, The New York Times
"Deliciously detailed, smart, and sassy, La Seduction is one of this summer's not-at-all-guilty pleasures."—The Boston Globe
"Sciolino turns stereotypes into insights in this exhaustive and, yes, sexy examination of France's culture through the lens of seduction. . . . Her enlightening book offers a fundamentally admiring analysis of what she calls 'an essential strategy for France's survival as a country of influence.'"—People
"Strategy is everything for the French. That's what Elaine Sciolino discovers in her book La Seduction: How the French Play the Game of Life, a look at why the food is so delicious; the perfumes so beguiling; the languid conversation of Paris cafes so intoxicating; the French so, well, French." —Los Angeles Times
"Sciolino captures the anachronistic heart of contemporary France – and learns the hard way why one must always dress well, even when going to buy a baguette."—Vogue
"In this entertaining analysis, the former Paris bureau chief of The New York Times spills the secrets of the enviable French way of life."—InStyle
"The Pulitzer Prize for premonition must go to Elaine Sciolino, longtime New York Times correspondent in Paris, whose La Seduction mentions Strauss-Kahn throughout and offers a reason for the current unpleasantness: Americans do not understand the French art of seduction."—Financial Times
"Extraordinarily thorough [and] captivating. . . . The subject is irresistible: you're being pulled into a rarefied world where the lights are always dimmed, the people always beautiful and the carrots always sublime. If it's not a complete France, it's a wonderful side of it that's certainly worth visiting."--The Spectator
"Playful … Ms Sciolino kits herself out in towering heels and a black, silk wrap dress, and tries to get to grips with France's culture of seduction.  [La Seduction's] great merit is that it gets the topic right, sketching the background to a culture in which sensuality defines so much of public life."—The Economist
"Yes, the book will make you want to fly to France to sip champagne — maybe even find some stranger to seduce — among the wondrous gardens of Versailles; to stroll past the Eiffel Tower and its carefully layered paint job so that its color appears uniform in any light; or attend a power dinner party where risotto with scallops is the first course and the conversation is at once head-swimmingly sophisticated and seemingly effortless."—Associated Press
"Elaine Sciolino proves to be a perfect guide through French culture. . . . The book proves to be as seductive as its subject matter and most readers will probably race through it, wishing they were leaving for Paris tomorrow."—Connecticut Post
"If the European nation hasn't yet cast its spell on you, 'La Seduction' will have you planning a rendezvous from the very first chapter."—Metro
"In her last book, Persian Mirrors: The Elusive Face of Iran, Sciolino showed a knack for understanding perplexing places. As an Iranian who lived in France for 18 years, I know both countries reasonably well, and to my mind, she nails them both."—Bloomberg.com
"I savored many of Ms. Sciolino's comments. . . . Someone dropped into a foreign culture often sees things clearly that natives often don't grasp."—Mireille Guiliano, The Daily Beast
"Sciolino's charming tales of the French art of seduction will entertain and delight readers, and instruct us in how best to embrace life's joys and celebrate every moment of our lives and loves."—Bookpage
"An American journalist in Paris offers a serious, skeptical study of France's quintessential 'soft power.' "—Kirkus
"Witty and keen-eyed"—Publishers Weekly
"La Seduction had me humming 'I love Paris in the springtime.' Elaine Sciolino proves that Paris is the most fascinating, elusive, and glamorous place on earth – and that the French are the most seductive, maddening, and stylish people in the universe. Who could not be seduced?"--Amanda Foreman, author of Georgiana, Duchess of Devonshire and A World on Fire
"What a delight! Elaine Sciolino's multiple talents and considerable experience – as a sharp-eyed reporter and a marvelous writer – are on full display in this delectable account. Just when I thought I'd heard everything about France, Elaine reveals my favorite subject to me all over again. And makes me fall in love all over again, with the charms and the foibles and the elegant and earthy joie de vivre."--Patricia Wells, author of The Paris Cookbook and The Food Lover's Guide to Paris
"This is a book by an American woman who sees the French as a charming, seductive, and fascinating people, and Paris as the world's most exciting city. How sweet it is to see ourselves through her eyes!"--Nathalie Rykiel, president and artistic director of the fashion house Sonia Rykiel
"A book to be savored by every hedonist. A must-read introduction to French contemporary culture."--Alain Ducasse, chef and restaurateur
"It took an American woman and a journalist to write a truly exciting book about France and the French. Elaine Sciolino brilliantly captures the French character, looking at us with humor, curiosity, and at times admiration. Her book shows the power, charm, and seduction of 'the French touch.' Enjoy!"--Bernard Kouchner, former foreign minister of France
Times Books, 9780805091151, 352pp.
Publication Date: June 7, 2011
About the Author
Elaine Sciolino is the author of the award-winning book "Persian Mirrors: The Elusive Face of Iran." She is a Paris correspondent and former Paris bureau chief for "The New York Times," having previously served as the newspaper's chief diplomatic correspondent and UN bureau chief. In 2010, she was decorated a chevalier of the Legion of Honor. She has also been a foreign correspondent for "Newsweek," based in Paris and Rome. She lives in Paris with her husband. Visit Elaine Sciolino's website at www.ElaineSciolino.com
or
Not Currently Available for Direct Purchase