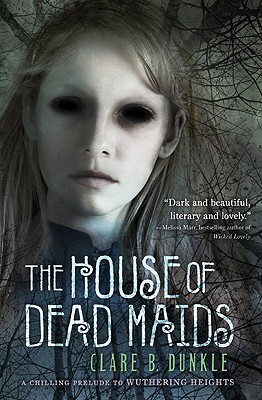 The House of Dead Maids (Hardcover)
Henry Holt & Company, 9780805091168, 146pp.
Publication Date: September 14, 2010
* Individual store prices may vary.
or
Not Currently Available for Direct Purchase
Description
Young Tabby Aykroyd has been brought to the dusty mansion of Seldom House to be nursemaid to a foundling boy. He is a savage little creature, but the Yorkshire moors harbor far worse, as Tabby soon discovers. Why do scores of dead maids and masters haunt Seldom House with a jealous devotion that extends beyond the grave?
As Tabby struggles to escape the evil forces rising out of the land, she watches her young charge choose a different path. Long before he reaches the old farmhouse of Wuthering Heights, the boy who will become Heathcliff has doomed himself and any who try to befriend him.
About the Author
Clare B. Dunkle is the author of the acclaimed Hollow Kingdom trilogy, as well as By These Ten Bones and The Sky Inside. She lives with her family in San Antonio, Texas.
Praise For The House of Dead Maids…
"This is literature. As such, Dunkle leaves no literary allusion untouched, no symbolic leaf unturned, in her quest to reveal the origins of Heathcliff and his unearthly yearning for Catherine Earnshaw-Linton." --San Antonio Express-News
"[A]n intriguing, enthralling prequel… Beautifully written and compelling…Tabby's tale will carry you along to its chilling end." --St. Louis Post-Dispatch
"[A] beautifully written, dark tale… Those who have read 'Wuthering Heights' will appreciate this brilliant, lyrically written tale, but it will engage even those who haven't read Bronte's masterpiece." --Buffalo News
"The eloquent and proper style of the language, dialogue, ghostly descriptions, and chapter drawings contribute to the feeling of dread and fear at Seldom House. Young adult fans of Gothic novels are sure to enjoy this intriguing introduction to Heathcliff and use it as a lead into the discovery of Wuthering Heights." --Library Media Connection
"Dunkle has incorporated real people (Tabitha Aykroyd was the Brontës' housemaid, well-known for telling her young charges "otherworldly tales"), fictional characters (the boy is revealed to be a young Heathcliff), and the ancient Druidic practice of human sacrifice into a tense tale of supernatural doings." --School Library Journal
"Dark and beautiful, literary and lovely. . . . Worthy of sitting on a shelf next to Wuthering Heights." —Melissa Marr, author of Wicked Lovely
"For readers familiar with Brontë's novel, the final connection is a masterstroke; even those who don't get it will find this a keeper." --Kirkus Reviews
"An engrossing thriller and worthy companion to its classic literary inspiration." --
Horn Book Magazine,
STARRED review
"Be prepared with multiple copies of Brontë's classic, as Dunkle's darkly beautiful imagery and spooky setting will so thoroughly draw young readers in that they will be compelled to at least take a look at her inspiration." --BCCB
Advertisement