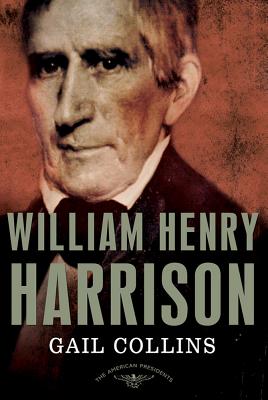 William Henry Harrison (Hardcover)
The American Presidents Series: The 9th President, 1841
Times Books, 9780805091182, 176pp.
Publication Date: January 17, 2012
* Individual store prices may vary.
Description
The president who served the shortest term—just a single month—but whose victorious election campaign rewrote the rules for candidates seeking America's highest office
William Henry Harrison died just thirty-one days after taking the oath of office in 1841. Today he is a curiosity in American history, but as Gail Collins shows in this entertaining and revelatory biography, he and his career are worth a closer look. The son of a signer of the Declaration of Independence, Harrison was a celebrated general whose exploits at the Battle of Tippecanoe and in the War of 1812 propelled him into politics, and in time he became a leader of the new Whig Party, alongside Daniel Webster and Henry Clay. But it was his presidential campaign of 1840 that made an indelible mark on American political history.
Collins takes us back to that pivotal year, when Harrison's "Log Cabin and Hard Cider" campaign transformed the way candidates pursued the presidency. It was the first campaign that featured mass rallies, personal appearances by the candidate, and catchy campaign slogans like "Tippecanoe and Tyler, Too." Harrison's victory marked the coming-of-age of a new political system, and its impact is still felt in American politics today. It may have been only a one-month administration, but we're still feeling the effects.
About the Author
Gail Collins is an op-ed columnist for The New York Times, where she previously served as editorial page editor—the first woman to hold that position. She is the author of When Everything Changed: The Amazing Journey of American Women from 1960 to the Present; America's Women: 400 Years of Dolls, Drudges, Helpmates, and Heroines; and Scorpion Tongues: Gossip, Celebrity, and American Politics. She lives in New York City with her husband, Dan Collins.
Arthur M. Schlesinger, Jr.
, (1917-2007) was the preeminent political historian of our time. For more than half a century, he was a cornerstone figure in the intellectual life of the nation and a fixture on the political scene. He won two Pulitzer prizes for
The Age of Jackson
(1946) and
A Thousand Days
(1966), and in 1988 received the National Humanities Medal. He published the first volume of his autobiography,
A Life in the Twentieth Century
, in 2000.
Sean Wilentz
, a professor of history at Princeton University, is the author or editor of several books, including
Chants Democratic
and
The Rise of American Democracy
. He has also written for
The New York Times
, the
Los Angeles Times
,
The New Republic
, and other publications. He lives in Princeton, New Jersey.
Praise For William Henry Harrison: The American Presidents Series: The 9th President, 1841…
"A surprisingly entertaining biography. . . . [that] tells everything the average reader might want to know about our ninth president. . . . While he accomplished nothing as president, [Harrison's] earlier achievements are well served in this excellent addition to the American Presidents series." —Publishers Weekly
Coverage from NPR