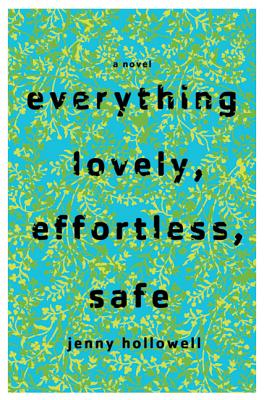 Everything Lovely, Effortless, Safe
A Novel
Paperback

* Individual store prices may vary.
Description
A young woman caught at the turning point between success and failure hopes fame and fortune will finally let her leave her old life—and her old self—behind

Birdie Baker has always dreamed of becoming someone else. At twenty-two, she sets off to do just that. Walking out on her pastor husband and deeply evangelical parents, she leaves behind her small-town, small-time life and gets on a bus to Los Angeles.

Nine years later, Birdie's life in Hollywood is far from golden, and nothing in the intervening years—the brutal auditions, the tawdry commercials—has brought her any closer to the transformation she craves. Caught between success and failure, haunted by guilt about a tragedy in her long-forsaken family, Birdie is at the brink of collapse when she meets Lewis, a beautiful but naïve young actor with his own troubled history, whose self-destructive impulses run dangerously parallel to her own.

When her big chance finally comes, Birdie must reconcile the wide-eyed girl she once was with the jaded starlet she has become and try to find herself and her future somewhere in between. Everything Lovely, Effortless, Safe is the story of a young woman's struggle to make her own way in the Technicolor land of make-believe.
Praise For Everything Lovely, Effortless, Safe: A Novel…
"Everything Lovely, Effortless, Safe tells us in quick, witty scenes and sharp psychological details what it's like to be a needy spirit in a beautiful body, yearning for success. This novel is smart, spare, comic and sad. It rings beautifully true." —John Casey, National Book Award-winning author of Spartina

"Everything Lovely, Effortless, Safe introduces a strong new voice, poised and sharp, beautifully suited to both the satiric task of dismantling Hollywood, and the empathetic one of rendering a young actress's grinding struggle for stardom." —Jennifer Egan, author of The Keep

"Scene by scene, lyric moment by lyric moment, savage phrase by savage phrase, Jenny Hollowell has constructed a brilliant portrait of Birdie, the fundamentalist Virginia girl who runs away from the terrors of the apocalypse only to land in the horrors of Hollywood. There's some Joan Didion here, some Lorrie Moore, some Nathanael West, but really, it's all Jenny Hollowell, a new name to remember." —Christopher Tilghman, author of Mason's Retreat

"Jenny Hollowell's writing is gorgeous and edgy, lyrical and in-your-face. A complex, perceptive novel." —Sheri Reynolds, author of Rapture of Canaan
St. Martin's Griffin, 9780805091199, 256pp.
Publication Date: June 8, 2010
About the Author
Jenny Hollowell is the author of the novel Everything Lovely, Effortless, Safe. Her short fiction has appeared in Glimmer Train, Scheherezade, and the anthology New Sudden Fiction, and was named a distinguished story by Best American Short Stories. She received an MFA from the University of Virginia, where she was a Henry Hoyns Fellow in Fiction and recipient of the Balch Short Story Award. She lives in Los Angeles with her husband and daughter.
Coverage from NPR