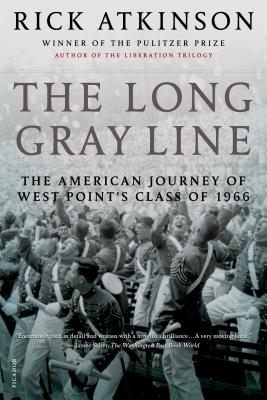 The Long Gray Line (Paperback)
The American Journey of West Point's Class of 1966
Holt Paperbacks, 9780805091229, 624pp.
Publication Date: October 27, 2009
* Individual store prices may vary.
Description
"A story of epic proportions [and] an awesome feat of biographical reconstruction."—The Boston Globe
A classic of its kind, The Long Gray Line is the twenty-five-year saga of the West Point class of 1966. With a novelist's eye for detail, Rick Atkinson illuminates this powerful story through the lives of three classmates and the women they loved—from the boisterous cadet years, to the fires of Vietnam, to the hard peace and internal struggles that followed the war. The rich cast of characters also includes Douglas MacArthur, William C. Westmoreland, and a score of other memorable figures. The class of 1966 straddled a fault line in American history, and Atkinson's masterly book speaks for a generation of American men and women about innocence, patriotism, and the price we pay for our dreams
About the Author
Rick Atkinson is the bestselling author of the Liberation Trilogy—An Army at Dawn, The Day of Battle, and The Guns at Last Light—as well as The Long Gray Line and other books. His many awards include Pulitzer Prizes for history and journalism. A former staff writer and senior editor at The Washington Post, he lives in Washington, D.C.
Praise For The Long Gray Line: The American Journey of West Point's Class of 1966…
"Enormously rich in detail and written with a novelist's brilliance… A very moving book." —James Salter, The Washington Post Book World
"A story of epic proportions [and] awesome feat of biographical reconstruction… A difficult book to put down." —Cullen Murphy, The Boston Globe
"The Long Gray Line is a profoundly moving saga in which the U.S. Military Academy at West Point stands center stage. In mufti or olive drab, at peace or war, amidst joy or grief, in life or death, the academy shapes all. The author has captured its ethos. If you want to see a slice of the nation's manhood in a drama of troubled times and find its heart, feel its emotions, sense its dilemmas, then read this book. It is a stunning story." —Colin L. Powell
"More of a biography of a generation than of a class at West Point… Stark, shocking, jolting." —John Eisenhower, Chicago Tribune (front page review)
"Journalism elevated to narrative history, a book like Neil Sheehan's Pulitzer Prize-winning A Bright Shining Lie. But better." —USA Today
"A work as masterfully executed as it was conceived." —Philadelphia Inquirer