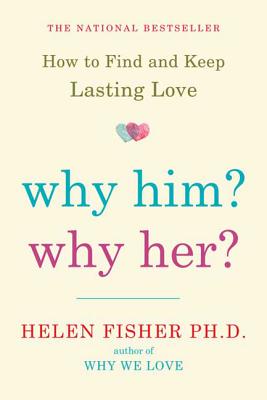 Why Him? Why Her?
How to Find and Keep Lasting Love
Paperback

* Individual store prices may vary.
Other Editions of This Title:
Digital Audiobook (1/19/2009)
Hardcover (1/20/2009)
Compact Disc (1/20/2009)
Description
The national bestselling book Why Him? Why Her? shows how a better understanding of who you are will help you find and keep the love you want

Helen Fisher can often tell, almost instantly, the hidden strengths and weaknesses in a relationship that are likely to keep a couple together or pull them apart. The words they choose, their facial structure and body language, even their doodles and where they live give strong clues to their personality type. After three decades of studying romantic relationships, Fisher has discovered that your dominant personality type guides not only who you are but who you love.

Why Him? Why Her? provides a new way to understand relationships, whether you're searching for one or eager to strengthen the one you have. Beginning with a scientifically developed questionnaire to determine your prevailing personality type, Fisher tells you not only what type of person you might have chemistry with but how to find them, attract them, and keep them. Once you know the personality profile of the partner you're with—or hope to find—you can use your knowledge of how your types match up to improve your love life.

More than seven million people in forty countries have learned Fisher's techniques and are using these tools to make and keep lasting romantic connections. Based on proven results, this groundbreaking book goes beyond theory to show that the complex nature of romance isn't so complicated once you truly understand yourself and others. Provocative and illuminating, Fisher's book deserves to be read by everyone looking to be loved for who they really are.
Praise For Why Him? Why Her?: How to Find and Keep Lasting Love…
"Fascinating…. You may already have your dream lover, but you'll want to read this for the many insights on the science of love."—The Boston Globe
 
"Why Him? Why Her? examines how brain chemistry determines temperament and temperament dictates whom we love…. [Fisher offers] a giddy, romantic notion, well worth considering."—Los Angeles Times
 
"In times of upheaval, nothing offers safe harbor like science. That's where Helen Fisher comes in…. Her research led her inside the biological mechanisms of mate choice."—TIME magazine
Holt Paperbacks, 9780805091526, 320pp.
Publication Date: January 5, 2010
About the Author
Dr. Helen Fisher, referred to by Time magazine as "the queen mum of romance research," is an internationally renowned biological anthropologist and one of the world's leading experts in the science of human attraction. Using functional magnetic resonance imaging, she studies the brain in love. And with her long-standing research, she helped develop one of the fastest-growing online relationship sites, Chemistry.com, a subsidiary of Match.com. Introduced in February 2006, Chemistry.com features the Chemistry Personality Test and Matching System, both developed by Fisher. To date, more than seven million people have taken the test, which is available in forty countries. In addition to serving as the chief scientific adviser for Chemistry.com, Fisher has authored four books and many articles in scientific journals and popular magazines. Her perspective on love, sexuality, women, and gender differences is regularly featured in major news outlets, including The Today Show, CNN, National Public Radio, BBC, and The New York Times. As a research professor in the Department of Anthropology at Rutgers University, she focuses on the role of biology in human sex, love, and marriage.

Fisher's widely anticipated book Why Him? Why Her? (Henry Holt and Company; January 20, 2009) proves her scientific hypotheses about why we are attracted to one person rather than another. Why Him? Why Her? follows Fisher's 2004 book, Why We Love (Henry Holt), which was translated into sixteen languages. It discussed her research on the brain physiology, evolution, and worldwide expression of romantic love. In her 1999 book, The First Sex: The Natural Talents of Women and How They Are Changing the World—which received the New York Times Book Review Notable Book award and was published in fourteen languages—she discussed gender differences in the brain and behavior, and the impact of women on twenty-first-century business, sex, and family life. Fisher's other books include Anatomy of Love: The Natural History of Mating, Marriage, and Why We Stray (1992), also a New York Times Notable Book, with nineteen foreign-language editions; and The Sex Contract: The Evolution of Human Behavior (1982), translated into five languages. Her articles have appeared in The Journal of Comparative Neurology, Journal of Neurophysiology, Archives of Sexual Behavior, Journal of Sex and Marital Therapy, The Journal of NIH Research, Psychology Today, Natural History, New Scientist, The New York Review of Books, The Chronicle of Higher Education, and many other journals, magazines, and books.

Fisher received her PhD in biological anthropology at the University of Colorado with a dissertation on the evolution of human female sexuality and the origin of the nuclear family. She has been on the national lecture circuit since 1983. Lectures include speeches at the American Museum of Natural History, Smithsonian Institution, World Economic Forum (Davos), TED, LeWeb, Harvard Medical School, the United Nations, the Salk Institute, American Psychiatric Association, the Brookings Institution, American Press Institute, American Society of Newspaper Editors, and Fortune magazine, as well as academic and business conferences in the United States, Canada, Europe, and Asia. For her work in communicating anthropology to the lay public, Fisher has received the American Anthropological Association's Distinguished Service Award.