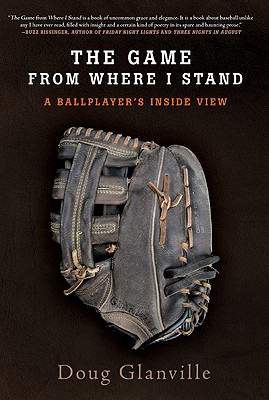 The Game from Where I Stand
A Ballplayer's Inside View
Hardcover

* Individual store prices may vary.
Other Editions of This Title:
Paperback (3/29/2011)
Description
An insider's revealing look at the hidden world of major league baseball
Doug Glanville, a former major league outfielder and Ivy League graduate, draws on his nine seasons in the big leagues to reveal the human side of the game and of the men who play it.
In The Game from Where I Stand, Glanville shows us how players prepare for games, deal with race and family issues, cope with streaks and slumps, respond to trades and injuries, and learn the joyful and painful lessons the game imparts. We see the flashpoints that cause misunderstandings and friction between players, and the imaginative ways they work to find common ground. And Glanville tells us with insight and humor what he learned from Jimmy Rollins, Alex Rodriguez, Randy Johnson, Barry Bonds, Curt Schilling, and other legendary and controversial stars.
In his professional career, Glanville experienced every aspect of being a player—the first-round pick, the prospect, the disappointment, the can't-miss, the cornerstone, the veteran, the traded, the injured, the comeback kid. His eye-opening book gives fans a new level of understanding of day-to-day life in the big leagues. 
Praise For The Game from Where I Stand: A Ballplayer's Inside View…
"Doug Glanville was always different from other baseball players -- in a good way. . . . He was more like one of us (regular folks) than one of them (exalted athletes). He saw himself the way you would if you made the majors: full of self-awareness and humanity, traits that are otherwise in short supply in the VIP-treated, image-conscious world of pro sports. It stood to reason, then, that Glanville's baseball memoir, The Game from Where I Stand, would be different as well. . . . [Glanville] is a witty, insightful writer. . . . Many times during the steroids scandal, it has seemed as if the players were on one side of the battle and the baseball writers were on the other. In Glanville, finally, we have someone who is of both camps, and everyone on either side would benefit from hearing what he has to say."—The Washington Post "Doug Glanville is a salesman. The former Cub is selling two of the most vanishing commodities on the contemporary American slipscape -- empathetic insight and independent thought….It's an engaging and thoughtful detailing of the way a smart, feeling player processed and parried with the realities of megabyte-era Major League Baseball."— Jim O'Donnell, Chicago Sun-Times "Glanville has an effective knack for unveiling the usually untold story of the tricky balancing act of real life -- ill family members, love life, confidence issues, lifestyle choices, injuries -- most players are constantly engaged in with varying degrees of success. . . . Generous, perceptive, wise (he's a Penn graduate, after all) and thoughtful, Glanville further distinguishes his career with this rich and rewarding look back at it."--Boston Herald "Like a player peering from dugout steps, surveying the field and the game, Glanville has a wonderful vantage."—Cleveland Plain-Dealer "Filled with sharp insights, keen observations, and great stories, his book is championship caliber."—The Philadelphia Inquirer "Doug Glanville . . . is as adept at thinking and writing about baseball as he was at playing it."—Men's Journal "The Game From Where I Stand. . . . is not just a riveting read; it's also a thoughtful and articulate examination of the game and the sometimes-fragile humans who play it."--The Pennsylvania Gazette "Glanville hits for the cycle with an elegantly written, up-close-and-personal, deliciously detailed, side-splitting and sad account of the day-to-day life of a journeyman ballplayer. . . . He reveals, as no one before has, what it's like to be a 'boy of summer.'"—Tulsa World
 "The Game from Where I Stand is our must-read baseball book of 2010. . . . Glanville [offers] some of the most intelligent and insightful commentary on the game today."--The Kansas City Star's "Ball Star" blog
"The Game from Where I Stand is a book of uncommon grace and elegance. That alone makes it worth reading. But the lineage of the author Doug Glanville, a former major league baseball player with an Ivy League education, puts it in a class all its own. A book about baseball unlike any I have ever read, filled with insight and a certain kind of poetry in its spare and haunting prose."—Buzz Bissinger, author of Friday Night Lights and Three Nights in August
 "Most fans know us only by what they see in the highlights on TV. But as Doug Glanville knows so well, being a professional athlete doesn't make us exempt from the world that exists outside the lines – we are very much a part of it, but we can't let it show. (That's not professional!) In this book Doug goes beyond the playing field to bring into view the full reality of being in the major leagues."—Jimmy Rollins, Phillies, All-Star and former MVP of the National League "When I was a teenager, Jim Brosnan's The Long Season changed the way I looked at baseball, but over the years I tended to read books by players and managers as studies in self-interest. Doug Glanville's book is different. The Game from Where I Stand is an honest, thoughtful, and insightful perspective on baseball, and Glanville's unadulterated respect for the sport and its people never wavers. This isn't good, it is brilliant."—Peter Gammons
 "Doug Glanville wants to tell fans about the texture of life—its stresses and pleasures—in the big leagues. Glanville, just your basic Ivy League-educated outfielder, has done fans a nifty favor."—George F. Will
 "I have known Doug Glanville for many years and always enjoyed competing against him. Doug was a great student of the game and someone who seemed to enjoy his playing career and took a lot from it. That is demonstrated in The Game from Where I Stand. Doug paints a very entertaining and accurate picture of the game that we love. This book will make you laugh and provides wonderful insights about our national pastime."—Cal Ripken Jr.
 
Times Books, 9780805091595, 304pp.
Publication Date: May 11, 2010
About the Author
Doug Glanville played outfield for the Philadelphia Phillies, Chicago Cubs, and Texas Rangers from 1996 through 2004. From 2008 to 2010, he wrote the online column "Heading Home" for "The New York Times" and provided baseball analysis for XM Radio's MLB Power Alley. In the spring of 2010 he joined ESPN as a baseball analyst, contributing to "Baseball Tonight," ESPN.com, and "ESPN The Magazine." He serves on the executive board of Athletes Against Drugs, the fundraising committee for Boundless Readers, and advises high school student athletes as a special consultant to the Baseball Factory. Glanville grew up in Teaneck, New Jersey, and is a graduate of the University of Pennsylvania. He lives with his family in Chicago.
Coverage from NPR
or
Not Currently Available for Direct Purchase