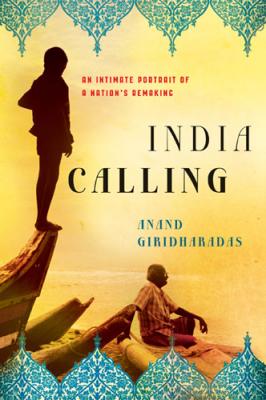 India Calling
An Intimate Portrait of a Nation's Remaking
Hardcover

* Individual store prices may vary.
Other Editions of This Title:
Paperback (1/3/2012)
Description
Reversing his parents' immigrant path, a young American-born writer returns to India and discovers an old country making itself new
Anand Giridharadas sensed something was afoot as his plane from America prepared to land in Bombay. An elderly passenger looked at him and said, "We're all trying to go that way," pointing to the rear. "You, you're going this way?"
Giridharadas was returning to the land of his ancestors, amid an unlikely economic boom. But he was interested less in its gold rush than in its cultural upheaval, as a new generation has sought to reconcile old traditions and customs with new ambitions and dreams.
In "India Calling," Giridharadas brings to life the people and the dilemmas of India today, through the prism of his emigre family history and his childhood memories of India. He introduces us to entrepreneurs, radicals, industrialists, and religious seekers, but, most of all, to Indian families. He shows how parents and children, husbands and wives, cousins and siblings are reinventing relationships, bending the meaning of Indianness, and enduring the pangs of the old birthing the new.
Through their stories, and his own, he paints an intimate portrait of a country becoming modern while striving to remain itself.
Praise For India Calling: An Intimate Portrait of a Nation's Remaking…
"India Calling is a fine book, elegant, self-aware and unafraid of contradictions and complexity. Giridharadas captures fundamental changes in the nature of family and class relationships and the very idea of what it means to be an Indian."—The New York Times Book Review
"[A] smart, evocative and sharply observed memoir . . . Giridharadas's narrative gusto makes the familiar fresh."—The Wall Street Journal
"Capturing the monumental changes sweeping India is a feat many attempt but few manage. . . . In India Calling, Giridharadas has written the best of this now established genre. . . . A finely observed portrait of the modern nation."—Financial Times
"Eloquent. . . . [Giridharadas's] gritty and witty pen portraits of a host of Indian characters and places make a great read."—Sunday Herald Sun (Melbourne, Australia)
"Warm, witty and highly perceptive. . . . Where Naipaul's gaze was excoriating, almost half a century later, Giridharadas' scrutiny, though no less penetrating, is kinder and gentler. In this return of the native genre, India Calling is an honorable successor to Naipaul's classic [An Area of Darkness]."—The Canberra Times
"The moving story of an unexpected romance between a young American and a country he never knew was his to love."—San Jose Mercury News
"[A] readable, intriguing book. . . . [Giridharadas is] a marvelous journalist—intrepid, easy to like, curious. . . . India Calling connects us to a new India, and an engaging new voice."—Cleveland Plain Dealer
"A beautifully written, intelligent look at the cultural history and changes of India. . . . The book [is] worth reading because of [Giridharadas's] skill as a writer. . . . Giridharadas publishes sentences and paragraphs that are exquisitely worded, to the point of becoming downright memorable, and certainly quotable."—Minneapolis Star Tribune
"Giridharadas successfully uses his first-hand account of self-discovery to illustrate a larger picture of empowering change."—Christian Science Monitor
"I doubt that there's any writer today who is a more acute observer of 'the new India.'"—The Christian Century
"An eminently readable, closely observed book on a fascinating subject… [Giridharadas is] the perfect intermediary between Western readers and the world he introduces."— Readings.com.au (Australia)
"Giridharadas offers a fine-grained portrait of what seismic changes mean at the ground level… [and] captures in sharply observed portraits how people react to the gale force of a major change."—Curledup.com
"In this fresh, clear-eyed account of his stay, the author writes eloquently of how he came upon a very different place from where his parents grew up."—Kirkus Reviews
"Well thought out . . . Like a morality play, each chapter reflects a different inner quality, while woven together in the narrative are bits of the author's family history. The portraits . . . show the myriad ways in which India has changed and yet remains the same."—Library Journal
"Rarely has an author deciphered the Indian enigma the way Anand Giridharadas does in India Calling. By lucidly portraying the country's real locomotive—its vast and populous youth—he provides the most timely and elegant guide to perhaps the most important next generation in the world."—Parag Khanna, author of The Second World and How to Run the World
"Anand Giridharadas is more than just a widely admired journalist; with India Calling he has transformed into a fluent, witty, and intelligent writer. His very personal and perceptive look at the new India is a memorable debut, full of insight and diversion."—William Dalrymple, author of Nine Lives: In Search of the Sacred in Modern India
"Anand Giridharadas has become one of the finest analysts of contemporary India. In India Calling, he has produced an engrossing and acutely observed appreciation of a country that is at once old and new—an enormously readable book in which everyone, at home in India or abroad, will find something distinctive and altogether challenging."—Amartya Sen, Nobel laureate in economics
"The emergence of a more dynamic India has been widely observed. Less well understood are the myriad reinventions that make the New India so exciting. In India Calling, Anand Giridharadas renders this change on an intimate scale with a tapestry of keenly observed stories about the changing dreams and frustrations of all walks of Indians—and his own. Savvy and often moving, India Calling is for those who prefer the view from the ground than from thirty thousand feet."—Edward Luce, author of In Spite of the Gods: The Rise of Modern India

Times Books, 9780805091779, 288pp.
Publication Date: January 4, 2011
About the Author
Anand Giridharadas writes the "Currents" column for the "International Herald Tribune" and "The New York Times" online. A native of Cleveland, Ohio, and a graduate of the University of Michigan, he worked in Bombay as a management consultant until 2005, when he began reporting from that city for the "Herald Tribune" and the "Times." He now lives in Cambridge, Massachusetts.
or
Not Currently Available for Direct Purchase