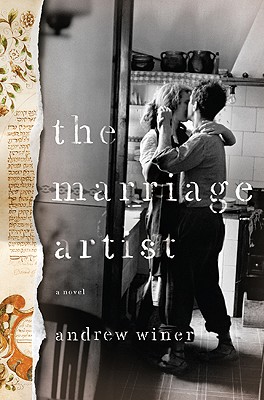 The Marriage Artist (Hardcover)
Henry Holt and Co., 9780805091786, 384pp.
Publication Date: October 26, 2010
Other Editions of This Title:
Paperback (10/25/2011)
Hardcover, Large Print (3/2/2011)
* Individual store prices may vary.
Description
Two mysterious deaths unlock one man's past and another's future in this moving tale of art, love, and history
When the wife of renowned art critic Daniel Lichtmann plunges to her death, she is not alone. Lying next to her is her suspected lover, Benjamin Wind, the very artist Daniel most championed. Tormented by questions about the circumstances of their deaths, Daniel dedicates himself to uncovering the secrets of their relationship and the inspiration behind Wind's dazzling final exhibition.
What Daniel discovers is a web of mysteries leading back to pre-World War II Vienna and the magnificent life of Josef Pick, a forgotten artist who may have been the twentieth century's greatest painter of love. But the most astonishing discoveryis what connects these two artists acrosshalf a century: a remarkable woman whose response to the tragedy of her generation offers Daniel answers to the questions he never knew to ask.
Ambitious, haunting, and stunningly written, The Marriage Artist tells a universal tale of a family dramatically reshaped by the quest for personal freedom in the face of inherited beliefs, public prejudices, and the unfathomable turns of history. It is at once a provocative snapshot of contemporary marriage, the recovery of a passion that history never recorded, and a fierce reminder of the way we enlist love in our perpetual search for meaning and permanence.
About the Author
Andrew Winer is the author of "The Marriage Artist" and "The Color Midnight Made." Formerly an artist who wrote art criticism, he teaches at the University of California, Riverside, where he has directed the MFA program in creative writing. He is a recipient of a National Endowment for the Arts Fellowship in Fiction and is married to the writer Charmaine Craig, with whom he has two daughters.
Praise For The Marriage Artist…
"Powerful . . . ambitious . . . audacious."
—Publishers Weekly (Starred review)
"A tour de force of provocative ideas . . . expressed through emotionally riveting characters."
—Kirkus Reviews (Starred review)
"Andrew Winer is a formidable writer. He has erected an amazing Tower of Babel, a tower of history, love, marriage and art, Europe and America. In Winer's building, though, there is no confusion of languages—or only to the extent that it can fuel the masterful plot. This novel is a page-turner with a deeper meaning, a very rare amalgam indeed."
—Adam Zagajewski, author of Eternal Enemies and A Defense of Ardor
"In this intricate and far-ranging novel, Andrew Winer writes brilliantly about art and love, history, debts that can and can't be paid, fatherhood in all its guises, the importance of bearing witness, the fragile border between mortality and immortality, the speakable and the unspeakable. The Marriage Artist weaves together the lives of characters, past and present, with consummate skill, and the result is an utterly absorbing and profound novel."
—Margot Livesey, author of The House on Fortune Street
"A powerful intellect, fearless emotion, and gift for provocative metaphorical narrative, all drive this sweeping, unflaggingly intense novel. The Marriage Artist takes on big themes—love, death, faith, history—with a riveting mix of seriousness and enchantment."
—Francisco Goldman, author of The Divine Husband
"Winer creates complex characters by sketching compelling portraits. . . The result is a story that is engrossing and haunting." —
abcnews.com
 "Unforgettable . . . evocative . . . lyrical . . .
The Marriage Artist
gives us a reason to celebrate." —Bookpage " [a] fearless examination of sexual power, love. . . hatred between fathers and sons, maternal instinct [and] grief. . . ." –
The Rumpus
   ". . . a mystery, a romance and a ghost story, and the author is adept at weaving all of these narrative threads into a single compelling tale." – The Jewish Journal
". . . breath-bating . . . a high-minded fusion of dark anti-love story and ethnographic detective fiction." –
The Boston Globe
 "An intense and complex examination of love. . . . a mystery that raises the question of how memory, identity and love are entangled." –
Star Tribune
or
Not Currently Available for Direct Purchase