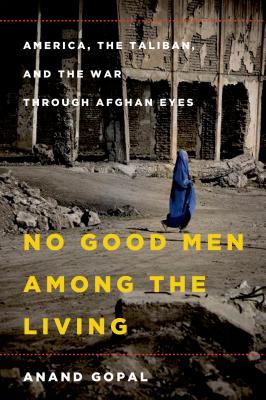 No Good Men Among the Living
America, the Taliban, and the War through Afghan Eyes (American Empire Project)
Hardcover

* Individual store prices may vary.
Other Editions of This Title:
Digital Audiobook (1/26/2015)
Paperback (5/5/2015)
CD-Audio (1/27/2015)
Description
Told through the lives of three Afghans, the stunning tale of how the United States had triumph in sight in Afghanistan—and then brought the Taliban back from the dead

In a breathtaking chronicle, acclaimed journalist Anand Gopal traces in vivid detail the lives of three Afghans caught in America's war on terror. He follows a Taliban commander, who rises from scrawny teenager to leading insurgent; a US-backed warlord, who uses the American military to gain personal wealth and power; and a village housewife trapped between the two sides, who discovers the devastating cost of neutrality.

Through their dramatic stories, Gopal shows that the Afghan war, so often regarded as a hopeless quagmire, could in fact have gone very differently. Top Taliban leaders actually tried to surrender within months of the US invasion, renouncing all political activity and submitting to the new government. Effectively, the Taliban ceased to exist—yet the Americans were unwilling to accept such a turnaround. Instead, driven by false intelligence from their allies and an unyielding mandate to fight terrorism, American forces continued to press the conflict, resurrecting the insurgency that persists to this day.
With its intimate accounts of life in war-torn Afghanistan, Gopal's thoroughly original reporting lays bare the workings of America's longest war and the truth behind its prolonged agony. A heartbreaking story of mistakes and misdeeds, No Good Men Among the Living challenges our usual perceptions of the Afghan conflict, its victims, and its supposed winners.
Praise For No Good Men Among the Living: America, the Taliban, and the War through Afghan Eyes (American Empire Project)…
"Gopal's book is essential reading for anyone concerned about how America got Afghanistan so wrong. It is a devastating, well-honed prosecution detailing how our government bungled the initial salvo in the so-called war on terror, ignored attempts by top Taliban leaders to surrender, trusted the wrong people and backed a feckless and corrupt Afghan regime. . . . It is ultimately the most compelling account I've read of how Afghans themselves see the war." —The New York Times Book Review

"Astonishing stories. . . Such investigative reporting is very rare in Afghanistan, where foreign journalists have been targets since 2001. Gopal pursued his stories into the most active centers of the insurgency. He learned Dari and -- more difficult -- Pushtu. He won the trust of insurgent leaders. But his real genius lies in binding all these sources together and combining them with thousands of hours of interviews. . . . All this allows him to bring life to figures who have hitherto been caricatures." —The New York Review of Books

"A brilliant analysis of our military's dysfunction and a startlingly clear account of the consequences" —Mother Jones

"Extraordinary . . . Brilliantly written . . . Gopal's method of going deep into the lives of several Talibs, warlords, and ordinary Afghans—he includes an exhilarating portrait of one Afghan woman—demonstrates how different the Americans' 'mistakes' feel when the dead, injured, and traumatized people have been amply humanized." —Bookforum

"With a plethora of policy-oriented works on Afghanistan having appeared in recent years, Anand Gopal wisely chooses to tell the war's story from the personal perspective of three characters. . . . Gopal displays a keen understanding of the levers of power in Afghan society and their sometimes devastating effect on individuals trying to make their way in the world." —Los Angeles Times

"Refreshingly complex and thought-provoking. . . Often reading like an adventure novel, No Good Men Among the Living is certain to appeal to Afghan-ophiles and casual readers alike. . . . Gopal offers a unique perspective, an essential examination of policy, and a rock-solid narrative that ensures this will be one of the few books people still read years from now when they want to understand America's war in Afghanistan." —The Christian Science Monitor

"The level of craftsmanship in this book is often awe-inspiring. . . . Provides unique insights into America's intervention in Afghanistan and makes important contributions to our understanding of the conflict there." —Foreign Policy

"Compelling. . .Gopal's chronology of how America's deadly incompetence and the predatory graft of Afghan authorities drove many Afghans to despair or rebellion is the product of sustained and impressive shoe-leather reporting. This is a valuable book." —Maclean's

"Haunting . . . Presents a stirring critique of American forces who commanded overwhelming firepower, but lacked the situational knowledge to achieve their objectives . . . Gopal reveals the fragility of the tenuous connection between intention and destiny in a war-torn land." —Publishers Weekly

"Gopal puts the present Afghanistan in perspective . . . He presents his analysis of Afghanistan through three individuals: Mullah Cable, a Taliban commander; Jan Muhammad, a member of the U.S.-backed Afghan government; and Heela, a village housewife. His portraits of these three and their tumultuous lives are rich in detail, as are his descriptions of their stark and war-ravaged land." —Kirkus Reviews

"Original and stimulating . . . Policymakers and informed readers will benefit immensely from this illuminating book" —Library Journal

"A brilliant, incisive work of storytelling and analysis. Of all the recent books on Afghanistan, this one stands out like a bright shining light, revealing the truth of the war from the ground up. Breathtaking and magnificent, this is a must read." —Ahmed Rashid, author of Taliban: Militant Islam, Oil and Fundamentalism in Central Asia

"If you read one book on Afghanistan today, make it this one. No Good Men Among the Living is a masterfully told narrative of how, after 9/11, the Americans defeated the Taliban only to revive them. An admirable achievement." —Jon Lee Anderson, author of The Fall of Baghdad and The Lion's Grave

"Anand Gopal, known for his extraordinarily brave firsthand accounts of the Taliban, now tells the story of the Afghan war through stories of the Afghans themselves—whose voices have been notably absent from almost all coverage of the conflict. With its deep reporting and excellent writing, No Good Men Among the Living is destined to became a classic of war reportage." —Peter Bergen, author of Manhunt: The Ten-Year Search for Bin Laden from 9/11 to Abbottabad
Metropolitan Books, 9780805091793, 320pp.
Publication Date: April 29, 2014
About the Author
Anand Gopal is a freelance journalist covering Afghanistan, Egypt, Syria, and other international hotspots. He has served as an Afghanistan correspondent for The Wall Street Journal and The Christian Science Monitor, and his writing has appeared in The Nation, The New Republic, Harper's, and Foreign Policy, among other publications. Gopal is a fellow at the New America Foundation. No Good Men Among the Living is his first book.
or
Not Currently Available for Direct Purchase