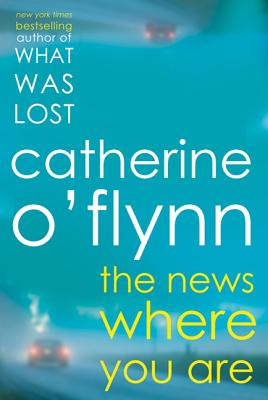 The News Where You Are
A Novel
Paperback

* Individual store prices may vary.
Other Editions of This Title:
MP3 CD (7/6/2010)
Compact Disc (7/6/2010)
Compact Disc (7/6/2010)
Audio Cassette (7/1/2010)
Paperback (12/1/2010)
Description
From the bestselling author of What Was Lost comes a spirited literary mystery about a television anchorman's search for the truth about the disappearances that surround him
Frank Allcroft, a television news anchor in his hometown (where he reports on hard-hitting events, like the opening of canine gyms for overweight pets), is on the verge of a mid-life crisis. Beneath his famously corny on-screen persona, Frank is haunted by loss: the mysterious hit-and-run that killed his predecessor and friend, Phil, and the ongoing demolition of his architect father's monumental postwar buildings. And then there are the things he can't seem to lose, no matter how hard he tries: his home, for one, on the market for years; and the nagging sense that he will never quite be the son his mother—newly ensconced in an assisted-living center—wanted.
As Frank uncovers the shocking truth behind Phil's death, and comes to terms with his domineering father's legacy, it is his beloved young daughter, Mo, who points him toward the future. Funny and touching, The News Where You Are is a moving exploration of what we do and don't leave behind, proving once more that Catherine O'Flynn's writing "shimmers with dark brilliance" (Chicago Tribune).
The News Where You Are is a 2011 Edgar Award Nominee for Best Paperback Original.
Praise For The News Where You Are: A Novel…
"Heartbreakingly funny.... O'Flynn makes us reconsider the things we choose to lose--and the things we forget to remember until it's too late." —Marilyn Stasio, The New York Times Book Review
"This superbly written novel begins with deceptive simplicity and humor, and quietly blossoms into a precisely observed story about loss, aging, friendship, and reinvention. . . . [O'Flynn's] writing has unmistakable authenticity, delicately balancing comedy and tragedy. It's a difficult trick, one that she has mastered with impressive grace." —Diane White, The Boston Globe
"Writing a second novel is a nervy business for a writer, especially when the first one has been unexpectedly and wonderfully successful, as was Catherine O'Flynn's debut What Was Lost, which went on to win the 2008 Costa first novel and a cluster of other awards. But O'Flynn need not be nervous. Her second novel, The News Where You Are, establishes her as, let's say, the JG Ballard of Birmingham. As Ballard dealt with the landscape of the motorway and made it his own, so O'Flynn deals with her particular city, finding poetry and meaning where others see merely boredom and dereliction. It is a most moving book. Lightly flinging a joke or two in the reader's direction, a snatch or so of knowledgeable brightness, O'Flynn comes across as the mistress of compassion.… This [is a] blend of Dickens and Alan Bennett, written in the kind of stripped-down, flat style that so suits its time and place. I loved it, and am haunted by it. While What Was Lost benefited from the existence of an actual child ghost ... this book is set in a less metaphorical, less fanciful world, but it has equal power. If you can write two good novels you can write another and another and another: I am sure O'Flynn will and I look forward to them." —Fay Weldon, The Guardian
"Catherine O'Flynn's narratives of urban disenchantment answer the challenge for novelists to take the ordinary and make it compelling. The setting of her Costa First Novel Award-winning What Was Lost was the unexceptional world of a Midlands city shopping mall. In this second fictional outing, a regional TV studio becomes a symbol of the awfulness of modern mass culture.... Tenderly portrayed, like all O'Flynn characters, [Frank] is far more interested in the invisible lives of people beyond the news, in particular those whose only brief claim to fame is the sad mode of their passing: alone and forgotten in the city.... O'Flynn's eye for the quotidian ridiculous is sharp enough to rank her with Mark Haddon and Marina Lewycka--comic novelists worth taking seriously.... This funny, moving novel reflects back to us our everyday selves." —Rachel Hore, The Independent (UK)
"That O'Flynn can balance stylized minimalism with a wholly engaging narrative is the mark of a serious writer.... A work of some real literary weight. Beneath the un-screaming facades of O'Flynn's characters is a searing denunciation of modern values, and a writer who isn't afraid to sacrifice the conventions of depth for experiments in shape and restraint." —Martha Schabas, Globe and Mail
"Seriously uplifting. It's a funny, moving, acutely observed story about family and loss, getting old and being alone. That it also manages to take in British architecture and urban space and the problems of celebrity culture, while being disarmingly easy to read, is testament to Catherine O'Flynn's comic timing and lightness of touch.... O'Flynn's description of the editorial conference at the TV station where Frank works is hilarious ... Her great strength is to take characters who are, in a way, familiar, who could be annoying, perhaps even pathetic, and to invest them with a palpable humanity and dignity. A stand-out character is Frank's eight-year-old daughter, Mo. Full of questions, anxieties and quirks, she's Frank's connection to how wonderful and scary and strange the world is. She's the kind of child who worries that trampolines near canals might be death traps and who takes it on herself to cheer up her miserable grandmother, providing some truly funny moments.... A pleasurable, satisfying gem of a novel." —Claire Black, Scotland on Sunday (Edinburgh)
"O'Flynn's second novel is also set in the Midlands but is about remembrance.... [The News Where You Are]'s gentle wit and melancholy are beguiling." —David Headley, The Daily Express
"The News Where You Are proves that all of the praise won by [O'Flynn's] eerie debut was no fluke.... With beautifully drawn characters and O'Flynn's uncanny sense of psychology, this novel is a moving, funny, and often affirming exploration of fatherhood and the ways in which our inner lives don't match our outer ones." —Brian Lynch, Georgia Straight (Vancouver, Canada)
"Author of the critically acclaimed What Was Lost, O'Flynn tends to focus on what people discard, on those people and things that have been passed by and forgotten. Here, Frank identifies with them and lets them know that they are not invisible to him. A sometimes humorous and always compassionate novel about approaching the fear of going out of style and becoming obsolete, with the perspective that history and memories afford." —Library Journal
"The News Where You Are is a compelling, moving and wonderful exploration of what it means to age, of how our sense of ourselves changes in ways we would never expect and can't always control. O'Flynn writes with a humor and subtle grace that underscores the urgency with which her characters approach their own ends." —Steven Galloway, author of The Cellist of Sarajevo
"The News Where You Are is a stunning accomplishment, a page-turner shot through with O'Flynn's compassion and electrifying wit. O'Flynn gives us an unflinching vision of profound loss without ever losing her sense of humor; she shows us that the haunted corridors of the heart can also echo with laughter." —Karen Russell, author of St. Lucy's Home for Girls Raised by Wolves
Picador, 9780805091809, 272pp.
Publication Date: July 6, 2010
About the Author
Catherine O'Flynn is the author of the bestselling debut novel, What Was Lost, which won the Costa First Novel Award in 2007, was short-listed for The Guardian First Book Award, and was long-listed for the Booker Prize and the Orange Prize. Her second novel, The News Where You Are was an Indie Next List selection and was shortlisted for the 2011 Edgar Award for Best Paperback Original. She lives in Birmingham, England.