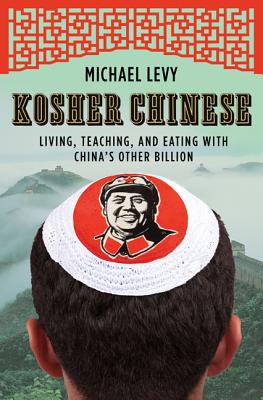 Kosher Chinese (Paperback)
Living, Teaching, and Eating with China's Other Billion
Holt Paperbacks, 9780805091960, 256pp.
Publication Date: July 5, 2011
* Individual store prices may vary.
Description
An irreverent tale of an American Jew serving in the Peace Corps in rural China, which reveals the absurdities, joys, and pathos of a traditional society in flux
In September of 2005, the Peace Corps sent Michael Levy to teach English in the heart of China's heartland. His hosts in the city of Guiyang found additional uses for him: resident expert on Judaism, romantic adviser, and provincial basketball star, to name a few. His account of overcoming vast cultural differences to befriend his students and fellow teachers is by turns poignant and laugh-out-loud funny.
While reveling in the peculiarities of life in China's interior, the author also discovered that the "other billion" (people living far from the coastal cities covered by the American media) have a complex relationship with both their own traditions and the rapid changes of modernization. Lagging behind in China's economic boom, they experience the darker side of "capitalism with Chinese characteristics," daily facing the schizophrenia of conflicting ideologies.
Kosher Chinese is an illuminating account of the lives of the residents of Guiyang, particularly the young people who will soon control the fate of the world.
About the Author
Michael Levy is an educator, writer, and traveler, who teaches in Brooklyn, New York, at Saint Ann's School. He is the author of Kosher Chinese: Living, Teaching, and Eating with China's Other Billion, and he returns frequently to Guiyang to check in on his students and visit the basketball courts where he momentarily attained stardom. While in the United States, he keeps strictly kosher. While in China, he eats anything with four legs except the table.
Praise For Kosher Chinese: Living, Teaching, and Eating with China's Other Billion…
"A funny and informative account of life in Guizhou province, deep in the heart of China. As a Peace Corps volunteer, Michael Levy came to know and love a part of the country that few visitors see, a world away from Beijing and Shanghai." —Peter Hessler, author of River Town and Oracle Bones
"As a Peace Corps volunteer, Michael Levy taught for two years in a corner of China overlooked by tourists and correspondents. Kosher Chinese is a heartfelt, engaging memoir that captures at once the poignancy and humor of daily life in the new China. Levy's narrative balances his own acclimation to China with his students' acclimation to university life, and independence. This is what it feels like to be immersed behind the headlines--for Levy, it came to feel like home." —Michael Meyer, author of The Last Days of Old Beijing: Life in the Vanishing Backstreets of a City Transformed
"Michael Levy is the tour guide to the real China we all long for. Funny, insightful, full of warmth and wit, Kosher Chinese brims with interesting characters and scenes, and it marks the debut of a fresh new voice in American writing." —Bruce Feiler, author of Walking the Bible and The Council of Dads
"With intelligence and zesty good humor, Levy tells the story of his sojourn as an ESL teacher in Guiyang… A rollicking, thoroughly refreshing debut." —Kirkus
"As in Peter Hessler's River Town…and Peter J. Vernezze's Socrates in Sichuan…, Peace Corps experience is the inspiration for Levy's cheekier and freewheeling but insightful adventure story." —Library Journal