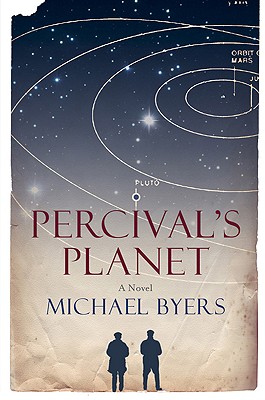 Percival's Planet (Hardcover)
Henry Holt and Co., 9780805092189, 432pp.
Publication Date: August 3, 2010
Other Editions of This Title:
Paperback (8/16/2011)
Compact Disc (8/24/2010)
Pre-Recorded Audio Player (11/1/2010)
MP3 CD (8/24/2010)
Compact Disc (8/24/2010)
* Individual store prices may vary.
Description
A novel of ambition and obsession centered on the race to discover Pluto in 1930, pitting an untrained Kansas farm boy against the greatest minds of Harvard at the run-down Lowell Observatory in Arizona
In 1928, the boy who will discover Pluto, Clyde Tombaugh, is on the family farm, grinding a lens for his own telescope under the immense Kansas sky. In Flagstaff, Arizona, the staff of Lowell Observatory is about to resume the late Percival Lowell's interrupted search for Planet X. Meanwhile, the immensely rich heir to a chemical fortune has decided to go west to hunt for dinosaurs and in Cambridge, Massachussetts, the most beautiful girl in America is going slowly insane while her ex-heavyweight champion boyfriend stands by helplessly, desperate to do anything to keep her. Inspired by the true story of Tombaugh and set in the last gin-soaked months of the flapper era, Percival's Planet tells the story of the intertwining lives of half a dozen dreamers, schemers, and madmen. Following Tombaugh's unlikely path from son of a farmer to discoverer of a planet, the novel touches on insanity, mathematics, music, astrophysics, boxing, dinosaur hunting, shipwrecks—and what happens when the greatest romance of your life is also the source of your life's greatest sorrow.
About the Author
Michael Byers is the author of the story collection "The Coast of Good Intentions," a finalist for the PEN/Hemingway Award, and the acclaimed novel "Long for This World," winner of the First Novel Award from Virginia Commonwealth University. Both were "New York Times" Notable Books. A former Stegner Fellow and Whiting Award winner, he teaches at the University of Michigan.
Praise For Percival's Planet…
"What makes 'Percival's Planet' so irresistible is a more down-to-earth human focus brought to the story through fictional characters and events. Byers has the rare ability to break a reader's heart practically from the moment each new character is introduced." - Oregonlive.com
"The power of Byers' writing will keep readers turning pages. . . . Byers has a gift for capturing the exhilaration of discover. The depth and precision of his descriptions bring his striving, searching characters fully into focus" -Dallas News "Byers's writing, always lyrical, shimmers and trembles and breaks our hearts. 'Percival's Planet' a story of earth, sky and bones, of privilege and struggle, of grave and beautiful people is. . . deserving of our admiration and awe." - Boston Globe
"Faultless storytelling. A gloriously expansive view of Depression-era America." —Publishers Weekly (Starred)
"Michael Byers has written an historical novel about a famous scientist and the race to solve one of the nineteenth century's greatest unsolved mysteries. The author has done a wonderful job of letting readers follow young Clyde Tombaugh as he creates an opportunity for himself to escape from Kansas, pursue his dream of becoming an astronomer, and demonstrate his stubborn, farmboy's stick-to-it work ethic that enabled him to accomplish what the more experienced professionals could not." —David A. Weintraub, Professor of Astronomy, Vanderbilt University
"Percival is a smart read, a lovely read, and no matter what Pluto is, planet or planetoid, Byers' own world is just as interesting" – Pittsburgh City Paper
"This is the stuff of page-turners, loaded with romance, ambition and betrayals. With this kind of book, once you speed through the first two-thirds, you start rationing out chapters to yourself one at a time to make it last." – The Courier-Journal
". . . lyrical, with many beautiful descriptive passages. The historical aspect is fascinating, and the characters are often bigger than life." – Kansas City Public Library "Gripping. . . . The power of the book lies in Byers' compelling characters and finely wrought narrative of ambition, obsession and love." – Free Press "Byers' wry historical novel. . . tickles the mind and grabs the heart." – Booklist
or
Not Currently Available for Direct Purchase