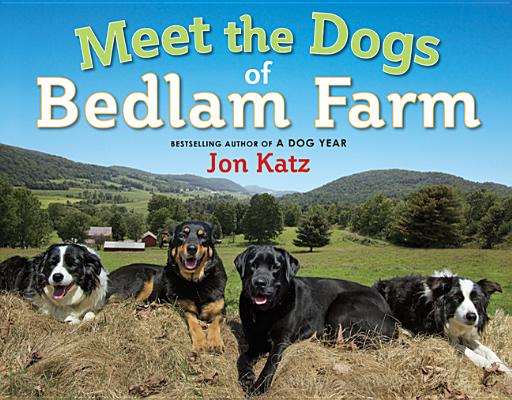 Meet the Dogs of Bedlam Farm (Hardcover)
Henry Holt & Company, 9780805092196, 32pp.
Publication Date: April 26, 2011
Description
Welcome to Bedlam Farm Meet Rose, Izzy, Frieda, and Lenore, four dogs that work hard on the farm doing various jobs. They're good friends now, but it wasn't always this way. Just as each dog has a different role on the farm, each has a unique story.
Filled with his captivating photographs, bestselling author Jon Katz's heartwarming account of his dogs' lives on Bedlam Farm is unforgettable.
About the Author
Jon Katz has written many books for adults including Izzy and Lenore and Dog Days, which were both New York Times bestsellers. His book A Dog Year was made into a film, starring Jeff Bridges, that recently aired on HBO. He is a photograher and lives in upstate New York with a host of personable animals. Meet the Dogs of Bedlam Farm is his first book for children.
Praise For Meet the Dogs of Bedlam Farm…
"Katz's photographs depicting the dogs' vastly different personalities are great fun for dog lovers and a fine lesson for dog fearers. Lenore, it turns out, makes sure everyone is happy." —The New York Times Book Review 
"This photographic essay aims at the heart of dog group dynamics on Jon Katz's Farm. A highly specific, not preachy, charmer." —The Chicago Tribune
"The book introduces Rose, Izzy, Frieda and Lenore, dogs that live on Bedlam Farm. It talks about the jobs that each dog is in charge of and about life on the farm. The pictures are all photographs taken by Katz. They lovingly show the dogs working and playing in each season of the year." —
McClatchy-Tribune news
"Meet the Dogs of Bedlam Farm
by Jon Katz is a beautifully photographed and clever story." —
The Examiner.com
"This is the love letter people wish they could write to their own pets, and it makes a point well worth reiterating: in a family, all members are equally valuable." —Booklist 
"The large, full-color photographs are totally engaging and capture the animals' distinct personalities. . . . The writing is crisp and clear, and the stories (each dog gets its own turn) are sweet and filled with gentle humor. This gorgeous, heartwarming book, great for quiet reading and storytimes alike, stands out from the pack."  —School Library Journal, STARRED
"In Katz's first book for children, illustrated with lively photos, the author explains how the four dogs (which have been the subject of several bestselling titles for adults) that live on his farm in upstate New York have distinct roles and responsibilities. . . .  dog-loving readers will value the attention paid to their individual contributions." —Publishers Weekly
"The simple, informative story is illustrated with high-quality photographs of the dogs in action, using a wide variety of shots and settings that add visual interest. Young dog lovers will enjoy this, particularly those who own border collies or black labs." —Kirkus Reviews
Advertisement