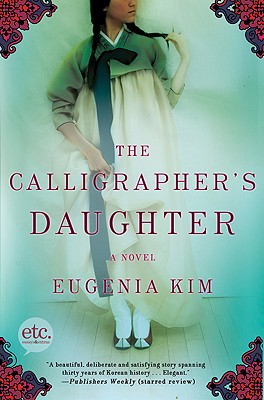 The Calligrapher's Daughter
Paperback

* Individual store prices may vary.
Description
"A beautiful, deliberate and satisfying story spanning 30 years of Korean history . . . Elegant." "Publishers Weekly" (starred review)
In early-twentieth-century Korea, Najin Han, the privileged daughter of a calligrapher, longs to choose her own destiny, though her country newly occupied by Japan is crumbling, and her family, led by her stern father, is facing difficulties that seem insurmountable. Narrowly escaping an arranged marriage, Najin takes up a new role as a companion to a young princess. But the king is soon assassinated, and the centuries-old dynastic culture comes to its end.
Najin pursues a coveted education and is surprised to find love. After one day of marriage a denied passport separates her from her new husband, who continues alone to America. As a decade passes and the world descends into war, Najin loses touch with her husband. Will the love they share be enough to sustain her through the deprivation her country continues to endure? "The Calligrapher's Daughter" is a richly drawn novel about a nation torn between ancient customs and modern possibilities, and is a "vivid, heartfelt portrait of faith, love and life for one family during a pivotal time in history" ("Bookpage").
Praise For The Calligrapher's Daughter…
"The Calligrapher's Daughter fascinated me, as much for its characters as for its engrossing story of Korea under the Japanese occupation.  Najin's father is admirable for exactly the traits that make him difficult, and her apparently passive mother is heroic.  I can't stop thinking about them and their honest, brave, and very human daughter."—Alice Mattison, author of Nothing is Quite Forgotten in Brooklyn and The Book Borrower
"In The Calligrapher's Daughter Eugenia Kim beautifully chronicles both the lost world of a traditional Korea and the lost childhood of her remarkable heroine. A coming-of-age story that resonates with larger significance, the novel movingly depicts the emotional cost of transformation and the love and sacrifice that makes transformation possible. The Calligrapher's Daughter is at once the story of a single life as well as the changing life of a nation and, while the details are fascinatingly exotic, the narrative rings with the hard won truths of profound human experience. It is a note-worthy debut from a writer with great heart and real empathy."—Sheridan Hay, author of The Secret of Lost Things
"Eugenia Kim's sweeping debut, The Calligrapher's Daughter, rises tall from a riveting scene that begs to be read and re-read—as does her entire novel. . . . Kim's prose is elegant, her eye compassionate, and her ability to effortlessly compress events over 30 years into a moving novel is admirable. But her greatest triumphs are her carefully calibrated and brave characters, who haunt you long after the novel is done."— Milwaukee Journal Sentinel
"A rich debut."—Good Housekeeping
"Gripping. . . . Kim creates a strong, sweet bond between mother and daughter that is maintained throughout the novel."— Dallas Morning News
"Kim has excelled at portraying Najin as a spirited yet loyal daughter and wife while exposing a tragic time during Korea's sustained history as a nation."—Library Journal
"Kim opens a window into a vanished world in this sensitively rendered homage to her mother's life. . . . Fans of Lisa See's recently published Shanghai Girls will be drawn into this achingly beautiful tribute to female perseverance and survival."—Booklist
Holt McDougal, 9780805092264, 386pp.
Publication Date: March 30, 2010
About the Author
Eugenia Kim, an MFA graduate of Bennington College, has published short stories and essays in journals and anthologies, including Echoes Upon Echoes: New Korean American Writings. She lives in Washington, D.C., with her husband and son. The Calligrapher's Daughter is her first novel.
or
Not Currently Available for Direct Purchase