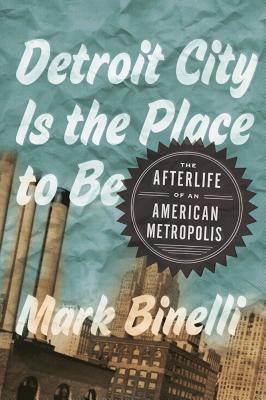 Detroit City Is the Place to Be
The Afterlife of an American Metropolis
Hardcover

* Individual store prices may vary.
Other Editions of This Title:
Paperback (11/5/2013)
Description
Once America's capitalist dream town, Detroit is our country's greatest urban failure, having fallen the longest and the farthest. But the city's worst crisis yet (and that's saying something) has managed to do the unthinkable: turn the end of days into a laboratory for the future. Urban planners, land speculators, neopastoral agriculturalists, and utopian environmentalists all have been drawn to Detroit's baroquely decaying, nothing-left-to-lose frontier.
With an eye for both the darkly absurd and the radically new, Detroit-area native Mark Binelli has chronicled this convergence. Throughout the city's "museum of neglect" its swaths of abandoned buildings, its miles of urban prairie he tracks both the blight and the signs of its repurposing, from the school for pregnant teenagers to a beleaguered UAW local; from metal scrappers and gun-toting vigilantes to artists reclaiming abandoned auto factories; from the organic farming on empty lots to GM's risky wager on the Volt electric car; from firefighters forced by budget cuts to sleep in tents to the mayor's realignment plan (the most ambitious on record) to move residents of half-empty neighborhoods into a viable, new urban center.
Sharp and impassioned, "Detroit City Is the Place to Be" is alive with the sense of possibility that comes when a city hits rock bottom. Beyond the usual portrait of crime, poverty, and ruin, we glimpse a longshot future Detroit that is smaller, less segregated, greener, economically diverse, and better functioning what could be the boldest reimagining of a post-industrial city in our new century.
"Detroit City Is the Place to Be "is one of "Publishers Weekly"'s Top 10 Best Books of 2012.
Praise For Detroit City Is the Place to Be: The Afterlife of an American Metropolis…
A New York Times Book Review Editor's Choice

"Magnificent… A crackling rebuttal to ruin porn, those glossy coffee table books that fetishize Detroit's decay… A clear-eyed look at promising recent developments, without any saccharine optimism."
—The New York Times

"First things first: Binelli can really write.... Binelli chronicles the various experiments happening inside Detroit with a winning combination of humor, skepticism and sincerity [and] also does the far more important work of squaring the repurposing and rebranding of Detroit by artists and enterpreneurs with the more fundamental reality of the place.... He is a cleareyed and soulful narrator of Detroit's travails."
—The New York Times Book Review

"The single best thing to read if you want to understand what Detroit feels like today."
—San Francisco Chronicle

"Binelli is excellent writer and a sensitive and careful reporter.… He does a great job of presenting the arc of Detroit's 20th century: its rise as automotive capital of the world, its economic apex in the 1950s and its thudding diminishment."
—The Wall Street Journal

"Mark Binelli's splendid, must-read Detroit City Is the Place to Be… is the best book on an American city that I've read since Mike Davis published City of Quartz (1990) about Los Angeles.… Binelli covers an immense amount of ground without ever being tedious—a tribute to how well he listens, how carefully he chooses his examples and how deft he is at toggling between minutely observed details and the bigger picture, itself informed by his vast reading on Detroit history. And oh, can Binelli write."
—Milwaukee Journal Sentinel

"A sharply observed, insightful work of love and fury."
—The Christian Science Monitor

"I can't think of a better work of nonfiction in 2012 than Mark Binelli's Detroit City is the Place to Be.... Nothing has come as close to realistically documenting the wackiness of contemporary Detroit."
—The New York Observer

"Excellent… A stylish, clear-eyed, subtly absurdist panorama... Binelli's engrossing book captures the beauty and nobility of Detroit, and the warmth of its communal life amid hardship and chaos. Binelli also takes full measure of the bizarreness of Detroit's predicament—which is also the bizarreness of a whole nation contemptuously disregarding its achievements."
—Bookforum
"Heartbreaking… Darkly funny and prophetic."
—Rolling Stone

"A gripping, tragicomic account… Binelli is a pessimist of the intellect but an optimist of the will. He offers an unflinching analysis of the city's problems but an intimate portrayal of those longtime Detroiters and newcomers alike who are trapped in the city's present while reimagining its possible (and impossible) futures."
—Democracy

"Mark Binelli's Detroit City Is the Place to Be is part history, part explanation and part profile of a city he knows intimately—he grew up in the Detroit area. Sounds complex? It is, and it should be. The city doesn't need any more labels or quick summaries. It needs someone to put a face on Detroit, to show that it's not rolling over and playing dead. Binelli proves he's up to the task in this refreshing, intriguing work."
—BookPage

"Terrific… A long-overdue and hugely welcome corrective to the one-dimensional narrative of urban decay that has been spewing out of Detroit roughly since 1970…  Binelli is equally skeptical of breathless hype and received wisdom, and he can also be very funny."
—TheMillions

"Binelli went to Detroit and lived there. Does that sound boring? It's not.… Binelli is a good storyteller, an entertaining historian, and an insightful commenter."
—Slate

"Remember that trend of major newspapers publishing slideshows of decaying Detroit?… Detroit City Is the Place to Be doesn't shy away from these unflattering realities, but it is a far more thoughtful exploration of what it means to be a fallen city. In a sense, it is the antithesis of those lazy slideshows… An impressive portrait of the city, balancing gumshoe research and interviews, some brisk but thorough history, and a nice dose of personal narrative."
—Grantland

"On the surface, Detroit is indeed a contradiction… Mark Binelli, a Detroit native and journalist, helpfully unpacks some of this complexity in his excellent new book."
—The Atlantic

"As fascinating as Detroit's current, tentative renaissance is, Binelli masterfully provides a broader story, a 300-year tour through the formerly wondrous and now wondrously devastated metropolis.... A wildly compelling biography of a city as well as a profound commentary on postindustrial America."
—Publishers Weekly (starred review)

"Binelli is a charming writer, and his periodic humorous asides and innate good nature are a welcome contrast to the darker sections.… An informative, often-heartbreaking portrait of a once-great American metropolis gone to hell."
—Kirkus Reviews

"I like Mark Binelli's book a lot. He covers the shrinking of Detroit, its downfall from the lofty peak as Arsenal of Democracy, with clear, expository prose and no axe to grind. A firefighter asks the author, 'You going fiction or non-fiction?' Binelli answers, 'Non.' And the reply comes back, 'No one's going to believe it.' "
—Elmore Leonard

"With the acuity of Joan Didion and the controlled hilarity of Ian Frazier, Mark Binelli investigates the portents and absurdities of America's most infamous urban calamity. Exhilarating in scope, irresistible for its intricate, scrupulous portraiture, Detroit City Is the Place to Be is the masterful performance of one of our generation's most humane and brilliant writers."
—Wells Tower, author of Everything Ravaged, Everything Burned

"Let's face it. Detroit City is not the place to be. But if you care about America you have to see it, to walk its desolate streets, to talk to the people who make it their home, to hear what it means to live on the wrong side of the post-industrial divide. And you're not going to find a smarter, tougher, more entertaining guide than Mark Binelli. If you give a damn you've got to read this book."
—Kevin Boyle, author of Arc of Justice: A Saga of Race, Civil Rights and Murder in the Jazz Age

"At once hilarious and sharp, sweeping and intimate, Detroit City Is the Place to Be is an oddly delighted warning from the recent future. Mark Binelli writes with the tender scrutiny of a returning exile, in a style that manages to infuse Rolling Stone vigor with Spy wit, Baffler skepticism, and n+1 intelligence. This is a nonfiction novel about our American experiment—grand and grandiose, unprecedented and absurd—and it's the most entertaining and persuasive book about this country I've read in a very long time."
—Gideon Lewis-Kraus, author of A Sense of Direction: Pilgrimage for the Restless and Hopeless

"Mark Binelli has succeeded in synthesizing both the tragedy and absurdity that Detroiters face each and every day in America's fastest shrinking city. Yes, things are dire in Motor City, but the author refuses to perform an autopsy on a place that still radiates rage, pride, hustle, and hope. Detroit, he discovers, is very much alive."
—Heidi Ewing, director of Detropia
"Before turning the buffalo (or the artists) loose on the haunted prairie that was once Detroit, we should ponder why a great American metropolis was allowed to die. Mark Binelli, Motor City native returned, provides a picaresque but unflinchingly honest look at the crime scene. Like Richard Pryor, he has the rare talent to make you laugh and cry at the same time."
—Mike Davis, author of Ecology of Fear

"Mark Binelli is a first-rate reporter, gifted with the ability to get almost anybody to open up. Detroit City Is the Place to Be is searching, wide-angle, honest, deeply moving, and unshakably dark. It is a vivid slice of our time and implies a disquieting prophecy of the future."
—Luc Sante, author of Low Life: Lures and Snares of Old New York

"Detroit City is the Place to Be is a brilliant kaleidoscope of everything that is great, broken, inspiring, heart-breaking, and ultimately remarkable about Detroit. This is a portrait of a city unlike anything you've read—funny, profoundly intimate, with characters who lodge themselves into your heart and mind. Mark Binelli has turned the story of Detroit, and by extension America, into a glorious, unforgettable work of art."
—Dinaw Mengestu, author of How to Read the Air
Metropolitan Books, 9780805092295, 336pp.
Publication Date: November 13, 2012
About the Author
Mark Binelli is the author of the novel "Sacco and Vanzetti Must Die!" and a contributing editor at "Rolling Stone." Born and raised in the Detroit area, he now lives in New York City.
or
Not Currently Available for Direct Purchase