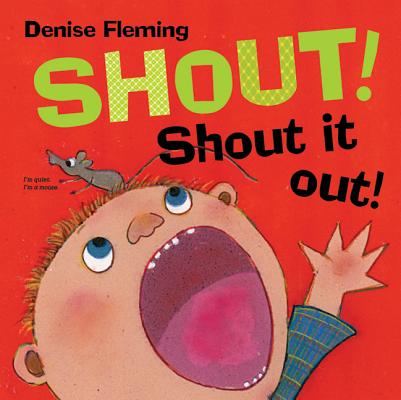 Shout! Shout It Out! (Hardcover)
Henry Holt & Company, 9780805092370, 40pp.
Publication Date: March 29, 2011
Description
Kids are often told to sit still and be quiet. But Denise Fleming encourages them to shout, shout it out By taking basic learning concepts like numbers, letters, and colors and putting them on display, she asks kids to shout out what they know--and her readers will be happy to oblige.
With bold colors and her unique handmade paper art, Denise Fleming makes learning into a game. Long-time fans and sharp-eyed newcomers will be happy to see that Mouse returns on every page, shouting along with the crowd.
About the Author
Denise Fleming has written and illustrated many children's books, including In the Tall, Tall Grass and Sleepy, Oh So Sleepy. She won a Caldecott Honor for In the Small, Small Pond. Denise published her first painting in the third grade, when she started taking classes at the Toledo Museum of Art and one of her paintings was chosen to be the cover of a teacher's magazine. She now works primarily with paper, by pouring colored paper pulp through hand-cut stencils. She lives in Toledo, Ohio.
Praise For Shout! Shout It Out!…
"Denise Fleming turns up children's volume…What is there to shout about? Pages feature bright illustrations of what children this age do know: letters, numbers, colors, animals. This isn't about SAT coaching. It's about being happy sharing your knowledge." --Chicago Tribune
"Learning to read has never been more fun or easier. 'READ! Read it again!' will surely be the refrain heard anywhere this book is shared." --
BookPage
"Fleming's signature style—brightly colored mixed-media artwork—is well suited to the exuberant text…this is sure to become a staple for concept themed story hours."--Booklist
"Filled with vibrant colors and patterns, Fleming's illustrations are peopled with a multicultural cast of rosy-cheeked, wide-eyed preschoolers with huge mouths open wide to shout. Created by pulp painting, which is a method of making paper by pouring colored fibers through stencils, here complemented by paper collage and a variety of drawing media, the artwork begs return examination."--Kirkus Reviews
"Grownups, get your earplugs ready; story time is about to get loud."--Horn Book Magazine
"This book will help give confidence to reticent children and add liveliness to storytimes. It makes a great companion to Fleming's The Everything Book (Holt, 2000) and will be requested time and again."--School Library Journal
"Fleming brings a new dimension to her signature pulp-painting technique, using swatches of patterned paper collage and marker accents on her figures...Children just learning their colors, animals, and ABCs will be invigorated, and those who have already mastered these basics will still enjoy the top-of-their-lungs review—as well as Mouse's asides along the way."--Publishers Weekly
Advertisement