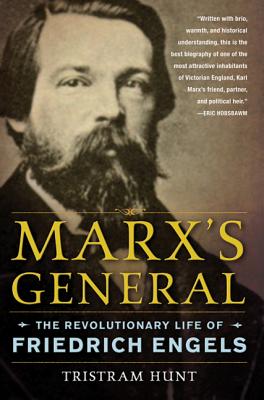 Marx's General (Paperback)
The Revolutionary Life of Friedrich Engels
Picador, 9780805092486, 464pp.
Publication Date: August 3, 2010
Other Editions of This Title:
Hardcover (8/18/2009)
MP3 CD (1/4/2010)
Compact Disc (1/4/2010)
* Individual store prices may vary.
Description
"Written with brio, warmth, and historical understanding, this is the best biography of one of the most attractive inhabitants of Victorian England, Marx's friend, partner, and political heir."—Eric Hobsbawm
Friedrich Engels is one of the most intriguing and contradictory figures of the nineteenth century. Born to a prosperous mercantile family, he spent his life enjoying the comfortable existence of a Victorian gentleman; yet he was at the same time the co-author of The Communist Manifesto, a ruthless political tactician, and the man who sacrificed his best years so that Karl Marx could have the freedom to write. Although his contributions are frequently overlooked, Engels's grasp of global capital provided an indispensable foundation for communist doctrine, and his account of the Industrial Revolution, The Condition of the Working Class in England, remains one of the most haunting and brutal indictments of capitalism's human cost.
Drawing on a wealth of letters and archives, acclaimed historian Tristram Hunt plumbs Engels's intellectual legacy and shows us how one of the great bon viveurs of Victorian Britain reconciled his exuberant personal life with his radical political philosophy. This epic story of devoted friendship, class compromise, ideological struggle, and family betrayal at last brings Engels out from the shadow of his famous friend and collaborator.
About the Author
Tristram Hunt is the author of Marx's General: The Revolutionary Life of Friedrich Engels and Building Jerusalem: The Rise and Fall of the Victorian City. One of Britain's leading young historians, he writes regularly for The Guardian, The Observer, and The Times, and has broadcast numerous series for the BBC. A lecturer in history at the University of London, Hunt represents Stoke-on-Trent in the British Parliament, where he serves as the education spokesman for the Labour Party.
Praise For Marx's General: The Revolutionary Life of Friedrich Engels…
"Greatly enjoyable... A perceptive tour not just through Engels's life but through philosophy and political thought in the nineteenth century." —The New Yorker
"Brilliant." —The Economist
"A vivid and thoughtful biography... Hunt artfully flushes out Engels's human side." —The New York Times
"Hunt is remarkably good at distilling an epoch and conveying a sense of place, and he perfectly judges the pace of his narrative." —The Wall Street Journal
"A splendid biography… Hunt's vivid prose captures Engels's idealism, generosity and foibles. That is to say, it makes him recognizably human." —The Plain Dealer
"Written with brio, warmth, and historical understanding, this is more than the best biography of one of the most attractive inhabitants of Victorian England, Karl Marx's friend, partner, and political heir. It is also one of the most accessible and persuasive studies of how the arguments of young philosophers in the 1840s grew into the movement that shook and changed the world in the twentieth century." —Eric Hobsbawm, author of The Age of Revolution and The Age of Extremes
"Vivid and sharply observed… Tristram Hunt brings to the fore the extraordinary pressures which shaped Engels's personality and made him a virtuoso of the double life. In this novel and refreshing account, Engels is as last freed from the condescension of posterity." —Gareth Stedman Jones, author of Outcast London
"Does an excellent job of bringing Engels out from the shadow of the man he served so devotedly." —Alan Ryan, The Literary Review (UK)
"A splendid, gripping biography… Tristram Hunt's witty, humane and sharp-eyed portrait of Engels does justice to the complex chemistry of the relationship with Marx, but also sets the 'junior partner' at the centre of his own life and intellectual evolution." —Christopher Clark, Standpoint (UK)
"Excellent… The partner who willingly played 'second fiddle' to capitalism's Jeremiah receives his due." —Robert Service, The Sunday Times (UK)