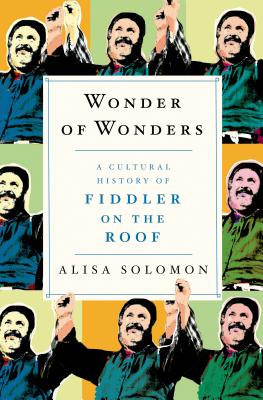 Wonder of Wonders (Hardcover)
A Cultural History of Fiddler on the Roof
Metropolitan Books, 9780805092608, 448pp.
Publication Date: October 22, 2013
* Individual store prices may vary.
Description
A sparkling and eye-opening history of the Broadway musical that changed the world
In the half-century since its premiere, Fiddler on the Roof has had an astonishing global impact. Beloved by audiences the world over, performed from rural high schools to grand state theaters, Fiddler is a supremely potent cultural landmark.
In a history as captivating as its subject, award-winning drama critic Alisa Solomon traces how and why the story of Tevye the milkman, the creation of the great Yiddish writer Sholem-Aleichem, was reborn as blockbuster entertainment and a cultural touchstone, not only for Jews and not only in America. It is a story of the theater, following Tevye from his humble appearance on the New York Yiddish stage, through his adoption by leftist dramatists as a symbol of oppression, to his Broadway debut in one of the last big book musicals, and his ultimate destination--a major Hollywood picture.
Solomon reveals how the show spoke to the deepest conflicts and desires of its time: the fraying of tradition, generational tension, the loss of roots. Audiences everywhere found in Fiddler immediate resonance and a usable past, whether in Warsaw, where it unlocked the taboo subject of Jewish history, or in Tokyo, where the producer asked how Americans could understand a story that is "so Japanese."
Rich, entertaining, and original, Wonder of Wonders reveals the surprising and enduring legacy of a show about tradition that itself became a tradition.
Wonder of wonders, miracle of miracles.
About the Author
Alisa Solomon teaches at Columbia University's Graduate School of Journalism, where she directs the Arts & Culture concentration in the MA program. A theater critic and general reporter for The Village Voice from 1983 to 2004, she has also contributed to The New York Times, The Nation, Tablet, The Forward, and other publications. Her first book, Re-Dressing the Canon: Essays on Theater and Gender, won the George Jean Nathan Award for Dramatic Criticism. She lives in New York City.
Praise For Wonder of Wonders: A Cultural History of Fiddler on the Roof…
A New York Times Book Review Editor's Choice

"As rich and dense as a chocolate babka—so crammed with tasty layers that you have to pace yourself… As brilliant a piece of reporting as I've read this year."
—The New York Times Book Review

"Exuberant."
—The Wall Street Journal

"An illuminating and detailed history."
—The Jewish Daily Forward

"Glorious... A thrilling, must-read book... In more than thirty years of reading, writing and thinking about theater as an actor, critic and fan, I've never read a book on the subject that taught or moved me as much – reflecting Solomon's ability to weave gobs of meticulous research into a compelling, beautifully written story."
—Milwaukee Journal Sentinel

"The aptly-titled Wonder of Wonders is the richest, deepest, most far-ranging, continuously and delightfully surprising book about a single work of theatrical art I've ever encountered. An intellectually serious, playful, and insightful account of popular art's power to shape memory and transmute history into universal myth, it is a soul-stirring joy to read, and only Alisa Solomon could have written it."
—Tony Kushner, author of Angels in America

"I expected that this book would revive many treasured memories, which it certainly did. What I didn't expect to find was the fascinating history of Sholem-Aleichem's Tevye's Daughters or the riveting and unexpectedly moving account of Fiddler's fortunes after the end of the musical's Broadway run. I have always been proud of Fiddler, but never more so than after reading this astonishing book."
—Sheldon Harnick, lyricist, Fiddler on the Roof

 "Alisa Solomon was put on earth to write this exceptional and essential book. A world-class theater critic, a learned Yiddishist, a trenchant journalist, and just a plain wonderful writer, she has brought all her skills to bear in tracing the history of the Tevye stories that became Fiddler on the Roof. The Broadway musical, in her hands, becomes a Rosetta Stone for understanding the Jewish journey."
 —Samuel G. Freedman, author of Jew vs. Jew: The Struggle for the Soul of American Jewry
 
"Wonder of Wonders is a wonder! Alisa Solomon explains in vivid detail how and why Fiddler on the Roof became iconic as both authentically Jewish and universally relevant. A fantastic storyteller, an astute cultural interpreter, and a superb critic, Solomon offers an elegantly crafted, moving, thoughtful, and entertaining account of Fiddler's journeys across time and place. This is the story of Fiddler for the ages."
—Stacy Wolf, author of Changed for Good: A Feminist History of the Broadway Musical

"If you think you have seen Fiddler on the Roof, think again. The wonder of it all is the magic that transformed stories by Sholem-Aleichem into a near universal icon of enduring power. How that happened, the multifarious forms and meanings of Fiddler on the Roof, is the subject of Alisa Solomon's meticulously researched and beautifully written book."
—Barbara Kirshenblatt-Gimblett, author of Destination Culture: Tourism, Museums, and Heritage

 "Wonder of Wonders combines probing theater history with incisive cultural studies and a compelling narrative. From Sholem-Aleichem's Tevye stories to the triumphant Broadway musical, from politically charged productions in Brooklyn, Tel Aviv, and Kraków to the sanctification of Fiddler numbers in Jewish ritual, Alisa Solomon traces the transformation of Fiddler into a cultural phenomenon that has powerfully spoken for American Jews as well as so many others around the world."
—Jeffrey Shandler, author of Shtetl: A Vernacular Intellectual History
or
Not Currently Available for Direct Purchase