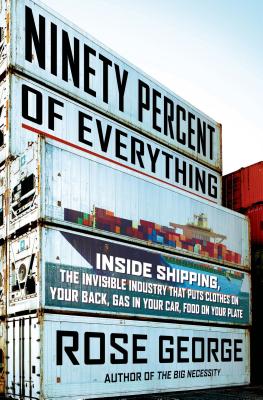 Ninety Percent of Everything (Hardcover)
Inside Shipping, the Invisible Industry That Puts Clothes on Your Back, Gas in Your Car, and Food on Your Plate
Metropolitan Books, 9780805092639, 304pp.
Publication Date: August 13, 2013
Other Editions of This Title:
Paperback (9/9/2014)
MP3 CD (7/25/2017)
* Individual store prices may vary.
Description
Eye-opening and compelling, the overlooked world of freight shipping, revealed as the foundation of our civilization
On ship-tracking websites, the waters are black with dots. Each dot is a ship; each ship is laden with boxes; each box is laden with goods. In postindustrial economies, we no longer produce but buy. We buy, so we must ship. Without shipping there would be no clothes, food, paper, or fuel. Without all those dots, the world would not work.
Freight shipping has been no less revolutionary than the printing press or the Internet, yet it is all but invisible. Away from public scrutiny, shipping revels in suspect practices, dubious operators, and a shady system of "flags of convenience." Infesting our waters, poisoning our air, and a prime culprit of acoustic pollution, shipping is environmentally indefensible. And then there are the pirates.
Rose George, acclaimed chronicler of what we would rather ignore, sails from Rotterdam to Suez to Singapore on ships the length of football fields and the height of Niagara Falls; she patrols the Indian Ocean with an anti-piracy task force; she joins seafaring chaplains, and investigates the harm that ships inflict on endangered whales.
Sharply informative and entertaining, Ninety Percent of Everything reveals the workings and perils of an unseen world that holds the key to our economy, our environment, and our very civilization.
About the Author
Rose George is the author of The Big Necessity and Ninety Percent of Everything. A freelance journalist, she has written for The New York Times, Slate, and the Financial Times, among other publications. She lives in Yorkshire.
Praise For Ninety Percent of Everything: Inside Shipping, the Invisible Industry That Puts Clothes on Your Back, Gas in Your Car, and Food on Your Plate…
"Consistently absorbing… Timely as well as deft… George's spirited book cracks open a vast, treacherous and largely ignored world." —The New York Times
"Engrossing and revelatory… George not only explores a little-known world of commerce but also introduces readers to the many people who make shipping possible. That she does so with great empathy and self-effacing humor, much like Mary Roach, makes her subjects especially appealing.… George's book is packed with telling anecdotes and detailed accounts, some funny, some shocking. If there's a downside to her seafaring, it's that it comes to an end too soon." —San Francisco Chronicle
"A fascinating account of the international ocean shipping industry and the arena it operates in, the largely ungoverned open seas." —The Seattle Times
"Mind-blowing… With its wide scope, voice of intellectual curiosity, and inter-ocean adventure, the book is reminiscent of Donovan Hohn's popular Moby Duck." —The Atlantic
"Fabulous." —Time
"Heart-stopping, mind-boggling... A superb book, well-written and bravely researched at sea." —Energy Metro Desk
"Worth comparing to John McPhee's Looking for a Ship… Offers a fascinating look at an anonymous industry affecting our daily lives, and gives a personal face to those working in that industry." —The Daily News (Galveston)
"Consistently illuminating in-depth analysis… An eye-opening maritime exposé." —Kirkus Reviews
"Rose George beautifully captures the surprising nuances of this little-known world: beauty and privation, pathos and greed, tragedy and hilarity. Her strong, spare, gleaming prose steams along, powered by curiosity, compassion, outrage. As a writer, a reporter, and a human being, George is--stand by for nautical term--First Rate." —Mary Roach, author of Gulp: Adventures on the Alimentary Canal
"For a modern seafaring adventure, there couldn't be a better guide than Rose George. Her intelligence, curiosity, and compassion shine through on every page to reveal a fascinating world that no one knows about, though it is fundamental to our economy and way of life." —Chris Anderson, curator, TED Conference
"The two greatest stories are supposed to be 'A man goes on a journey' and 'A stranger comes to town.' In this enthralling, literally wide-ranging book, Rose George tells both: she goes on a voyage that few other journalists have accomplished, and she unveils the unknown seafarers who bring us all the world's goods. Her sympathetic, deeply reported, and unexpectedly poignant account reveals the private, prickly, brave tribe on which much of our daily lives, and most of the world's interlinked economies, depend." —Maryn McKenna, author of Superbug: The Fatal Menace of MRSA
"To the classic incredible journeys--Moby Dick, Two Years Before the Mast--Rose George adds another, her voyage round the world aboard a container ship, revealing what happens before the big bang of merchandise explodes from the high seas into civilization via cargo containers holding thousands of sneakers, millions of plastic bags, and trillions of other products." —Curtis C. Ebbesmeyer, coauthor of Flotsametrics and the Floating World
"The best books make you think about our world in a new way, and Ninety Percent of Everything is definitely one of those books. In this smart, lucid, and often beautiful investigation of the little-known world of freight shipping, Rose George finds new ways to illuminate our impact on the planet and explore that restless sense of motion that so often defines who are." —Deborah Blum, author of The Poisoner's Handbook: Murder and the Birth of Forensic Medicine in Jazz Age New York
"Rose George, with her precise and beautiful clarity of prose, has now fired a brilliant star-shell over the wine-dark sea and the ships that pass in its night, illuminating the details of the invisible ocean industry that is, and always will be, essential to all of us." —Simon Winchester, author of Atlantic: Great Sea Battles, Heroic Discoveries, Titanic Storms, and a Vast Ocean of a Million Stories
or
Not Currently Available for Direct Purchase