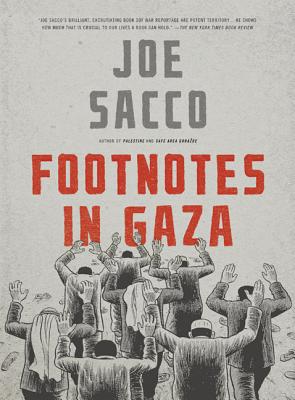 Footnotes in Gaza
Paperback

* Individual store prices may vary.
Other Editions of This Title:
Hardcover (12/22/2009)
Hardcover (1/1/2010)
Description
"Sacco brings the conflict down to the most human level, allowing us to imagine our way inside it, to make the desperation he discovers, in some small way, our own."—Los Angeles Times
Rafah, a town at the bottommost tip of the Gaza Strip, has long been a notorious flashpoint in the bitter Middle East conflict. Buried deep in the archives is one bloody incident, in 1956, that left 111 Palestinians shot dead by Israeli soldiers. Seemingly a footnote to a long history of killing, that day in Rafah—cold-blooded massacre or dreadful mistake—reveals the competing truths that have come to define an intractable war.
In a quest to get to the heart of what happened, Joe Sacco immerses himself in the daily life of Rafah and the neighboring town of Khan Younis, uncovering Gaza past and present. As in Palestine and Safe Area Goražde, his unique visual journalism renders a contested landscape in brilliant, meticulous detail. Spanning fifty years, moving fluidly between one war and the next, Footnotes in Gaza—Sacco's most ambitious work to date—transforms a critical conflict of our age into intimate and immediate experience.
Praise For Footnotes in Gaza…
"[A] gripping, important book...Sacco will find readers for Footnotes in Gaza far into the future because of the unique format and style of his comic-book narrative. He stands alone as a reporter-cartoonist because his ability to tell a story through his art is combined with investigative reporting of the highest quality." —The New York Times Book Review
Metropolitan Books, 9780805092776, 432pp.
Publication Date: October 12, 2010
About the Author
Joe Sacco is the author of Footnotes in Gaza, for which he received an Eisner Award and the Ridenhour Book Prize, as well as Palestine, Journalism, Safe Area Goražde (also an Eisner winner), and other books. His works have been translated into fourteen languages and his comics reporting has appeared in Details, The New York Times Magazine, Time, and Harpers. He lives in Portland, Oregon.