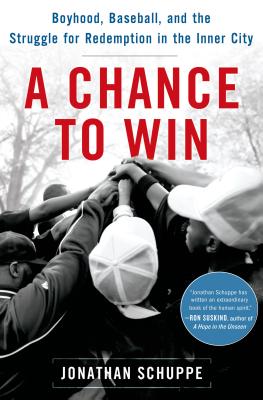 A Chance to Win
Boyhood, Baseball, and the Struggle for Redemption in the Inner City
Hardcover

* Individual store prices may vary.
Description
A Pulitzer Prize-winning journalist follows an embattled Little League team in inner-city Newark, New Jersey, revealing the complex realities of urban life in one of America's most dangerous cities
When Rodney Mason, an ex-con drug dealer from Newark's rough South Ward, was shot and paralyzed, he vowed to turn his life around. A former high-school pitching ace with a 93 mph fastball, Mason decided to form a Little League team to help boys avoid the street life that had claimed his youth and mobility. Predictably, the players struggle—they endure poverty, unstable family lives with few positive male role models, failing schools, and dangerous neighborhoods—but through the fists and tears, lopsided losses and rare victories, this bunch of misfits becomes a team, and in doing so gives the community something to root for. With in-depth reporting, fascinating characters, and vivid prose, Jonathan Schuppe's A Chance to Win is both a penetrating, true-to-life portrait of what's at stake for kids growing up poor in America's inner cities and a portrait of Newark itself, a struggling city that has recently known great hope as well as failure.
Praise For A Chance to Win: Boyhood, Baseball, and the Struggle for Redemption in the Inner City…
"[A] deep excavation . . . told with consummate empathy." —The New York Times Book Review
"A compelling book." —The Washington Post
"Honest and gritty." —Newark Star Ledger
"[A Chance to Win] reads like a mix between Friday Night Lights by Buzz Bissinger and Random Family by Adrian Nicole LeBlanc -- tough acts that Schuppe gracefully follows." —Bookriot.com
"A lively work of literary nonfiction [that] vividly illustrates the often fierce struggles of a small group of people [and] offers a larger truth about the city. . . Jonathan Schuppe gives dignified, poetic voice to [Newark's] struggle." —Inside Jersey
"It may be peculiar to describe a book that looks unflinchingly at urban poverty as wonderful, but in the sense that this account will open eyes and maybe a few minds, wonderful just might apply." —Booklist (starred review)
"A compelling portrait of inner-city struggles . . . Schuppe's punchy journalistic style serves the material well." —Kirkus
"This is one of the most powerful books of narrative non-fiction I've read in years. Schuppe has assembled an unremarkable and yet unforgettable cast -- led by a paralyzed ex-con-cum-little-league-coach -- and told their story with clear-eyed compassion and grace. The result is somehow both understated and majestic." —Jonathan Mahler, author of Ladies and Gentlemen, The Bronx is Burning
"Sobering yet inspiring, Jonathan Schuppe's A Chance to Win is one terrific read, an extraordinary journey with a cast of characters who will stay with you. I found myself on the edge of my seat rooting for Rodney Mason and his young protégés, and ruminating on what it really means to find redemption." —Alex Kotlowitz, There Are No Children Here
"A man with no legs teaches the forgotten children of Newark how to run for glory. Amazing, and all true. Jon Schuppe has written an extraordinary book of the human spirit. This powerful narrative--brilliantly reported and passionately rendered--is a true journey of the heart. The aching heart, in fact, of a still-great nation, revealed by those left behind, who still--somehow--find a way to believe in America's promise." —Ron Suskind, Pulitzer Prize-winning journalist and author of A Hope in the Unseen, An American Odyssey from the Inner City to the Ivy League
"A Chance to Win is a model of intimate reporting, an exemplar of lucid prose, and a demonstration of genuine courage. It will take most readers into a world that they do not know, and they will be rewarded for the venture." —Daniel Okrent, author of Last Call: The Rise and Fall of Prohibition
"A Chance to Win will take its rightful place as a classic of American urban life. Through superb reporting and compelling empathy, it makes us care passionately about the characters and their struggles. The story is by turns sad, inspiring, disturbing, hopeful and all true." —Jonathan Alter, author of The Promise
Henry Holt and Co., 9780805092875, 288pp.
Publication Date: May 7, 2013
About the Author
Jonathan Schuppe is an award-winning journalist who has won a Pulitzer Prize for his coverage of New Jersey governor Jim McGreevey's resignation as well as the coveted J. Anthony Lukas Work-in-Progress Prize for A Chance to Win. He is also on the board of directors of Criminal Justice Journalists. He lives with his wife and daughter in New Jersey.
or
Not Currently Available for Direct Purchase