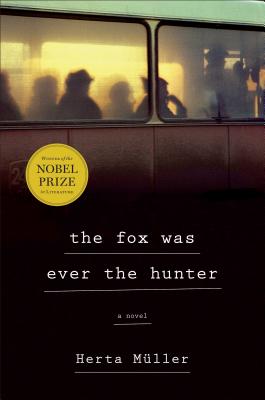 The Fox Was Ever the Hunter (Hardcover)
A Novel
Metropolitan Books, 9780805093025, 256pp.
Publication Date: May 10, 2016
Other Editions of This Title:
Paperback (5/2/2017)
Compact Disc (5/10/2016)
MP3 CD (5/10/2016)
Compact Disc (5/10/2016)
* Individual store prices may vary.
Description
From the winner of the Nobel Prize hailed as the laureate of life under totalitarianism, a haunting early novel of surveillance and paranoia
Romania—the last months of the Ceausescu regime. Adina is a young schoolteacher. Paul is a musician. Clara works in a wire factory. Pavel is Clara's lover. But one of them works for the secret police and is reporting on the rest of the group.
One day Adina returns home to discover that her fox fur rug has had its tail cut off. On another occasion it's the hindleg. Then a foreleg. The mutilated fur is a sign that she is being tracked by the secret police—the fox was ever the hunter. Images of photographic precision combine into a kaleidoscope of terror as Adina and her friends struggle to keep mind and body intact in a world pervaded by complicity and permeated with fear, where it's hard to tell victim from perpetrator. And once again, Herta Müller uses language that displays the "concentration of poetry and the frankness of prose"—as the Swedish Academy noted upon awarding her the Nobel Prize—to create a hauntingly cinematic portrayal of the corruption of the soul under totalitarianism.
About the Author
Herta Müller is the winner of the 2009 Nobel Prize in Literature, as well as the International IMPAC Dublin Literary Award and the European Literature Prize. She is the author of, among other books, The Hunger Angel and The Land of Green Plums. Born in Romania in 1953, Müller lost her job as a teacher and suffered repeated threats after refusing to cooperate with Ceausescu's secret police. She succeeded in emigrating in 1987 and now lives in Berlin.
Praise For The Fox Was Ever the Hunter: A Novel…
"A haunting portrayal of the secret lives of people and things during the last breaths of an obliterating regime . . . deftly rendered by Müller's longtime translator Philip Boehm. . . . Müller inches closer to narrowing the gap between people and things, between life and language. For that reason, her sparse prose often resembles poetry."
—The Washington Post
"The Fox Was Ever the Hunter is a collage of images, stories and fragments of forbidden songs. . . . When the collage is completed, the reader understands that each and every one of Müller's stories, every flight of luscious language and every brutal fact, has been necessary in depicting a society torn to pieces."
—The New York Times
"Remarkable . . . The Fox is one of Müller's early works . . . newly released in English and given a lucid translation by Philip Boehm . . . it draws on what she suffered while clenched in the jaws of one of history's most notorious dictatorships. But she infuses characters and events with surreal elements and heightened levels of metaphor that make this much more than a roman à clef. . . . Here, dreams become extensions of life, or life itself is a dream; they are cut, at any rate, from one and the same fabric, consistently lurid and terrifying."
—NPR
"Reads like poetry . . . The Fox Was Ever the Hunter is a short book, but the way Müller narrates gives it a luminescence, like wet stone seen at night. . . . Of the writers to survive life under the Communist bloc, Müller has written most poignantly about the way surveillance and state control at once necessitated and warped the fabric of love. . . . From the moment she left, Müller has exercised her voice with a fury that vibrates off the page nearly a quarter century later. In this vividly poetic novel, she reminds us what life without that freedom looked, felt, and tasted like."
—Boston Globe
"A dark collage, which glints with fear—and with beauty . . . Müller's prose—as poetic as it is blunt—works like a prism, shattering and illuminating a world that is always watching, waiting."
—The Atlantic
"Perhaps no author has captured the surreal textures of Iron Curtain paranoia quite like Herta Müller."
—Vogue.com (Best Books of the Month)
"This newly translated 1992 novel set during the twilight of Romania's Ceau?escu regime makes vivid the persecution Müller and others suffered. . . . She uses the distinctive language honoured by the Nobel Committee for its 'concentration of poetry and the frankness of prose' to give a powerful sense of the toxic atmosphere of a totalitarian regime."
—BBC Culture (UK)
"Atmospheric, lyrical . . . An essential work of post-Iron Curtain literature and a harrowing portrait of life under suspicion."
—Kirkus Reviews (starred)
"Offers a bleak and poetic portrait of Romanian village life in the final days of the Ceau?escu regime, where deprivation is ubiquitous, cruelty is standard, and spying is a survival skill . . . Thickly lyrical and sometimes downright hallucinatory . . . few descriptions of life under totalitarian rule are as beautifully evocative."
—Booklist (starred)
"Extraordinary . . . Müller lays bare the totalitarian attack on the individual and the everyday horror of life under a repressive regime. There is a cinematic intensity to the narrative. . . . Short, clipped sentences accumulate, overlapping and building into a noisy, symphonic whole. . . . Philip Boehm's excellent translation resist[s] any temptation to rationalize, to smooth over the strangeness. . . . Müller herself does not dictate to us and often lets the truth emerge from what remains unsaid. The result is a profoundly unsettling novel, which renders palpable the cruelty of life under the regime, as well as the brittle exhilarations of its overthrow.'
—Times Literary Supplement (UK)