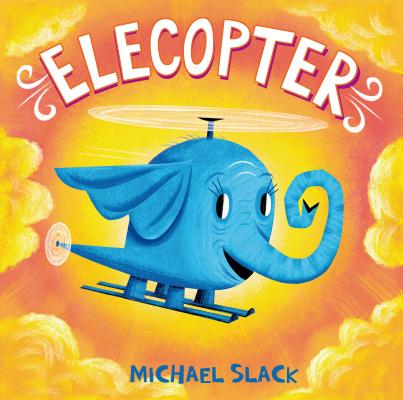 Elecopter (Hardcover)
Henry Holt & Company, 9780805093049, 32pp.
Publication Date: September 3, 2013
Description
Fly along with Elecopter as she soars above the savannah, patrolling the skies with her fire-hose nose at the ready. The other animals are safe with Elecopter on the scene Elecopter is a hero for all Preschoolers are in for a treat in this chant-along companion to "Monkey Truck.
About the Author
Michael Slack is the author of Monkey Truck. He is an artist and graphic designer whose work has been featured in various forms including books, comics, television, and games, most notably Cruddy Creeps. He lives in Lafayette, California.
Praise For Elecopter…
"The author of Monkey Truck (Holt, 2011) takes his characters to the skies with the highly versatile and helpful Elecopter, an elephant blessed with the main rotor, tail rotor, and landing skids of a helicopter." -- School Library Journal
"Ahh! The cuteness! It blinds! Well, that's what you get when you take a rotund, big-eyed baby elephant, give her landing gear and helicopter blades, and send her into the savanna to save animals. Kids will instinctively get it and probably love it." -- Booklist
"Giggle-inducing humor and nail-biting action..."--Publishers Weekly
Praise for Monkey Truck:
"My three-year-old loves Michael Slack's new picture book Monkey Truck. . . . The artwork is great, colorful and elaborated with lots of details that are fun to talk about during storytime. All told, it's a darned fun storytime treat." —Cory Doctorow, BoingBoing.com
"The bright, blocky and, above all, goofy digitally painted illustrations will grab attention, and Monkey Truck's hooting mug (and tooting bottom) will keep the giggles flowing. Hope for more from this outrageous imagination." —Kirkus Reviews
"Slack's choppy, rhyming text is propelled by sound effects and exclamations that enhance the book's read-aloud appeal. . . . A slight yet spirited romp." —Publishers Weekly
"Slack's digitally rendered artwork is abundant with enjoyable texture and detail . . . and the jungle citizens are remarkably expressive." —The Bulletin of the Center for Children's Books
Advertisement