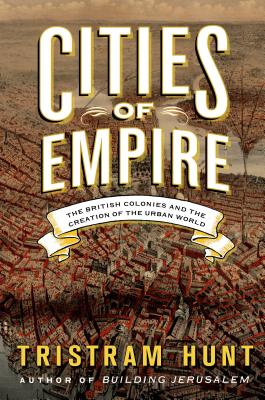 Cities of Empire (Hardcover)
The British Colonies and the Creation of the Urban World
Metropolitan Books, 9780805093087, 544pp.
Publication Date: November 25, 2014
* Individual store prices may vary.
Description
An original history of the most enduring colonial creation, the city, explored through ten portraits of powerful urban centers the British Empire left in its wake
At its peak, the British Empire was an urban civilization of epic proportions, leaving behind a network of cities which now stand as the economic and cultural powerhouses of the twenty-first century. In a series of ten vibrant urban biographies that stretch from the shores of Puritan Boston to Dublin, Hong Kong, New Delhi, Liverpool, and beyond, acclaimed historian Tristram Hunt demonstrates that urbanism is in fact the most lasting of Britain's imperial legacies.
Combining historical scholarship, cultural criticism, and personal reportage, Hunt offers a new history of empire, excavated from architecture and infrastructure, from housing and hospitals, sewers and statues, prisons and palaces. Avoiding the binary verdict of empire as "good" or "bad," he traces the collaboration of cultures and traditions that produced these influential urban centers, the work of an army of administrators, officers, entrepreneurs, slaves, and renegades. In these ten cities, Hunt shows, we also see the changing faces of British colonial settlement: a haven for religious dissenters, a lucrative slave-trading post, a center of global hegemony.
Lively, authoritative, and eye-opening, Cities of Empire makes a crucial new contribution to the history of colonialism.
About the Author
Tristram Hunt is the author of Marx's General: The Revolutionary Life of Friedrich Engels and Building Jerusalem: The Rise and Fall of the Victorian City. One of Britain's leading young historians, he writes regularly for The Guardian, The Observer, and The Times, and has broadcast numerous series for the BBC. A lecturer in history at the University of London, Hunt represents Stoke-on-Trent in the British Parliament, where he serves as the education spokesman for the Labour Party.
Praise For Cities of Empire: The British Colonies and the Creation of the Urban World…
"A lively and cliche-busting survey of imperial history… With the richness of his approach… Hunt succeeds at moving beyond 'a barren conversation about empire being a "good" or "bad" thing' to reflect instead on how the processes of imperial exchange took place." —Maya Jasanoff, The Guardian (UK)
"An A+ history of empire. To chart the emergence, growth, glory, decline and fall of an empire is no mean undertaking. To write about any aspect of the British Empire is to invite controversy…. So emerg[ing] with honor intact is quite an achievement. And producing an original take on a much-visited theme is a genuine accomplishment. It is to the author's great credit that this book accomplishes all three ambitions with apparently effortless ease." —Michael Gove, The Times (UK)
"All too often, historians cast [the empire] as the supreme expression of Europe's moral superiority or as a uniquely wicked project to grind the wretched of the earth into the dust. But Hunt takes a more thoughtful approach. His new book shows how the British Empire actually worked on the ground.… It is distinguished not just by its vivid detail and fluent prose, but by the sheer complexity and subtlety of its arguments." —Dominic Sandbrook, The Sunday Times (UK)
"A well-documented, evenhanded work that will delight urban scholars and lay travelers." —Kirkus Reviews (starred review)
"Hunt succeeds in bringing his metropolises to life… A book to be enjoyed by an array of readers." —Library Journal
or
Not Currently Available for Direct Purchase