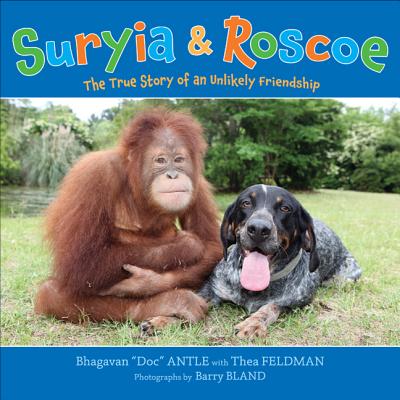 Suryia & Roscoe: The True Story of an Unlikely Friendship (Hardcover)
The True Story of an Unlikely Friendship
Henry Holt & Company, 9780805093162, 32pp.
Publication Date: April 26, 2011
Description
Who can imagine an orangutan being friends with a dog? Is it even possible?
With Suryia and Roscoe it is
Dogs and orangutans rarely meet, and when they do, they are naturally shy around each other. But when Suryia the orangutan first meets Roscoe, a stray dog, they become best friends from the start.
Set on a preserve for rare animals, The Institute of Greatly Endangered and Rare Species (T.I.G.E.R.S.) in South Carolina, here is a true story of a remarkable friendship between two unforgettable animals.
About the Author
Dr. Bhagavan "Doc" Antle is the founder and director of T.I.G.E.R.S., The Institute of Greatly Endangered and Rare Species and the RSF, The Rare Species Fund. He is widely recognized as one of the foremost animal trainers in the world.Thea Feldman has written and edited hundreds of children's books. She has also worked at the Wildlife Conservation Society where she researched and wrote about the animals in the Society's five urban wildlife parks in New York City.Barry Bland started his photographic career as a sports photographer and now specializes in animal based editorial features. His work has been published in hundreds of national newspapers and magazines around the world.
Praise For Suryia & Roscoe: The True Story of an Unlikely Friendship…
"After meeting orangutan Suryia at a South Carolina wildlife preserve, stray dog Roscoe never left. The two enjoy swimming, wrestling and playing a deux." –People magazine

"The endearing photographs might well make you want to go out and save an orangutan — or a stray pup." –Los Angeles Times

"Irresistible and charming, this story of the friendship between a stray dog and an orangutan in a wildlife preserve in South Carolina will delight family members of all ages. Gorgeous photos accompany the tale of their meeting and instant bond." –Kiwimagonline.com

"The images of Suryia hugging Roscoe, swimming with him in a pool or generously offering him a banana will make you smile." –Columbus Dispatch

"The engaging animals will appeal to children." –School Library Journal

"Fans of cute animal books will be delighted." –Booklist

"Young animal lovers . . . will be eager to read about this unlikely pairing between a stray dog and an orangutan in a wildlife preserve . . . . The clean, photo album–like design, high-interest topic, accessible text and captivating images will likely garner Suryia and Roscoe legions of new friends." –Kirkus Reviews
Advertisement