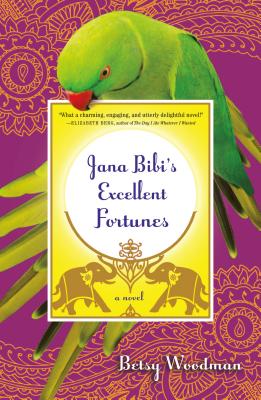 Jana Bibi's Excellent Fortunes (Paperback)
Holt McDougal, 9780805093490, 302pp.
Publication Date: July 17, 2012
Description
Meet Jana Bibi, a Scottish woman helping to save the small town in India she has grown to call home and the oddball characters she considers family
Janet Laird's life changed the day she inherited her grandfather's house in a faraway Indian hill station. Ignoring her son's arguments to come grow old in their family castle in Scotland, she moves with her chatty parrot, Mr. Ganguly and her loyal housekeeper, Mary, to Hamara Nagar, where local merchants are philosophers, the chief of police is a tyrant, and a bagpipe-playing Gurkha keeps the wild monkeys at bay. Settling in, Jana Bibi (as she comes to be known) meets her colorful local neighbors Feroze Ali Khan of Royal Tailors, who struggles with his business and family, V.K. Ramachandran, whose Treasure Emporium is bursting at the seams with objects of unknown provenance, and Rambir, editor of the local newspaper, who burns the midnight oil at his printing press. When word gets out that the town is in danger of being drowned by a government dam, Jana is enlisted to help put it on the map. Hoping to attract tourists with promises of good things to come, she stacks her deck of cards, readies her fine-feathered assistant and "Jana Bibi's Excellent Fortunes" is born.
About the Author
Betsy Woodman spent ten childhood years in India; studied in France, Zambia, and the United States; and now lives in her native New Hampshire. She has contributed nonfiction pieces and several hundred book reviews to various publications, and was a writer and editor for the award-winning documentary series Experiencing War, produced for the Library of Congress and aired on Public Radio International.
Praise For Jana Bibi's Excellent Fortunes…
"Sweet and charming. . . . With its appealing and somewhat exotic setting, and a colorful cast of engaging characters. . . this is a stellar debut bound to charm fans of Alexander McCall Smith." – Booklist (starred)
"First-time author Betsy Woodman has crafted a charming tale that brings the culture, sights and sounds of 1960s India to life. Drawing on her own experiences from 10 childhood years spent in India, Woodman creates engaging characters and fertile prose make this a treasure not to be missed." -- Lincoln Journal Star
"What a charming, engaging, and utterly delightful novel! It takes a writer of enormous talent and heart, to say nothing of spiritual depth, to give us a life-affirming story such as this. I am already impatient to get the next Jana Bibi book, because reading this novel put me in such a good mood…I might have a t-shirt made up that says, Fire your therapist. Read Betsy Woodman."
--Elizabeth Berg, author of Once Upon a Time There Was You and The Day I Ate Whatever I Wanted "As if discovered in the library of an old country inn on a dark and rainy day, Jana Bibi's Excellent Fortunes unfolds like an unexpected gift from another time." -- Diane Meier, author of The Season of Second Chances "Oh, you must read this wonderful book! First of all, how refreshing to read about woman over fifty embarking on an adventure. Secondly, the adventure is so colorful and intriguing, and Jana Bibi is so wise, generous, and comfortable with who she is that it's a pleasure to go with her. Thirdly, her engaging characters are fully human yet ultimately optimistic. Half way through the book I looked up at my husband and said, 'That's it. You and I are moving to India.'" – Rebecca Barry, author of Later, at the Bar "If you like Alexander McCall Smith's quirky, atmospheric novels or you enjoyed the Best Exotic Marigold Hotel, Jana Bibi's Excellent Fortunes will appeal to you with its international charms, multigenerational characters, philosophical bent and gentle intrigue." – Concord Monitor  "A most excellent adventure 'Jana Bibi's Excellent Fortunes' are a treasure that all can enjoy. . . there is delight to be found everywhere in Woodman's descriptions and dialogue. . . Woodman's book calls to mind the movies of Wes Anderson ('Darjeeling Express' and 'Moonrise Kingdom'). . .  [and] the current hit film 'Best Exotic Marigold Hotel.' Which is another way of saying this book would make a splendid movie and readers may find themselves hoping for one so they don't have to bid Namaste and farewell to the special people they have grown to love while reading." – NH Magazine
Advertisement