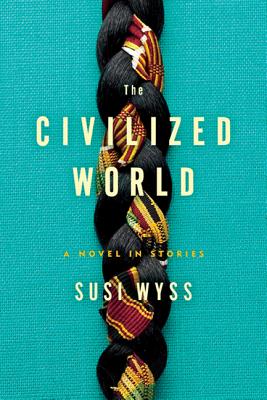 The Civilized World
Paperback

* Individual store prices may vary.
Description
A glorious literary debut set in Africa about five unforgettable women two of them haunted by a shared tragedy whose lives intersect in unexpected and sometimes explosive ways
When Adjoa leaves Ghana to find work in the Ivory Coast, she hopes that one day she'll return home to open a beauty parlor. Her dream comes true, though not before she suffers a devastating loss one that will haunt her for years, and one that also deeply affects Janice, an American aid worker who no longer feels she has a place to call home. But the bustling Precious Brother Salon is not just the "cleanest, friendliest, and most welcoming in the city." It's also where locals catch up on their gossip; where Comfort, an imperious busybody, can complain about her American daughter-in-law, Linda; and where Adjoa can get a fresh start on life or so she thinks, until Janice moves to Ghana and unexpectedly stumbles upon the salon.
At once deeply moving and utterly charming, "The Civilized World" follows five women as they face meddling mothers-in-law, unfaithful partners, and the lingering aftereffects of racism, only to learn that their cultural differences are outweighed by their common bond as women. With vibrant prose, Susi Wyss explores what it means to need forgiveness and what it means to forgive.
Praise For The Civilized World…
"In The Civilized World, almost all the characters live, whether from choice or necessity, between countries and cultures. I am full of admiration for how vividly Susi Wyss brings Africa to life and for the empathy with which she explores the longings of her characters, African and American, for children, home, money, work and family. A beautiful and timely book."--Margot Livesey, author of The House on Fortune Street"
"What [Wyss] does best in her literary debut is depict the akward striving of individuals trying to maintain their own mores and routines while surrounded by an alien set of values and expectations...Unique and memorable."--The Boston Globe
"These insightful stories, some set in a beauty salon, explore the moving, often clueless relationships between Ghanaian and American women."--O Magazine
In this smart, urbane debut...Wyss offers nuanced takes on vastly different corners of Africa, transcending travelogue to achieve resonant narratives--sometimes funny, sometimes stark--with both grit and heart."--Publishers Weekly
"Wyss grants her appealing characters a mesmerizing mixture of fresh starts, second chances, forgiveness, and redemption."--Booklist
"[Wyss] beautifully and effortlessly captures the essence of human connection, demonstrating that despite the cultural and personal differences that separate individuals, we are often related by common threads."—Library Journal
Holt McDougal, 9780805093629, 226pp.
Publication Date: April 12, 2011
About the Author
Susi Wyss's fiction is influenced by her twenty-year career managing women's health programs in Africa, where she lived for more than eight years. She holds a B.A. from Vassar, an M.P.H. from Boston University, and an M.A. in fiction writing from Johns Hopkins University. The Civilized World is her first book. She lives in Silver Spring, Maryland.
or
Not Currently Available for Direct Purchase