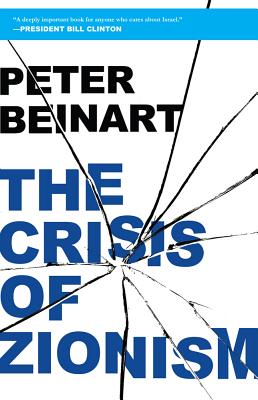 The Crisis of Zionism (Hardcover)
Times Books, 9780805094121, 304pp.
Publication Date: March 27, 2012
Other Editions of This Title:
Paperback (4/2/2013)
MP3 CD (3/30/2012)
Compact Disc (3/30/2012)
Compact Disc (3/30/2012)
* Individual store prices may vary.
Description
Israel's next great crisis may come not with the Palestinians or Iran but with young American Jews
A dramatic shift is taking place in Israel and America. In Israel, the deepening occupation of the West Bank is putting Israeli democracy at risk. In the United States, the refusal of major Jewish organizations to defend democracy in the Jewish state is alienating many young liberal Jews from Zionism itself. In the next generation, the liberal Zionist dream--the dream of a state that safeguards the Jewish people and cherishes democratic ideals--may die.
In "The Crisis of Zionism," Peter Beinart lays out in chilling detail the looming danger to Israeli democracy and the American Jewish establishment's refusal to confront it. And he offers a fascinating, groundbreaking portrait of the two leaders at the center of the crisis: Barack Obama, America's first "Jewish president," a man steeped in the liberalism he learned from his many Jewish friends and mentors in Chicago; and Benjamin Netanyahu, the Israeli prime minister who considers liberalism the Jewish people's special curse. These two men embody fundamentally different visions not just of American and Israeli national interests but of the mission of the Jewish people itself.
Beinart concludes with provocative proposals for how the relationship between American Jews and Israel must change, and with an eloquent and moving appeal for American Jews to defend the dream of a democratic Jewish state before it is too late.
About the Author
Peter Beinart is the author of "The Icarus Syndrome" and "The Good Fight." A former editor of The New Republic, he is a senior political writer for "The Daily Beast" and the editor-in-chief of Open Zion, a blog about Israel and the Jewish future at thedailybeast.com. He is an associate professor of journalism and political science at the City University of New York and a senior fellow at The New America Foundation. He lives with his family in New York City.
Praise For The Crisis of Zionism…
"An important new book that rejects the manipulation of Jewish victimhood in the name of Israel's domination of the Palestinians…. Important and timely for the future of Israel."—Roger Cohen, The New York Times
"Passionately argued."— David Remnick, The New Yorker
"Mr. Beinart has a book … called The Crisis of Zionism. Chapter five, on 'The Jewish President,' fully justifies the cover price."—Bret Stephens, The Wall Street Journal
"A terrifyingly frank account of our current state of affairs."—Andrew Sullivan
"Mr. Beinart thinks America's Jews must redeem both themselves and Israel by rededicating themselves to Israel's ethical character. . . . The sentiment is noble, and the message deserves to be heard."--The Economist 
"An impressive achievement." – Alan Wolfe, The Chronicle of Higher Education
"[A] probing, courageous and timely book… [It] marks a significant evolution in the debate over Israel."—The National Interest
"A passionately argued work that will evoke intense debate."—Booklist
"An elegant, deeply honest look at the failure of Jewish liberalism in forging Israel as a democratic state… Straight talk by a clear-thinking intellectual with his heart in the right place."—Kirkus Reviews
"Peter Beinart has written a deeply important book for anyone who cares about Israel, its security, its democracy, and its prospects for a just and lasting peace. Beinart explains the roots of the current political and religious debates within Israel, raises the tough questions that can't be avoided, and offers a new way forward to achieve Zionism's founding ideals, both in Israel and among the diaspora Jews in the United States and elsewhere."--President Bill Clinton
"Peter Beinart has written the outstanding Zionist statement for the twenty-first century. The Crisis of Zionism is a courageously scathing critique of the sorry state of Zionism today and a clarion call to reaffirm the linkage of liberal values, Jewish commitment, and democratic practice that made the creation of the state of Israel possible and is the key to its moral and physical survival."--Naomi Chazan, former deputy speaker of the Knesset and president of the New Israel Fund
"Progress in the United States has most often occurred when patriotic Americans have insisted on facing our failures head on and holding us to our founding ideals. In that spirit, Peter Beinart has written a brave and important book about Zionism today. Anyone who loves Israel and wishes to see it survive must read this book."--Anne-Marie Slaughter, Bert G. Kerstetter '66 University Professor of Politics and International Affairs, and former dean, Woodrow Wilson School of Public and International Affairs, Princeton University
"The Crisis of Zionism is a must read for everyone who cares about the future of Israel. Peter Beinart makes a strong case for a vision of Zionism that encompasses ending the occupation of the West Bank and deepening Jewish education in America. Even if you disagree with him, you should still read this book."--Edgar M. Bronfman, president of The Samuel Bronfman Foundation
"If you are concerned about Israel's future, you should read this book. It will inform, provoke, and challenge you, as the author, with clarity and grace, lays out the looming dangers to Israeli democracy and appeals for a Jewish state that is both democratic and just to all, including its Arab minority."-- Lee H. Hamilton, former Congressman and Vice-Chair of the 9/11 Commission
Coverage from NPR
or
Not Currently Available for Direct Purchase