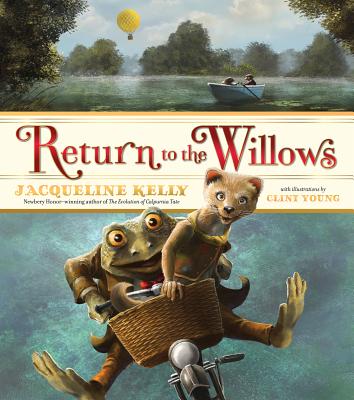 Return to the Willows (Hardcover)
Henry Holt and Co. (BYR), 9780805094138, 288pp.
Publication Date: October 30, 2012
* Individual store prices may vary.
Description
Mole, Ratty, Toad, and Badger are back for more rollicking adventures in this sequel to The Wind in the Willows. With lavish illustrations by Clint Young, Jacqueline Kelly masterfully evokes the magic of Kenneth Grahame's beloved children's classic and brings it to life for a whole new generation.
About the Author
Jacqueline Kelly won the Newbery Honor for her first book, The Evolution of Calpurnia Tate. She was born in New Zealand and raised in Canada, in the dense rainforests of Vancouver Island. Her family then moved to El Paso, Texas, and Kelly attended college in El Paso, then went on to medical school in Galveston. After practicing medicine for many years, she went to law school at the University of Texas, and after several years of law practice, realized she wanted to write fiction. Her first story was published in the Mississippi Review in 2001. She now makes her home with her husband and various cats and dogs in Austin and Fentress, Texas.

Clint G. Young was born and lives in Dallas, Texas. He is the illustrator of Jacqueline Kelly's Return to the Willows.
Praise For Return to the Willows…
"[a] fast-paced, madcap adventure." —The New York Times
"Evoking the ineffable mixture of capers and camaraderie that has kept the original in print for so long, she serves up a roistering, boisterous tale of hot-air balloons, fireworks and GBQs*. And while youngsters are lapping up Toad's adventures, howling as he rockets from lugubrious to lovable in the space of a chapter, adults lucky enough to read this aloud will also have lots of sly asides to chuckle over...." —The Washington Post
"Engaging from beginning to end, this sequel is superb." —School Library Journal
"...an affectionate follow-up to a classic of children's literature, one that succeeds on its own as a humorous and adventurous romp along the riverbank and into the Wild Wood." —Publishers Weekly
"Writing a sequel to such a beloved classic is almost as bold a move as Toad stealing a motor-car, but happily, Kelly's results warrant accolades rather than a trip to gaol." —Kirkus
"The Evolution of Calpurnia Tate is the most delightful historical novel for tweens in many, many years. . . . Callie's struggles to find a place in the world where she'll be encouraged in the gawky joys of intellectual curiosity are fresh, funny, and poignant today." —The New Yorker
"Each chapter of this winning . . . novel opens with a quotation from On the Origin of Species--a forbidden book that her own grandfather turns out to have hidden away. Together they study Darwin's masterpiece, leading to a revolution in Callie's ideas of what she might accomplish on her own." —The New York Times Book Review on The Evolution of Calpurnia Tate
"Callie's transformation into an adult and her unexpected bravery make for an exciting and enjoyable read. Kelly's rich images and setting, believable relationships and a touch of magic take this story far." —Publishers Weekly, starred review
"Interwoven with the scientific theme are threads of daily life in a large family--the bonds with siblings, the conversations overheard, the unspoken understandings and misunderstandings--all told with wry humor and a sharp eye for details that bring the characters and the setting to life. The eye-catching jacket art, which silhouettes Callie and images from nature against a yellow background, is true to the period and the story. Many readers will hope for a sequel to this engaging, satisfying first novel." —Booklist, starred review on The Evolution of Calpurnia Tate
"Narrator Calpurnia's voice is fresh and convincing, and Granddaddy is that favorite relative most readers would love to claim as their own. Historical fiction fans are in for a treat." —BCCB on The Evolution of Calpurnia Tate
or
Not Currently Available for Direct Purchase