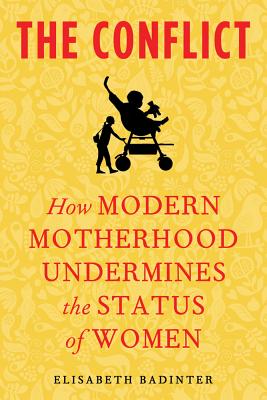 The Conflict (Hardcover)
How Modern Motherhood Undermines the Status of Women
Metropolitan Books, 9780805094145, 208pp.
Publication Date: April 24, 2012
Other Editions of This Title:
Paperback (6/4/2013)
* Individual store prices may vary.
Description
In the pathbreaking tradition of "Backlash" and "The Time Bind," "The Conflict," a #1 European bestseller, identifies a surprising setback to women's freedom: progressive modern motherhood
Elisabeth Badinter has for decades been in the vanguard of the European fight for women's equality. Now, in an explosive new book, she points her finger at a most unlikely force undermining the status of women: liberal motherhood, in thrall to all that is "natural." Attachment parenting, co-sleeping, baby-wearing, and especially breast-feeding these hallmarks of contemporary motherhood have succeeded in tethering women to the home and family to an extent not seen since the 1950s. Badinter argues that the taboos now surrounding epidurals, formula, disposable diapers, cribs and anything that distracts a mother's attention from her offspring have turned childrearing into a singularly regressive force.
In sharp, engaging prose, Badinter names a reactionary shift that is intensely felt but has not been clearly articulated until now, a shift that America has pioneered. She reserves special ire for the orthodoxy of the La Leche League an offshoot of conservative Evangelicalism showing how on-demand breastfeeding, with all its limitations, curtails women's choices. Moreover, the pressure to provide children with 24/7 availability and empathy has produced a generation of overwhelmed and guilt-laden mothers one cause of the West's alarming decline in birthrate.
A bestseller in Europe, "The Conflict" is a scathing indictment of a stealthy zealotry that cheats women of their full potential.
About the Author
Elisabeth Badinter is the acclaimed author of three seminal works on feminism "The Myth of Motherhood," "Wrong Turn," and "Masculine Identity" which have been translated into fifteen languages. Badinter teaches philosophy at the ecole Polytechnique in Paris, where she lives."
Praise For The Conflict: How Modern Motherhood Undermines the Status of Women…
"Impressively researched, elegantly argued and forcefully written… Badinter's warnings about the dangers of excessive child­centeredness are in many ways well founded."
—The New York Times Book Review
"The Conflict was first published in France, but its message is most pressing in the Anglophone world, where a vast industry peddling organic baby foods and anxiety is sucking the joy out of motherhood. Ms. Badinter's polemic is sardonic, urgent and gripping.… This is a cry for freedom."
—The Wall Street Journal
"Badinter's arguments are provocative and rigorous…Badinter's impressive imperative to own one's own life, to take rigorous and energetic responsibility, to cast off the silly or cowardly or frivolously domestic ways, seems very appealing, and refreshing and brisk."
—Slate
"Badinter highlights some alarming trends that are rarely questioned, thanks to current attitudes about the supremacy of the maternal role… She delivers sharp insights about the regressive turn of modern attitudes about motherhood."
—Bookforum
or
Not Currently Available for Direct Purchase