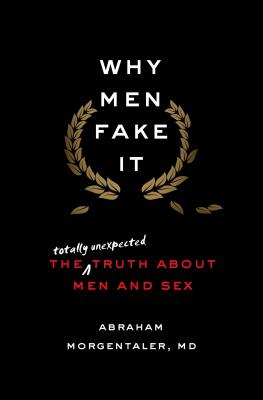 Why Men Fake It (Hardcover)
The Totally Unexpected Truth about Men and Sex
Henry Holt & Company, 9780805094244, 306pp.
Publication Date: April 16, 2013
* Individual store prices may vary.
Description
Harvard Professor Abraham Morgentaler, MD, offers a rare view into the secret world of his patients, providing a startling new perspective on men, sex, and relationships
What "really" drives men to do what they do? "Why Men Fake It" uses the real-life stories of Dr. Morgentaler's patients to let us in on the secrets of men and to examine the current state of male sexuality in science and medicine as well as in relationships and popular culture. In this frank and open discussion of the subject, Dr. Morgentaler will make men and women alike question what we think we know about gender, motivation, sexuality, relationships, and, ultimately, the definition of a "man."
From the biology and science behind the "Bionic Penis," to the psychology behind men faking orgasms, "Why Men Fake It" will change the conversation about male sexual health, and will introduce the world to sex and relationships from a new point of view. Dr. Morgentaler's exploration of male sexuality, from the Masters and Johnson era through the introduction of Viagra, Feminism and the internet, provides the basis for his provocative and revolutionary ideas regarding men and sex- a topic that, until now, has been either sensationalized or stereotyped by the media to give us the definitive guide to men, as we've never seen them before. From these stories you will gain a surprising perspective on the minds and motivations of men: committed, caring, loving and sometimes clumsy individuals doing their best to be great partners in their relationships.
About the Author
Dr. Abraham Morgentaler, MD, FACS, is an Associate Clinical Professor of Urology at Harvard Medical School and the founder of Men's Health Boston, a treatment center for male sexual and reproductive disorders. He is the author of three previous books and his work has appeared in the "New England Journal of Medicine," "The New Yorker" and the "WSJ" among others. He researches, lectures internationally, and sees a limited number of patients via his new program, Personalized MensHealth.
Praise For Why Men Fake It: The Totally Unexpected Truth about Men and Sex…
"Fascinating and easy to read, this groundbreaking book will certainly give all of us a lot to think about and may just inspire the same kind of sexual revolution for men that women have been enjoying for decades."-- Dish Magazine

"Profoundly interesting…groundbreaking"-- CBC's Q with Jian Ghomeshi
"An enlightening new book." – Cosmopolitan Magazine

"Harvard Professor Dr. Abraham Morgantaler, founder of a Boston clinic for male sexual and reproductive disorders, offers a glimpse behind the examination-room door at the hopes and hang-ups of his patients. His latest book, Why Men Fake It: The Totally Unexpected Truth about Men and Sex, takes the measure of manhood in the age of Viagra, Internet porn and shifting gender roles." –Maclean's (Canada)
"I can't remember the last time a piece of important medical history made me gasp, drop my jaw and then explode into disbelieving laughter. But such was the effect of … Dr. Abraham Morgentaler's new book, 'Why Men Fake It: The Totally Unexpected Truth About Men And Sex,'"—WBUR.org

"Morgentaler's experienced perspective comes across in his writing and will appeal to a wide audience. Eye-opening and never dull, this is a book both male and female readers interested in medicine, sexuality, gender issues, and relationships will enjoy" –Library Journal
"Knowledgeable, sophisticated. . . A fascinating and gender friendly discourse on the ups and downs of the male libido." -- Kirkus
"A tell-all exposé… Why Men Fake It is a throwback that unfolds via the anecdotal weight of a seasoned doctor's observations and his recollections of intimate details told to him by his patients. Morgentaler expertly walks us through a host of explanations for this scourge of denouement fictus. Indeed, Why Men Fake It unfolds like a present-day version of the 1950s-era women's magazine self-help column "Tell Me Doctor," only here the patients are men. Thus we learn a great deal about male biology." --PublicBooks

"Dr. Morgentaler has done it again! In Why Men Fake It, the courageous Harvard professor takes the reader into the privacy of the examining room to learn about the taboo topic of male sexuality. A must-read for both sexes!" – Suzanne Somers, lecturer and New York Times Bestselling author of 24 books
"A pioneer in the fields of men's sexual health and low testosterone, Abe Morgentaler, MD, here takes the reader beyond the macho male image. Why Men Fake It pairs patient and partner stories, and explains the relevant history and science of sexual medicine to provide a book that is both important and fun to read." --Irwin Goldstein, MD, Director of Sexual Medicine at Alvarado Hospital in San Diego and Editor-in-Chief of The Journal of Sexual Medicine
"A courageous and revealing exploration of male sexuality in the 21st century. Men who read this book will understand themselves better with every page. By focusing like a laser beam on male issues that others have lacked the creativity and compassion to address, Abe Morgentaler, MD, proves that he deserves the mantle of "America's Top Doctor for Men." Why Men Fake It is a must-read for men and the women who care about them." -- Keith Ablow, MD, New York Times Bestselling Author and Fox News "Medical A Team" Member
"Why Men Fake It answers questions about sex and relationships that beg to be asked but seldom are. Dr. Morgentaler's sensitive, empowering manner and his unique perspective on the male psyche in the early 21st century makes this a must-read for all men and women." -- Alan Altman, MD, Past President, International Society for the Study of Women's Sexual Health
"An engaging, provocative, and fun book that moved me and also made me laugh. I will never think about men, sex, and relationships the same way again."  -- Sanjiv Chopra, MD, Professor of Medicine, Harvard Medical School, and author of Live Better, Live Longer
"Dr Morgentaler takes us on a compelling journey into the minds of men and how they really feel about sex, love and relationships. A great read for women who want to understand their lover's struggles and secret desires in the bedroom and beyond." -- Laura Berman, LCSW, PhD author of Loving Sex: The Book of Joy and Passion
"Many novels and news stories describe "hyper-sexed" men who care only about the pleasure sex gives to them, while others address the latest treatments for male sexual problems. But most men fit neither description. Most men can have sex, and have concerns about how well they satisfy their partners. For such men-and there are many of them-this book from a physician expert in men's sexual function has much valuable information. Clearly written, with compelling personal stories that make the material come alive."
-- Anthony Komaroff, MD, Professor of Medicine, Harvard Medical School 
"Dr. Morgentaler, a distinguished Harvard urologist, takes us into his consulting room and exposes the deep struggles and concerns that men have regarding their sexuality. Using humor and sensitivity he reveals the interwoven physical and psychological concerns that are part and parcel of male sexual identity. Why Men Fake It is a brave, bold, and extremely well written book that teaches us about the complexity of the mind of man." -- Stanley E. Althof, Ph.D., Executive Director, Center for Marital and Sexual Health of South Florida, Emeritus Professor, Case Western Reserve University School of Medicine
or
Not Currently Available for Direct Purchase