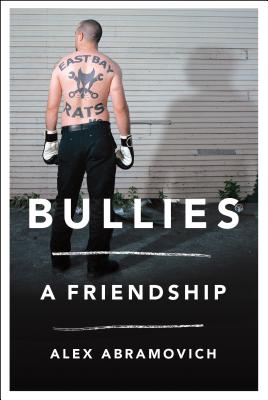 Bullies
A Friendship
Hardcover

* Individual store prices may vary.
Other Editions of This Title:
Paperback (3/7/2017)
Description
**Vulture's The Best Books of 2016**
**Kirkus Reviews Best Nonfiction Books of 2016**
**featured in NPR's Guide to 2016's Great Reads**

The powerful account of one writer's unlikely friendship with his childhood bully, now the president of a motorcycle club in one of America's most dangerous cities.

Once upon a time, Alex Abramovich and Trevor Latham were mortal enemies: miniature outlaws in a Long Island elementary school, perpetually at each other's throats. Then they lost track of each other. Decades later, when they met again, Abramovich was a writer and Latham had become President of the East Bay Rats, a motorcycle club in Oakland.

In 2010, Abramovich moved to California to immerse himself in Latham's world - one of fight clubs, booze-filled nights, and beat-downs on the city's streets. But dangerous, dysfunctional Oakland was also becoming one of America's most rapidly gentrifying cities, and the questions Abramovich had arrived with were thrown into brutal relief: How do we live with the burden of violence? How do we overcome it? Do we overcome it?

As Trevor, the Rats, and the city they live in careen between crises and moments of renaissance, Abramovich explores issues of friendship, family, history, and destiny - and looks at what happens when those things fail. Bullies is at once a vivid, visceral narrative of an unusual friendship and an incisive portrait of a beautiful, terrible city.
Praise For Bullies: A Friendship…
"Bullies begins with bikers and beat-downs, but quickly becomes something bigger: a portrait of a group of men, in America's most radical city, that is at once honest, soulful, original, brutal, and just plain beautiful."
—Jonathan Mahler, author of Ladies and Gentlemen, the Bronx Is Burning

"Alex Abramovich's Bullies, a great book about the prickly subject of masculinity, is also a woozy parable about America today. Which is to say that it's about coming to terms with flaws and failures and watching as the ground—Oakland, in this case—shifts under your feet. It's clear-eyed, unlyrically lyrical, and never shies from the truth."
—Luc Sante, author of Low Life

"Alex Abramovich is a true original and his first book, Bullies, is the real deal: A brutal, hilarious, deeply provocative look at our twisted American moment."
—Sam Lipsyte, author of The Ask

"A sharp-eyed, fearlessly reported tale of personal and institutional violence."
—Jenny Offill, author of Dept. of Speculation

"A punchy piece of reporting with a wicked hook."
—New York Times Book Review

"Haunting."
—San Francisco Chronicle

"A terrific book: fast and furious."
—The Boston Globe

"Bullies is many things at once...in format, Bullies feels to me...like a series of linked vignettes, in the mold of Joan Didion's "The White Album"...what the book makes clear is that violence begets violence: Just as Abramovich and Latham were products of broken, unhappy childhoods, the East Bay Rats, in their embrace of systematic violence, are the product of a place where systematic violence has long been a way of life."
—Vogue

"Abramovich's narrative persona is artfully restrained.... He has in common with Geoff Dyer — another writer expert at mixing memoir, history, reportage, and cultural criticism — an impeccable instinct for his best material."
—New York Magazine

"Thought-provoking and fearless, Bullies offers sharp insight into violence, masculinity, and the history and future of one of America's most dangerous cities."
—Buzzfeed, The 27 Most Exciting New Books Of 2016

"A tragicomic exploration of male violence and bonding...Abramovich's sharp-eyed, entertaining reportage unfolds like a mash-up of The Wild One, Fight Club, and Jackass; his examination of the Rats' worldview is sympathetic and nuanced, but squarely faces the group's dysfunctions and the troubling questions they raise about American society."
—Publishers Weekly, starred review

"Thoughtful and engaging...A sharp, provocative memoir of an unlikely friendship."
—Kirkus Review

"This essential memoir... could have been twice as long and remained as fascinating."
—Library Journal

"Alex Abramovich's Bullies: A Friendship begins as memoir but ends as witness testimony to an era in American history…Bullies is the story of two men's journey to put the demons of their childhood to rest. Along the way, it also manages to become a portrait of a city and a country locked in a struggle with some of those same demons."
—Chicago Tribune
Henry Holt and Co., 9780805094282, 224pp.
Publication Date: March 8, 2016
About the Author
Alex Abramovich writes for the London Review of Books and teaches at Columbia University. He lives in New York City.
Coverage from NPR
or
Not Currently Available for Direct Purchase