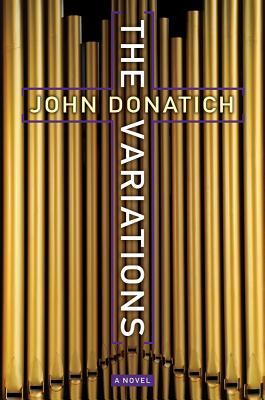 The Variations (Hardcover)
Henry Holt and Co., 9780805094381, 288pp.
Publication Date: February 28, 2012
Other Editions of This Title:
Paperback (3/19/2013)
* Individual store prices may vary.
Description
A compelling sympathy of the faiths that fill the gap between who we set out to be and who we ultimately become
A powerful debut novel about a priest who has lost his church, his mentor, and, most upsetting, his ability to pray. How can Father Dominic protect or guide his parish when everything he loves falls away? How can he counsel Dolores, a troubled teenager prone to emotional panic and spiritual monomania? Or James, a promising African American pianist, struggling to realize his artistic ambitions by bringing his own voice to a piece that has been played by the world's most brilliant pianists, Bach's Goldberg Variations.
Into this malaise comes Andrea, a sophisticated New York editor attracted at first by Dom's blog and then by the man himself. Dom's journey from the cloth into the secular world will offer carnal knowledge, but also something deeper, a more resistant knowledge as life fails to offer happiness or redemption. In prose both searching and muscular, John Donatich's The Variations has located the right metaphor for our spiritual crisis in this story of one man's spiritual disillusion and ache for self-knowledge.
About the Author
John Donatich is the director of the Yale University Press. His essays and occasional pieces have appeared in "Harper's" and the The "Atlantic Monthly." This is his first novel.
Praise For The Variations…
"Thought provoking…beautifully observed"—Parade
"[A] beautiful, enthralling novel."—The Chicago Tribune
"In this well-wrought work, Donatich succeeds in wringing our hearts as well as challenging our minds."—Dallas Morning News
"Debut novelists can be counted on to bring fresh voices, diverse story lines, and singular characters…Father Dominic, the beleaguered protagonist of The Variations, a priest who loses his church, his mentor, and even his ability to pray."—PW, First Fiction
"This … richly layered novel…is a solid debut"—PW
"Donatich manages to avoid clichés in what could have been another trendy defamation of the Catholic Church, for Father Dominic emerges as a fully fleshed character, both tormented and lost."—Kirkus, Starred Review
"[S]uperb…this book kept me long, long after bedtime"—Library Journal
"This first novel by Yale University Press director Donatich explores with considerable insight the intriguing premise of a man of the cloth in a spiritual crisis."—Booklist
"This novel provides food for thought and discussion."—Library Journal
"This book deserves quiet and respectful praise. I was very moved by it. Individual sentences are filled with precision and intelligence. I suppose it is, itself, a variation, in terms of its improvisations on an expected theme, the improbabilities recognized and realized, and its humane take on the world. What a surprising, beautiful book."—Ann Beattie, author of The New Yorker Stories
"Though The Variations documents harsh personal upheavals, it is characterized by great poise and dignity. With his talent for finding beauty in the dingiest corners and insights in the most confounding situations, John Donatich has given us a novel with staying power. It's impossible not to be utterly absorbed by this book."—Joanna Scott, author of the Ambassador Book Award winning Liberation
"Toward the end of this moving and highly unusual novel, its hero -- Dominic -- remarks: 'It is God that is primary, individual, irreducible. All the rest variations on a theme." These variations preoccupy the major characters in this deeply poetic and fiercely imagined book. Novels that approach matters of faith are rarely, and rarely good. But John Donatich has written a beautiful and thoughtful meditation on faith and its fate in the modern world, on listening, loving, living. The Variations plays any number of variations on the themes of love and loss in its myriad forms. It's a novel I will pass eagerly among friends."—Jay Parini, author of The Last Station and The Passages of H.M.
"Catholic writers in America have not found much excitement in theology. John Donatich goes a long way towards repairing that lack with this beautiful novel about a contemporary priest who can't help contemplating the failure of his rundown urban church as his own inner failure…The author has a poet's feel for image, which he confers upon his priest with breathtaking effect…There is genuine suspense, a sense of life or death importance, in this thoughtful novel about what Father Dominic will choose to do as well as about the fates of his parishioners."—Jaimy Gordon, author of the National Book Award winning Lord of Misrule
"A novel of priests, pianists, hysterics, dry drunks, urban decay, and above all the irresistible drive to achieve transcendence, even while you know it can't be done by trying. When these people pray or make music they know they have to master an art form and give up hope of mastering it at the same time. Their dilemmas are old, universal, perfect. Donatich doesn't believe in the kind of orthodoxy that obliterates doubts and declares a permanent winner to contests inside the soul. He seems to believe in a continuous struggle between what we can and can't do on our own, a faith of variations that will keep on changing from one day to the next because it's alive."—Salvatore Scibona, author of The End
or
Not Currently Available for Direct Purchase