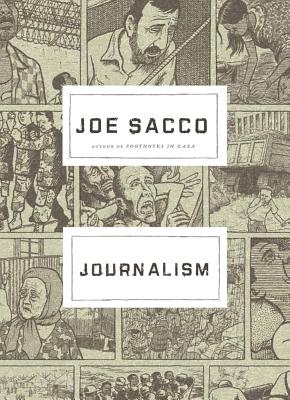 Journalism (Hardcover)
Metropolitan Books, 9780805094862, 208pp.
Publication Date: June 19, 2012
Description
A first for the world's greatest cartoon reporter, a collection of journalism, including articles on the American military in Iraq that have never been published in the United States
Over the past decade, Joe Sacco, "our moral draughtsman" (Christopher Hitchens), has increasingly turned to short-form comics journalism to report from the sidelines of wars around the world. Collected here for the first time, Sacco's darkly funny, revealing reportage confirms his standing as one of the foremost war correspondents working today.
In "The Unwanted," Sacco chronicles the detention of Saharan refugees who have washed up on the shores of Malta; "Chechen War, Chechen Women" documents the trial without end of widows in the Caucasus; and "Kushinagar" goes deep into the lives of India's untouchables, who are hanging "onto the planet by their fingernails." Other pieces take Sacco to the smuggling tunnels of Gaza; the trial of Milan Kovacevic, Bosnian warlord, in The Hague; and the darkest chapter in recent American history, Abu Ghraib. And on a mission with American troops pieces never published in the United States he confronts the misery and absurdity of the war in Iraq.
Among Sacco's most mature, accomplished work, "Journalism" demonstrates the power of our premier cartoonist to chronicle human experience with a force that often eludes other media.
About the Author
Joe Sacco is the author of the Eisner Award-winning graphic novels Footnotes in Gaza and Safe Area Gorazde, among other books. His works have been translated into fourteen languages and his comics reporting has appeared in Details, The New York Times Magazine, Time, and Harper's. He lives in Portland, Oregon.
Praise For Journalism…
"We see the potent brew of Sacco's reporting, with its combination of engagement and complicity… This is what visual storytelling has to offer, this kind of immediacy, of empathy, this ability to open up the narrative in a way that transcends words."
—Los Angeles Times
"Deeply humane, disturbing portraits of war, oppression, and sectarian tension… Sacco's work is a reminder of the hidebound nature of much international reporting, and of the potential for creative disruption in the field. If there were any justice in American media, a hundred Saccos would bloom."
—Bookforum "The images Sacco draws are so powerful that they burn deep into your retina and reconfigure how you see the world.… The stories in Journalism display Sacco at the top of his game as our era's irreplaceable moral witness."
—National Post (Toronto)  "This volume of Sacco's shorter pieces makes an outstanding companion to his acclaimed book-length works… A powerful record of voices that would have otherwise gone largely unheard."
—Publishers Weekly (starred review)
 
Advertisement