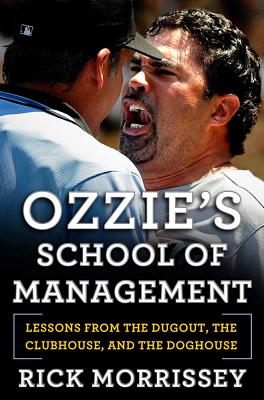 Ozzie's School of Management: Lessons from the Dugout, the Clubhouse, and the Doghouse (Hardcover)
Lessons from the Dugout, the Clubhouse, and the Doghouse
Times Books, 9780805095005, 272pp.
Publication Date: May 22, 2012
* Individual store prices may vary.
or
Not Currently Available for Direct Purchase
Description
Going behind the scenes with Ozzie Guillen, baseball's most colorful and irrepressible manager, to reveal the hidden factors that create a winning team
When Ozzie Guillen opens his mouth, nobody knows what's going to come out. And that has made the manager of the Miami Marlins endlessly entertaining to legions of baseball fans. In language that is often as profane as it is colorful, he will lash out not only at his team's opponents but also at his own players, reporters, fans, and most of all, himself. He is always getting himself in hot water, and he loves every minute of it.
Yet for all the antics and controversy, Guillen is also one of the game's best managers a World Series champion and a perennial contender. This book opens the door on the secrets to his success.
"Ozzie's School of Management" distills the ten commandments of managing, Guillen-style, which means no-holds-barred and leave your squeamishness at the door. The "Chicago Sun-Times" sports columnist Rick Morrissey, who built a strong rapport with Guillen during his eight years with the Chicago White Sox, takes us on a rollicking ride through Ozzie's world, shining a light on his sharp intellect, organizational insights, and changing moods, and showing that the most important part of managing occurs before the first pitch and after the last out.
About the Author
Rick Morrissey is an award-winning sports columnist for the "Chicago Sun-Times," and he has previously worked at the "Chicago Tribune," the "Rocky Mountain News," and the "Charlotte Observer." He has covered most of the major events in sports, from the Super Bowl to the Olympics to the NBA Finals. He lives in the Chicago area.
Praise For Ozzie's School of Management: Lessons from the Dugout, the Clubhouse, and the Doghouse…
"Morrissey captures [Guillen's] thought process . . . [and] nails why the man is so good at his job."--The Wall Street Journal
"Morrissey writes with verve and much humor.… Through observing Guillen on and off the field and interviewing him, Morrissey presents a rewarding explication of how this individual operates. Fans… [will] enjoy this expert, fast-paced study."—Library Journal
"Ozzie Guillen's management style is not exactly straight out of the Harvard Business School, but his singular approach is vastly more vibrant and compelling. There is a method to his madness, and thanks to Rick Morrissey for busting through the stereotypes and making sense of it all."—David Maraniss, author of When Pride Still Mattered and Clemente
"Rick Morrissey squarely puts you in the passenger seat of a baseball bus driven by Ozzie Guillen. I expected Ozzie would ignore the speed limit, flip off a cop, and run over a few mailboxes, but I didn't expect to learn about his wisdom, patience, and sixth sense for the baseball family. I would love to pass on Guillen's words to my young son, only problem is I have to wait until he is twenty-one."--Doug Glanville, former major-league center fielder and author of The Game from Where I Stand
"Ozzie Guillen is my kind of guy, what you see is what you get, take it or leave it. He is a winner."--Mike Ditka, former head coach of the Chicago Bears
Advertisement