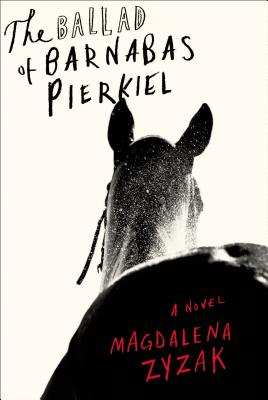 The Ballad of Barnabas Pierkiel (Hardcover)
Henry Holt & Company, 9780805095104, 269pp.
Publication Date: January 14, 2014
* Individual store prices may vary.
Description
A story of love and adventure in an imaginary Slavic nation on the brink of historic change the debut of a ribald and raucous new literary voice
Set in the quaint (though admittedly backward) fictional nation of Scalvusia in 1939, "The Ballad of Barnabas Pierkiel" follows the exploits of a young swineherd with romantic delusions of grandeur. Desperate to attract the voluptuous Roosha, the Gypsy concubine of the local boot-and-shoe magnate, Barnabas and his short-legged steed Wilhelm get embroiled in a series of scandals and misadventures, as every attempt at wooing ends in catastrophe. After the mysterious death of an important figure in the community, a witch-hunt ensues, and a stranger falls from the sky. Barnabas begins to see the terrible tide of history turning in his beloved hometown. The wonderfully eccentric supporting cast includes a priest driven mad by a fig tree, a gang of louts who taunt our reluctant hero at every turn, and a dim-witted vagabond with a goat for a wife. Even as her characters brush up against one of the darkest moments of the twentieth century, Magdalena Zyzak's humor and prose delight in the absurdities of the human animal.
About the Author
Magdalena Zyzak was born in 1983 in Zabrze, Poland, and now lives in the United States. The Ballad of Barnabas Pierkiel is her first novel.
Praise For The Ballad of Barnabas Pierkiel…
"Inventive and funny…an unexpectedly moving account."
—The New York Times

"[A] twisted folktale… It's often said that during war nations descend into madness, but in Ms. Zyzak's entertaining novel madness is a preexisting condition."
—The Wall Street Journal

"A wickedly good debut…[It] shares a fleet-footed, darkly comic spirit with the works of Milan Kundera and Josef Skvorecky, but its real affinities are much older: with the folk tales through which Europe's peasants for centuries expressed their blunt fatalism about political power and human nature…Zyzak's wicked wit expresses a matter-of-fact acceptance of the world as it is, rife with cruelty and suffering, but also with kindness, love and a lot of laughs…Mark Twain, for one, would have thoroughly enjoyed the all-too-human misadventures she describes."
— Los Angeles Times

"A novel about an Eastern European village straight in the Nazi's path in the opening days of WWII gets an unlikely spin in Polish author Zyzak's first novel: It's a comedy — part Marx Brothers, part Warner Bros. cartoon."
—The New York Post, required reading

"[A] work intoxicated with language and reveling in storytelling of the goofiest and most venerable sort. There are shades of Don Quixote and Candide in our hero… reminiscent of Vladimir and Estragon, and Rosencrantz and Guildenstern and some of Shakespeare's more delightful fools …[Zyzak's]prose shakes and dusts off the language and reminds us of its familiar and forgotten delights."
--Minneapolis Star Tribune

"Make way for Magdalena Zyzak! She writes in a way uniquely her own and approaches the English language with the joy and reverence of her countryman Joseph Conrad. The Ballad of Barnabas Pierkiel is a heady drink."
–Gary Shteyngart, author of Super Sad True Love Story

"A rude, lewd, passionate and wildly funny modern folktale, reminiscent of Swift, Garcia-Marquez and Isaac Bashevis Singer.  The Ballad of Barnabas Pierkiel is a stunning debut."
--T.C. Boyle

"Like the best folktales, Magdalena Zyzak's debut has a rollicking wit and a strange melancholy undertow that pulls you into a dark and deeply imagined world."
--Jenny Offill, author of Last Things and The Dept. of Speculation

"An absurdist page-turner that's also thoroughly human and moving…A good debut novel can deliver a compelling story, well-formed characters, interesting dialogue and a solid thematic punch—but a great debut novel also introduces an unforgettable voice. With The Ballad of Barnabas Pierkiel, Magdalena Zyzak has done all of the above, creating a modern folktale that's both delightfully strange and remarkably sensitive."
—BookPage

"In her first novel, Polish American author Zyzak serenades her readers with the tale of Barnabas Pierkiel… Zyzak's unique storytelling style evokes the timeless magic of a fairy tale, even as her colorful characters and eye for the absurd break that convention into distinctly modern pieces."
– Booklist

"The Ballad of Barnabas Pierkiel has a double, perhaps triple identity: it's a novel and a folktale with elements of being a ballad... Its chiseled locution reminds one of the triumph of Joseph Conrad, another Pole who wrote masterworks in his second language, English."—Buffalo News

"The book starts with a dirty joke and ends with a bloody battle, and in between lies a great deal of carefully measured absurdist humor…a picaresque novel in the vein of Don Quixote, with shades of the Marx Brothers, Monty Python and Nikolai Gogol thrown in…. reads like a better-educated version of a Mel Brooks movie, complete with gypsy curses and Nazis."
– Kirkus Review

"A wild, imaginative farce…Dostoevsky conflated with Woody Allen…It will infuriate as many readers as it delights."
-- Publishers Weekly

"The characters in Polish-born Zyzak's first novel are innocent, racist, religiously pious, and practice infidelity; they're all also one or more cards short of a full deck. The chaos that results is epic and entertaining."—Library Journal
or
Not Currently Available for Direct Purchase