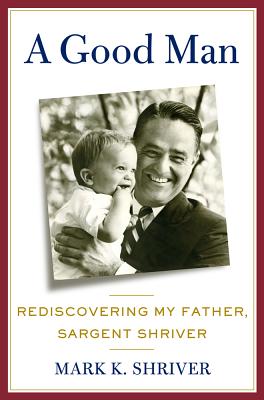 A Good Man (Hardcover)
Rediscovering My Father, Sargent Shriver
Henry Holt and Co., 9780805095302, 288pp.
Publication Date: June 5, 2012
Other Editions of This Title:
Digital Audiobook (6/4/2012)
Paperback (4/30/2013)
* Individual store prices may vary.
Description
In this intimate portrait of an extraordinary father-son relationship, Mark K. Shriver discovers the moral principles that guided his legendary father and applies them to his own life
When Sargent "Sarge" Shriver—founder of the Peace Corps and architect of President Johnson's War on Poverty—died in 2011 after a valiant fight with Alzheimer's, thousands of tributes poured in from friends and strangers worldwide. These tributes, which extolled the daily kindness and humanity of "a good man," moved his son Mark far more than those who lauded Sarge for his big-stage, headline-making accomplishments. After a lifetime searching for the path to his father's success in the public arena, Mark instead turns to a search for the secret of his father's joy, his devotion to others, and his sense of purpose. Mark discovers notes and letters from Sarge; hears personal stories from friends and family that zero in on the three guiding principles of Sarge's life—faith, hope, and love—and recounts moments with Sarge that now take on new value and poignancy. In the process, Mark discovers much about himself, as a father, as a husband, and as a social justice advocate. A Good Man is an inspirational and deeply personal story about a son discovering the true meaning of his father's legacy.
About the Author
Mark K. Shriver is the senior vice president of U.S. Programs at Save the Children in Washington, D.C., and a former Maryland state legislator. Shriver also started the Choice Program and served on the coalition to create the National Commission on Children and Disasters following the devastation of Hurricane Katrina. He lives with his wife and three children in Maryland.
Praise For A Good Man: Rediscovering My Father, Sargent Shriver…
"Since most people are happiest doing what they are good at, it's no wonder that Sargent Shriver was always smiling. He was good in every role he filled--husband, father, friend, public servant, and visionary. And he was as inspiring as they come. Mark's poignant tribute captures the idealism and exuberance that made us all love Sarge, and reminds us to find pleasure in the simple act of living." —Former President Bill Clinton
"This tender, endearing memoir is a moving portrait of a son's struggle to deal with the gradual disappearance of a beloved father through the progressive stages of Alzheimer's. It is a praiseworthy book." —Doris Kearns Goodwin
"This is a deeply touching story of a famous family and the private joys and trials that came with it. Mark's love letter to his Dad is one we can all learn from." —Tom Brokaw
"As founder of the Peace Corps, Sargent Shriver had the genius to change lives, mine included. With this powerful book, his son Mark shows a great man can also be a good man. What a joy to read about Sarge, the father. In a real way, he was father to everyone who ever served in the Peace Corps." —Chris Matthews
"What a lovely book this is. It's funny and sad and inspiring without being insipid. Why was it, this loving son wanted to know, that everyone described his highly accomplished father, Sarge Shriver, as a 'good man'? In the middle of the active and ambitious Kennedy and Shriver families, Mark Shriver comes to understand his father's faith in God's love anchored him and allowed him to do all that he did so well, including dealing with his own Alzheimer's. In getting to know his father better even after his death, Shriver learns some lessons useful to all of us." —Cokie Roberts, author of We Are Our Mothers' Daughters
"In A Good Man, Mark Shriver gives a rich personal account of growing up with a father whose boundless optimism and life of public service made a profound difference for millions of people. Read it and come away, like Mark, reenergized and re-inspired to follow Sargent Shriver's extraordinary example." —Marian Wright Edelman, President, Children's Defense Fund
"Asking around, in order to write about Sarge Shriver, I could find no one with a bad word to say about him. This book tells why. The mystery of goodness is deeper than the mystery of evil." —Garry Wills
Coverage from NPR
or
Not Currently Available for Direct Purchase