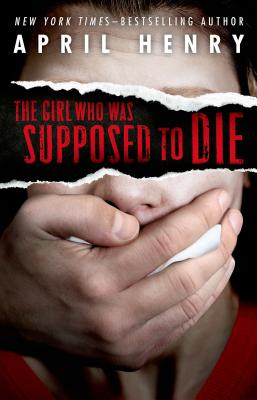 The Girl Who Was Supposed to Die (Hardcover)
Henry Holt & Company, 9780805095418, 213pp.
Publication Date: June 11, 2013
* Individual store prices may vary.
or
Not Currently Available for Direct Purchase
Description
"Take her out back and finish her off."
She doesn't know who she is. She doesn't know where she is, or why. All she knows when she comes to in a ransacked cabin is that there are two men arguing over whether or not to kill her.
And that she must run.
In her riveting style, April Henry crafts a nail-biting thriller involving murder, identity theft, and biological warfare. Follow Cady and Ty (her accidental savior turned companion), as they race against the clock to stay alive, in "The Girl Who Was Supposed to Die.
About the Author
April Henry is the New York Times bestselling author of many acclaimed mysteries for adults and young adults, including the YA novels Girl, Stolen and The Night She Disappeared, and the thriller Face of Betrayal, co-authored with Lis Wiehl. She lives in Oregon.
Praise For The Girl Who Was Supposed to Die…
"The novel only spans a few days, and Henry's airtight plotting and efficient, stylized writing brings tension into each scene. Shrewd characterizations lend additional substance to this adrenaline-inducing read." -- Publishers Weekly
"Suggest this one to fans of Stefan Petrucha's Split (Walker, 2010) and Matt Whyman's Icecore (2007) and Goldstrike (2010, both S & S) for a good adrenaline rush with the tiniest hint of romance." -- School Library Journal
"April Henry has it down with her taut mysteries, and The Girl Who Was Supposed to Die is as good as her other works. Suspense and tension build from the first page—in which men are taking Cady out to kill her—to the last, as she uncovers the secrets in this eco-thriller."
- School Library Journal
"Older Jack and Jill readers will find themselves unable to put down this book until they reach the stunning conclusion."
- Jack and Mill Magazine
"Henry is a dependable best-selling force in both adult and YA worlds, and this book is tailor-made to please her fan base." -- Booklist
"Henry (The Night She Disappeared) delivers another speedy, suspenseful mystery, this one reminiscent of Robert Ludlum's Jason Bourne books."--Publishers Weekly
Praise for The Night She Disappeared:
"The reader must wait with baited breath to see when and if the characters will uncover the truth as the suspense builds to a fever pitch near the end of the book." —VOYA
"Fans of intense page-turners . . . will love this one." —School Library Journal
"It's a riveting story. . . . Each chapter is a surprise, and the tension builds steadily until the inevitable climactic face off." —Publishers Weekly
Praise for Girl, Stolen:
 An ALA Best Book for Young Adults
An ALA Quick Pick for Young Adults
"Constantly interesting and suspenseful." —Kirkus Reviews
"Thoroughly exciting." —Booklist
"Readers will be hard-pressed to put this one down before its heart-pounding conclusion." —School Library Journal
"Be ready to be startled and inspired as the story reaches its climax. Readers will race to the end." —The Strand Magazine
"The pace is impeccable, becoming rapidly more frantic as Cheyenne realizes her chances for success are dwindling. In addition, the premise itself is powerfully realistic and compelling, with one small incident (Griffin's jumping into a car that had the keys in the ignition) snowballing into a nightmare series of events that will change everyone." —BCCB
"Henry spins a captivating tale that shifts between Cheyenne's and Griffin's thoughts. Both are well-built, complex characters, trapped in their own ways by life's circumstances, which—paired with a relentlessly fast pace—ensures a tense read." —Publishers Weekly
Advertisement