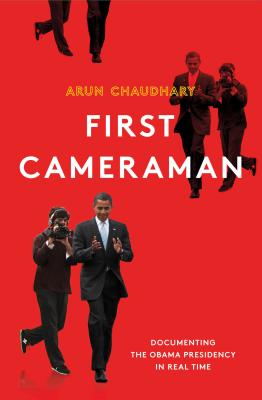 First Cameraman (Hardcover)
Documenting the Obama Presidency in Real Time
Times Books, 9780805095722, 306pp.
Publication Date: August 21, 2012
Other Editions of This Title:
Paperback (9/24/2013)
* Individual store prices may vary.
Description
The first official White House videographer chronicles his time capturing behind-the-scenes moments of the president and his administration
From the early months of the 2008 campaign and through the first two and a half years of the Obama administration, Arun Chaudhary had a unique perspective on the president of the United States. "I'm sort of like President Obama's wedding videographer," he explains, "if every day was a wedding with the same groom but a constantly rotating set of hysterical guests."
Some of the moments Chaudhary captures are small, like the president throwing warm-up pitches deep inside Busch Stadium in St. Louis before the All-Star game. Some are intensely emotional, as when Obama comforts a grieving teenager whose father had died in a devastating tornado. And some are just plain bizarre like getting thrown out of the Indian parliament by his belt, or being trapped in a White House bathroom while Obama conducts a YouTube town hall on the other side of the door.
Film and politics have been intertwined ever since the first Edison reels rattled in projection halls a century ago. But with the advent of new technologies and a new public that is hungry for images of their leaders, Chaudhary has been in the right place at the right time to participate in the interplay of film and politics at the very highest level. His entertaining and eye-opening book which includes stories and images of key players such as Barack and Michelle Obama, Joe Biden, and Hillary Clinton, among others gives readers a unique view of their government and their president in these historic and challenging times.
About the Author
Arun Chaudhary served as the first official White House videographer from 2009 to 2011 and was also a key member of Obama's new media team during the 2008 campaign. He previously worked in film in New York and was a member of the NYU Graduate Film Department faculty. He received his MFA in filmmaking from NYU and his BA in film theory from Cornell University. Chaudhary has been profiled by "The New York Times," the BBC, "National Journal," "Politico," "Fortune," and many political websites. He lives in Washington, D.C., with his wife and son.
Praise For First Cameraman: Documenting the Obama Presidency in Real Time…
"Arun was New Media? I always assumed he was CIA!"
—David Axelrod, Former Senior Advisor to President Obama and Senior Strategist, Obama for America "With grace and good humor, Chaudhary weaves together his recollections of the Obama campaign and the White House with the theory and history of film in American politics. But you might not realize how much you're learning, because you're having too much fun."
—Richard Ben Cramer, author of What It Takes and Joe DiMaggio "So interesting to finally learn what whatshisname's job actually was, I used to just ask him if he knew where the president went."
—Rahm Emanuel, Mayor of the City of Chicago and Former White House Chief of Staff "First Cameraman tells a refreshing story about American politics—it's that what you see is what you get. What the camera saw in Barack Obama in 2008 is what the cameraman himself discovered off-camera. Wow!"
—Chris Matthews, Host of Hardball and The Chris Matthews Show and bestselling author of Jack Kennedy: Elusive Hero "If John F. Kennedy was the first television president, then Barack Obama is the first YouTube president—and Arun Chaudhary, the first first videographer, captured the images that mark a seismic shift in the way American politics is practiced."
—Dee Dee Myers, former White House Press Secretary and author of Why Women Should Rule the World 
or
Not Currently Available for Direct Purchase