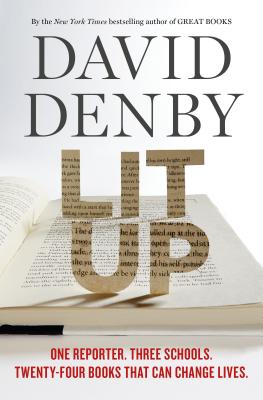 Lit Up (Hardcover)
One Reporter. Three Schools. Twenty-four Books That Can Change Lives.
Henry Holt and Co., 9780805095852, 288pp.
Publication Date: February 2, 2016
Other Editions of This Title:
Digital Audiobook (2/1/2016)
Paperback (2/14/2017)
CD-Audio (2/2/2016)
* Individual store prices may vary.
Description
A bestselling author and distinguished critic goes back to high school to find out whether books can shape lives
It's no secret that millions of American teenagers, caught up in social media, television, movies, and games, don't read seriously-they associate sustained reading with duty or work, not with pleasure. This indifference has become a grievous loss to our standing as a great nation--and a personal loss, too, for millions of teenagers who may turn into adults with limited understanding of themselves and the world.
Can teenagers be turned on to serious reading? What kind of teachers can do it, and what books? To find out, Denby sat in on a tenth-grade English class in a demanding New York public school for an entire academic year, and made frequent visits to a troubled inner-city public school in New Haven and to a respected public school in Westchester county. He read all the stories, poems, plays, and novels that the kids were reading, and creates an impassioned portrait of charismatic teachers at work, classroom dramas large and small, and fresh and inspiring encounters with the books themselves, including The Scarlet Letter, Brave New World, 1984, Slaughterhouse-Five, Notes From Underground, Long Way Gone and many more. Lit Up is a dramatic narrative that traces awkward and baffled beginnings but also exciting breakthroughs and the emergence of pleasure in reading. In a sea of bad news about education and the fate of the book, Denby reaffirms the power of great teachers and the importance and inspiration of great books.
About the Author
David Denby is the author of Great Books, an acclaimed account of returning to college and reading the Western classics during the curriculum wars; American Sucker, Snark, and Do the Movies Have a Future? He is a staff writer and former film critic for The New Yorker, and his reviews and essays have appeared in The New Republic, The Atlantic, and New York magazine, among other places. He lives in New York City with his wife, writer Susan Rieger.
Praise For Lit Up: One Reporter. Three Schools. Twenty-four Books That Can Change Lives.…
"[A] masterpiece...Denby is especially astute in describing what it takes to capture teenagers' attention....[A] wonderful book."
-The Huffington Post
"By turns funny, bracing, and utterly absorbing, it is that rare journalism artifact: a hopeful book about adolescence that doesn't whitewash the nasty bits."
-USA Today
"Lit Up is a refreshing lesson in what motivates students and why not to dumb down reading lists."
-The New York Times
"Mr. Denby captures well how teenagers today struggle to grapple with the serious thinkers of the past."
–Wall Street Journal
"Denby makes an impassioned case for the critical importance of books to the lives of young people."
–New York Times Book Review

"Definitely a worthy successor to Great Books. The fight against the dumbing down of this country continues with this highly readable book. David Denby really cares about whether American literature has a future. You probably should too."
-James Patterson
"In this nuanced and vivid account of great books taught in three very different schools, Denby has proven what teachers have always known: that taught with passion and commitment, literature old and new can inspire any and every student. This is a necessary bulwark against knee-jerk cynicism about the decline of reading among young people."
–Dave Eggers, co-founder, 826 National and former editor, The Best American Nonrequired Reading

Lit Up reminds us that the study of literature can be life-changing, especially for adolescents, who are deciding who they are and who they hope to be. David Denby rises above the stale debates about education of our time to show the power of great teaching and great books.
–Diane Ravitch, author of Reign of Error and The Life and Death of the Great American School System

"A beautifully written meditation on why we need books, dedicated teachers, and the power of classroom conversation, the kind where passion ignites and community thrives. If you care about reading, and you need to care about reading, read this book!"
–Sherry Turkle, author of Reclaiming Conversation: The Power of Talk in a Digital Age, Abby Rockefeller Mauzé Professor of the Social Studies of Science and Technology, MIT
"James Baldwin claimed that, 'Art would not be important if life were not important. And Life is important.' And this is why we need to read David Denby's Lit Up. Avoiding generalizations and preconceived notions, this book is an investigation of the essential role of ideas and imagination in our system of education, offering valuable insights into actual classrooms and the dynamic relation between great teachers and their students."
–Azar Nafisi, author of Reading Lolita in Tehran
"Lit Up is no alarmist screed but a steadfast appeal by a writer who understands that without a devotion to literature, we're a hamstrung bunch."
–The New Republic
"Denby is an engaging writer and a keen spectator....Denby gives us a dramatic, fascinating look at teachers and students struggling, questioning, and growing together. Lit Up is a testament to the power of extraordinary teachers and the willingness of young people to engage--not just with books, but with the serious business of becoming adults."
–BookPage

"An upbeat portrait of fine teachers and the students they inspire."
–Kirkus Reviews

"[An] energetic and engaged...report on reading among modern-day teenagers."
–Publishers Weekly