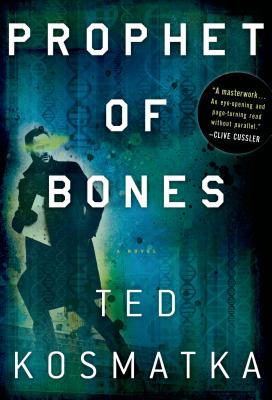 Prophet of Bones
Hardcover

* Individual store prices may vary.
Other Editions of This Title:
Digital Audiobook (4/1/2013)
Paperback (7/22/2014)
Compact Disc (4/2/2013)
Description
Ted Kosmatka's sensational new thriller, "Prophet of Bones," thrusts readers into an alternate present.
Paul Carlson, a brilliant young scientist, is summoned from his laboratory job to the remote Indonesian island of Flores to collect DNA samples from the ancient bones of a strange, new species of tool user unearthed by an archaeological dig. The questions the find raises seem to cast doubt on the very foundations of modern science, which has proven the world to be only 5,800 years old, but before Paul can fully grapple with the implications of his find, the dig is violently shut down by paramilitaries.
Paul flees with two of his friends, yet within days one has vanished and the other is murdered in an attack that costs Paul an eye, and very nearly his life. Back in America, Paul tries to resume the comfortable life he left behind, but he can't cast the questions raised by the dig from his mind. Paul begins to piece together a puzzle which seems to threaten the very fabric of society, but world's governments and Martial Johnston, the eccentric billionaire who financed Paul's dig, will stop at nothing to silence him.
Praise For Prophet of Bones…
"A masterwork of intrigue and menace. I couldn't put Prophet of Bones down until I reached the climax…An eye-opening and page-turning read without parallel."—Clive Cussler
"Ted Kosmatka is both an excellent writer and a hell of a storyteller…Prophet of Bones is truly hard to put down. This is what a novel is about"—Nelson DeMille
"Written with confidence, in a sure hand, the tension leaps from the page. All of the right elements combine—danger, treachery, and action. Buckle up, hunker down, and get ready for an all-nighter."—Steve Berry
"Prophet of Bones contains some incredibly tantalizing glimpses of hard science in a world constrained by theological received truth, and the detailed discussions of scientific methodology just add to the fascination."—i09
"A near-perfect blending of traditional thriller and alternate-reality scientific and theological fantasy… has best-seller written all over it."—Booklist, Starred Review
"An expansion of one of Kosmatka's most compelling stories…offers a good deal of fast moving fun."—Locus Magazine
"Gripping, dark, and well written…Kosmatka paints in broad strokes yet still nails the details…this is a compelling juggernaut of a read."—Library Journal
"An exciting alternate-universe thriller… readers will gulp this on down."—PW
"Prophet of Bones is what happens when you start with a foundation of Harry-Turtledove-style alternate-history science fiction, throw in some Dan-Brown-ian theology-tinged conspiracy theory, add a dash of Jurassic-Park-era Michael-Crichton-esque bio-thriller and top it all off with some Elmore-Leonard-y dark humor. The result is some truly unique – and uniquely awesome—classification-defying, boundary-pushing fiction, and I, for one, couldn't be more thrilled."—criminalelement.com
"Meshes realistic science with fast paced thrills…It will keep you guessing, straight till the end – and you'll love every minute of it."—gamesfiends.com
Henry Holt & Company, 9780805096170, 354pp.
Publication Date: April 2, 2013
About the Author
Ted Kosmatka is the author of one previous novel, "The Games." His short fiction has been nominated for both the Nebula Award and the Theodore Sturgeon Memorial Award, and appeared in numerous Year's Best collections.
or
Not Currently Available for Direct Purchase