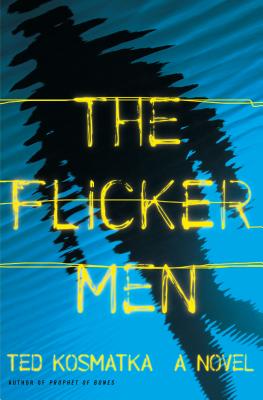 The Flicker Men (Hardcover)
A Novel
Henry Holt and Co., 9780805096194, 352pp.
Publication Date: July 21, 2015
Other Editions of This Title:
Compact Disc (7/21/2015)
MP3 CD (7/21/2015)
Compact Disc (7/21/2015)
* Individual store prices may vary.
Description
"A high-speed thriller. . . . The pages turn rapidly with well-orchestrated suspense." -The New York Times

"If Stephen Hawking and Stephen King wrote a novel together, you'd get The Flicker Men. Brilliant, disturbing, and beautifully told." -Hugh Howey, New York Times bestselling author of the Wool series

A quantum physicist shocks the world with a startling experiment, igniting a struggle between science and theology, free will and fate, and antagonizing forces not known to exist

Eric Argus is a washout. His prodigious early work clouded his reputation and strained his sanity. But an old friend gives him another chance, an opportunity to step back into the light.
With three months to produce new research, Eric replicates the paradoxical double-slit experiment to see for himself the mysterious dual nature of light and matter. A simple but unprecedented inference blooms into a staggering discovery about human consciousness and the structure of the universe.
His findings are celebrated and condemned in equal measure. But no one can predict where the truth will lead. And as Eric seeks to understand the unfolding revelations, he must evade shadowy pursuers who believe he knows entirely too much already.
About the Author
Ted Kosmatka was born and raised in Chesterton, Indiana, and spent more than a decade working in various laboratories where he sometimes used electron microscopes. He is the author of Prophet of Bones and The Games, a finalist for the Locus Award for Best First Novel and one of Publishers Weekly's Best Books of 2012. His short fiction has been nominated for both the Nebula and Theodore Sturgeon Memorial Awards and has appeared in numerous Year's Best anthologies. He now lives in the Pacific Northwest.
Praise For The Flicker Men: A Novel…
"A high-speed thriller. . . . The pages turn rapidly with well-orchestrated suspense." —The New York Times
"Kosmatka effectively harnesses his impressive imagination in the service of a mind-blowing plot in this outstanding SF [science fiction] thriller. . . . Ingenious plot twists, well-realized characters, and superior prose elevate this above similar books." —Publishers Weekly, Starred Review
"Brilliant . . . . This well-written and fast-paced scientific thriller builds into a beautiful and suspenseful crescendo until the climax in the final chapters. It will leave readers wondering about the possibilities of this world and others." —Library Journal, Starred Review
"Impressively ominous . . . . This novel is at its most memorable when it's at its smartest, leaving its flawed narrator to contend with the terrifying implications of all that he's set in motion." —Kirkus
"Kosmatka combines real science, fictional characters, and some clever (and plausible) speculation to create a first-rate thriller." —Booklist
"An original, smart physics thriller . . . . Kosmatka writes with great skill and . . . . sells his concepts so well that it's hard to pinpoint where the real science ends . . . . Kosmatka's prose is lean and creative. He handles action and sci-fi speculation with wit and a flair for drawing out suspense. . . . A fun, exciting read." —The Missourian
"Ted Kosmatka has combined solid scientific research with a highly inventive imagination to create a sci-fi thriller full of chase scenes, murder, kidnappings and mayhem . . . . Kosmatka ponders the religious and scientific implications of the results through Argus and the other well-formulated characters . . . . Comprehending this mind-bending process is well worth the effort . . . . Kosmatka has taken a complex scientific paradox and turned it into a rapid race against time." —Shelf Awareness
"The most interesting science thriller I've read this year. . . . The Flicker Men twists the weird implications of the [double-slit] experiment into a narrative that is both surprising and philosophically rich. . . . A five-star read. . . . A singular work of hard SF by one of the most inspired science fiction writers working today. " —Science Thrillers
"The Flicker Men by Ted Kosmatka is what the best SF should be; a story that compels the reader to grapple with the questions that drive the conflict, writing so good that you're fixed in place like a pithed frog, and characters that you care about from the opening sentence. . . . This book is nonstop terrific. . . . One of the best novels I've read in a long time. . . . The Flicker Men is as finely crafted as it is provocative. I'd recommend it for summer reading by the beach, or winter reading by the fire. Where you are won't matter once you get lost in its pages." —SF Revu
"A creepy masterpiece of a novel where absolutely nothing is what it seems. . . . A fast-paced thriller that also provides much food for thought. There's a lot of science in the book, but don't let it intimidate you. In fact, let it lead you to further research. It makes for fascinating reading. . . . It doesn't hurt that the author is really good at atmosphere and cranking the creep factor up to ten. . . . If you like cerebral thrillers that educate as well as thrill, Ted Kosmatka has you covered." —My Bookish Ways
"This book hurt my brain, which is actually a compliment to author Ted Kosmatka. The Flicker Men raises serious issues concerning science, theology, free will, fate, and basically, our understanding of the universe--leaving the reader a lot to think about long after the last page is turned. . . . Despite the emphasis on quantum mechanics, the storyline itself was so intriguing that I was able to enjoy the book even though I personally didn't understand all the aspects of the experiment . . . . The story walked a fine line between science and science-fiction, and should please fans of both." —Mystery Scene Magazine
"If Stephen Hawking and Stephen King wrote a novel together, you'd get The Flicker Men. Brilliant, disturbing, and beautifully told. Left me questioning the universe and our tiny little corner of it." —Hugh Howey, New York Times bestselling author of the Wool series
"The Flicker Men isn't just a book you'll want to stay up until 3 a.m. reading-it's a book you'll want to stay up until 3 a.m. talking about, too. This super-fun, action-packed, sci-fi thriller tells a great story and packs in a ton of profound and fascinating ideas about the nature of reality, the origins of consciousness, and the meaning of life. Just make sure you read this book with a friend! You will absolutely want someone else to talk to about all its mind-blowing ideas." —Jane McGonigal, New York Times bestselling author of Reality is Broken: Why Games Make Us Better and How They Can Change the World
"The Flicker Men sits you on a cliff of fact, looking into the abyss of fiction. Then Kosmatka sets off an earthquake and leaves you holding on for dear life. Expertly paced and brilliantly realized, this is a thriller I could not put down.
" —Jason M. Hough, New York Times bestselling author of Zero World
"Ted Kosmatka is both an excellent writer and a hell of a storyteller." —Nelson DeMille, New York Times bestselling author of The Quest
or
Not Currently Available for Direct Purchase