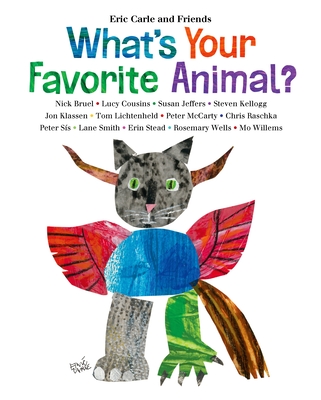 What's Your Favorite Animal? (Hardcover)
Henry Holt & Company, 9780805096415, 40pp.
Publication Date: January 21, 2014
Description
Everybody has a favorite animal. Some like little white dogs or big black cats or hoppy brown bunnies best. Others prefer squishy snails or tall giraffes or sleek black panthers. With beautiful illustrations and charming personal stories, 14 children's book artists share their favorite animals and why they love them.
- Eric Carle
- Nick Bruel
- Lucy Cousins
- Susan Jeffers
- Steven Kellogg
- Jon Klassen
- Tom Lichtenheld
- Peter McCarty
- Chris Raschka
- Peter Sis
- Lane Smith
- Erin Stead
- Rosemary Wells
- Mo Willems.
About the Author
Eric Carle is the renowned author and illustrator of more than 70 books, including The Very Hungry Caterpillar and Brown Bear, Brown Bear, What Do You See? written by Bill Martin Jr. He is also the creator of The Eric Carle Museum of Picture Book Art, to which all of the royalties from What's Your Favorite Animal? go. His collaborators are some of the best known and beloved picture book illustrators of today and to whom special thanks is due.
Praise For What's Your Favorite Animal?…
"Showcasing 14 contemporary (mainly American) picture-book illustrators, this handsome volume asks the title question and devotes a double-page spread to each artist's answer." – Booklist
"This menagerie offers picture-book lovers of all ages a glimpse into each creator's style, personality and brand of humor." – Kirkus Reviews
"A varied and engaging omnibus that offers real insight into the lives and personalities of these artists."—Publishers Weekly, Starred Review
The Very Hungry Caterpillar:
"Gorgeously illustrated, brilliantly innovative. . ."
—The New York Times Book Review
Panda Bear, Panda Bear, What Do You See?:
"Carle's signature jewel-toned tissue paper and acrylic collages are simple enough for youngest onlookers to appreciate, yet filled with subtleties to delight adult eyes. . ."
—Publishers Weekly, starred review
Brown Bear, Brown Bear, What Do You See?:
"The contemporary classic, beloved of preschoolers and beginning readers alike."
—The Horn Book Guide
Advertisement